Well, we were waiting for this model, and finally, it came. LiftMaster introduced the 84505R garage door opener and it is time for review.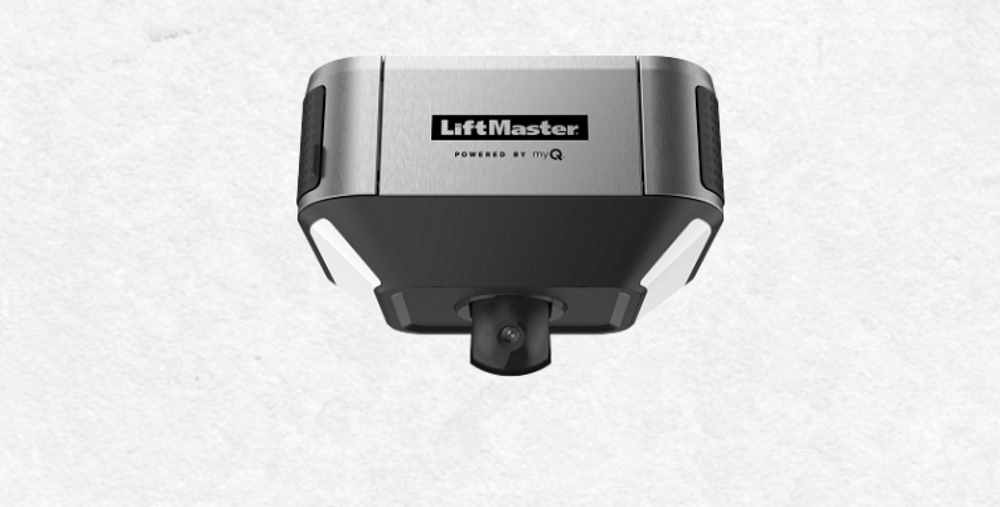 In this post, we are going to write more about the unit, and the features it delivers. Also, you'll find out the 84505R price as well. Let's get started.
What you can find in this article
The built-in camera adds a completely new way of using the LiftMaster garage door opener. A homeowner has video and 2-way audio communication just by using the myQ app. This is something many homeowners wished for, and this residential unit has it. With a camera installed and myQ app, it is easy to control, secure, and monitor your property. This way a homeowner constantly has all the insights into his garage and garage inventory. What is more convenient than real-time tracking, right? Let's get deep into it.
LiftMaster 84505R Review
As said before, this unit comes with an integrated camera meaning that homeowners can check the video and it has a 2-way Audio feature as well.
Video – Integrated Camera comes with HD-Quality Video. Therefore, a homeowner has a complete overview of his garage with a 1080p, and glare-resistant, night vision lens that auto-adjusts to light levels in the garage capturing everything and anything that passes through the garage. Just by using a smartphone app, a homeowner can easily monitor the garage and property.
While talking about the LiftMaster 84505R garage door opener, we have to say it is an overhead garage door opener, meaning it is a ceiling mount unit.
Video and Audio provide all you need to control, secure, and monitor the garage. LiftMaster gives myQ app to connect and use these features from anywhere over long distances.
Moreover, 84505R has an integrated LED lighting system that brightens high-traffic areas of the garage. This feature gives you a better look inside your garage. With 1500 lumens of light, you'll have a clear view inside your garage at any time.
Powerful and quiet motor
Ultra-quiet DC motor and strong belt drive system ensure comfortable living spaces near the garage. This unit doesn't make much noise, and it can be installed in a garage that stays near the bedroom, or near the living space.
Virtually Silent Operation – You don't need to worry about noise because this unit provides a virtually silent operation. LiftMaster 84505R comes equipped with an extra-strong belt drive system. Furthermore, it has a long-lasting DC motor. For maximum silent operation, 84505R has a Smooth Start feature. This feature extends hardware life and reduces maintenance also.
Check for the LiftMaster 84501 also
This unit works with Amazon Key for convenient and secure In-Garage Delivery of Amazon packages and groceries. It is easy to watch deliveries happen in real time.
How to install LiftMaster 84505R?
Prepare the area. Make sure that the garage door is free of any obstructions and debris, and that the area is clear of any sharp objects or edges.
Install the wall control panel. Use the included mounting hardware to attach the wall control panel to a wall in the garage.
Install the powerhead. Attach the powerhead to the garage door. If you have a belt drive system, make sure that the belt is properly tensioned.
Connect the power cord. Plug the power cord into a power outlet.
Program the wall control panel. Follow the instructions included in the manual to program the wall control panel.
Test the system. Open and close the garage door a few times to make sure that everything is working correctly.
Enjoy your new LiftMaster 84505R MyQ Garage Opener.
Why you should go with LiftMaster 84505R?
We find the 84505R the best option for homeowners looking for a quiet and reliable unit. If you're looking for a garage door opener that is a quiet and compact design, look no more. LiftMaster 84505R gives all mentioned, and more. Not only it is quiet, but this unit also brings plenty of light inside the garage.
Furthermore, you'll get an option to control, secure, and monitor the whole garage anytime, from anywhere. It is easy to connect and take a look anytime by using the smartphone paired with myQ app.
Strong and durable design
While talking about the LiftMaster 84505R, and its design, a Steel chassis, T-rail, and trolley reinforcement are things worth mentioning. Actually, the whole belt-drive mechanism, makes this unit last longer. Not only that, it has Auto-force adjustment for changing weather and environmental conditions. This unique design makes sure the opener operates flawlessly no matter what are the environmental conditions outside.
Conclusion
We were focusing on things that make this opener unique. The strong design gives durability, and the belt-drive system operates the door quietly for years that come. LiftMaster 84505R has myQ Diagnostics that provides real-time insights for your garage door via the Health Report. You can easily troubleshoot if necessary. Receive alerts and error codes in the app if an issue arises. Furthermore, you can connect with a professional for services if needed.​