Before beginning, let's say a few words about this problem. Wasps can be a major nuisance in the backyard! They are attracted to food, sugary drinks, and garbage. Therefore, they can quickly build up a nest in a bush or tree if you don't take appropriate wasp-repel measures. Wasps can be dangerous to humans as they have a nasty sting and can become aggressive when disturbed. Find out how to repel wasps so you can enjoy the backyard.
What you can find in this article
A wasp is a type of flying insect in the order Hymenoptera. They are typically characterized by a slender, segmented body, two pairs of wings, and a long, thin waist. Wasps are related to bees, ants, and other social insects, and are found all over the world. They feed on nectar, pollen, and other insects, and many species also hunt other insects to feed their young.
How to repel wasps?
Because these insects give us trouble, we want to know how to repel them. More precisely, in this post, we're writing about how to repel wasps. The best way to prevent wasps from invading our backyard is to keep food and garbage in sealed containers. In addition, it is a good idea to avoid leaving sweet drinks around. If you notice a wasp nest, and you know what you're doing, try to destroy the nest. Otherwise, it is best to contact a professional pest control company to safely remove the nest and prevent any possible stings.
So, what can be done if wasps become too annoying and perhaps dangerously aggressive? Keep reading this post.
If the wasps are still a problem for you, these are steps that you can take to keep them away. Try hanging a fake wasp nest near the area to deter any new wasps from setting up their own nest. You can also use wasp traps to catch any wasps that are already in the area. These traps should be placed away from activity and at least 10 feet away from the nest.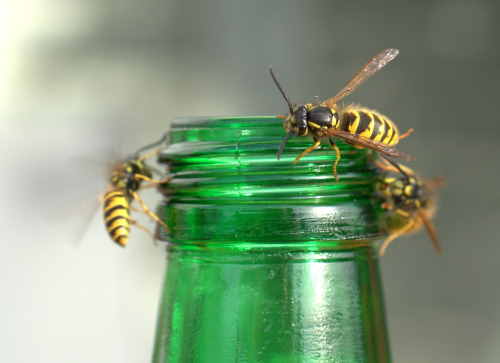 Many people like their backyard clean and relaxing area. If you're one of those people, and you like to keep your backyard clean, then take the necessary steps to deter wasps. This is what you should do.
Keep food covered: Make sure all food and drinks are covered while eating outdoors. As said, wasps are attracted to sugary and sweet smells, so keep all food and drinks covered when outside.
Remove sources of food: Clean up any crumbs or spills around the area to remove sources of food for wasps.
Seal off entrances: Check around your home for any cracks or openings that may be providing entry points for wasps. Seal off any potential entrances with caulk or other materials.
Hang strips of reflective material: Hang strips of reflective material around your outdoor space. Wasps are repelled by the reflection of light from reflective materials.
Use a wasp repellent: Try using a wasp deterrent spray or trap to repel wasps from the area.
How can you repel wasps from the backyard pool?
We all like to enjoy hanging in the backyard, swimming in a pool, and just doing nothing. Wasps and other insects are disturbing and can ruin all mentioned before. That is why we're looking for good wasp repellent or any insect repellent that can do the job.
Before going to the store, and finding a wasp repellent, consider these precast measures once again:
Keep food and drinks away from the pool area – Wasps are attracted to sweet smells, so keeping food and drinks away from the pool area will help to keep them away.
Use natural repellents – You can use essential oils such as lemongrass, peppermint, or eucalyptus to create a natural repellent. Mix a few drops of each oil with water and spray it around the pool area to help keep wasps away.
Install a yellow jacket trap – Yellow jacket traps can be bought from most home and garden stores and use a baited lure to attract the wasps. Once the wasps enter the trap, they cannot get out and will eventually die.
Keep the area clean – Wasps are attracted to trash and clutter, so it's important to keep the pool area clean. Regularly sweep up any debris, such as leaves or fallen fruit, and make sure all trash is disposed of properly.
Hang wasp-repellent ribbons – Wasp-repellent ribbons can be hung around the pool area to help keep wasps away. The ribbons contain a chemical that will repel wasps when they come into contact with it.
How to repel hornets – read if you're interested.
Conclusion for the end
There is no best way to get rid of wasps. However, you can do some precautionary measures to repel them. To repel wasps, you can try a variety of methods such as using wasp traps, using wasp repellents and deterrents, and eliminating food sources, nesting sites, and entry points around your home or yard. You may also want to consider planting certain plants or trees that naturally repel wasps and other insects.