LiftMaster 8160WB is a chain drive garage door opener and an improved version of the previous LiftMaster 8160W. The "WB" suffix means that the LiftMaster 8160WB offers Wi-Fi support and a built-in battery for backup power during power outages.
Just like other garage door openers with a similar drive mechanism, the LiftMaster 8160WB uses a chain assembly unit with tension springs to operate the garage door. Compared to belt drive models, like the LiftMaster 84501, 84505R, 87504-267, or the Wi-Fi capable 8155W, the chain drive LiftMaster 8160WB can lift more load. So, the LiftMaster 8160WB is a better choice if you have heavier garage doors.
What you can find in this article
If you have a fairly large two-car garage, you should go with one that has a powerful chain drive garage door opener and the LiftMaster 8160WB would lift a heavy, wooden garage door without any trouble. Previous chain drive garage door opener models usually have rattling noise, but the DC motor should keep things quieter when you operate the mechanism. Although belt drive garage door openers are quieter, you may need to replace the belt eventually, due to wear and tear.
Liftmaster 8160W Review
The Liftmaster 8160W is a powerful and reliable garage door opener that is sure to provide lasting performance. It has a 1 HP motor and a 140-volt motor that provide exceptional power and is capable of lifting the heaviest garage doors. The Liftmaster 8160W also features a built-in Wi-Fi that allows you to control the opener remotely from anywhere with a compatible smartphone or device. The opener is also equipped with safety sensors to help prevent accidents, and it has a timer-to-close feature that will automatically close the door after a certain amount of time.
Overall, the Liftmaster 8160W is a great option for anyone looking for a powerful and reliable garage door opener. It is easy to install and provides great performance and safety features. The built-in Wi-Fi is a great addition, and the timer-to-close feature is a great way to ensure that your garage door is always securely closed. The Liftmaster 8160W is a great choice for any home or business.
Technical specifications
LiftMaster 8160WB is powered by a 58-horsepower 12V DC motor, which is sufficiently powerful for most applications. It has permanent lubrication and automatic thermal protection, which ensure that the DC motor will have an extended lifespan. The motor operates with 120V 60Hz AC input with a 2.7 Amper rating and uses a 4-inch 3-prong power cord. The logic board has a surge protection feature to ensure good durability against electrical spikes. The full drive chain mechanism had a 63:1 gear reduction for efficient transfer of power from the DC motor to the garage door mechanism.
| LiftMaster 8160WB | |
| --- | --- |
| Drive Type | Chain |
| Battery Backup | Yes |
| Security / Lock | No |
| Soft Start/Stop | Yes |
| myQ Compatibility | Yes |
| AC/DC | DC |
| Motion-Detection Light Activation | No |
| Smartphone Control | Yes |
| Timer To Close | No |
| myQ Diagnostics | Yes |
LiftMaster 8160WB Tech Scpec. table
Features
There are two primary access controls to protect your garage against possible theft or burglary. The 3-button remote control has a 200-feet operational range that operates at 310MHz, 315MHz, and 390Mhz tri-band frequencies for increased security. The multi-function control panel has built-in encryption to ensure secure access. The Wi-Fi module supports 50 channels of frequency hopping spread spectrum between 902 and 928 MHz to prevent interference with nearby Wi-Fi devices and prevent potential hacking attempts. This allows constant monitoring and control of the garage door through the MyQ app on your smartphone. The LiftMaster 8160WB has a 100W light bulb and you can replace it with up to 26W enhanced CFL bulb.
The Liftmaster 8160WB opener is a belt-driven garage door opener that is powerful and reliable. It features Security+ 2.0 technology, which provides enhanced security, as well as a Backup Battery System that enables the opener to work even when the power is out.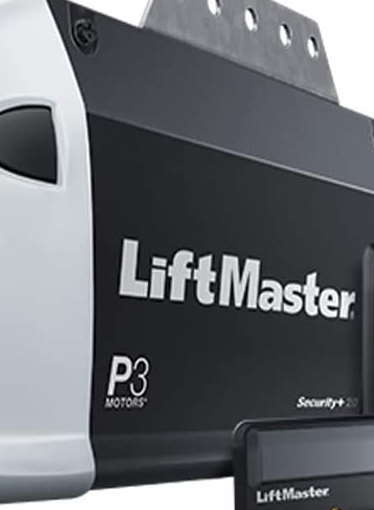 Accessories and add-ons
Included in the box are the 882LMW multi-function control with accessory programmability and lockout controls, also the 893LM 3-button remote control for secure and easy access to the garage door. Optionally, there are five add-ons that you can buy from LiftMaster to improve the functionality of the 8160WB garage door opener.
819LWB MyQ Home Bridge: It adds compatibility to Siri virtual assistant and Apple HomeKit, as long as it's within the coverage of the home Wi-Fi network.
374UT Mini Universal Remote Control: It's a more compact remote control that you can carry inside your pocket for quick access and control of the garage door.
825LM Remote Light Control: If you have a larger garage, you can plug any light bulb to this device, which is controllable with your smartphone or remote control. You may position this device strategically inside your garage to improve visibility.
823LM Remote Light Switch: If you need an additional light switch, this Wi-Fi capable device can be placed outside your garage and it's controllable with your smartphone or remote control.
829LM Garage Door And Gate Monitor: It provides better security and allows you to monitor the garage door from anywhere inside the house.
Backup battery
The backup battery module is one thing that differentiates the LiftMaster 8160WB with the Wi-Fi only LiftMaster 8160W. It ensures that the garage door opener remains operational during a power outage. When the whole system runs on battery, the garage door will open and close slower.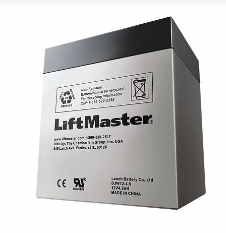 With an original LiftMaster battery, you'll get a fast and easy replacement. The 485LM garage door opener battery is compatible with all LiftMaster garage door openers.
485LM works on all LiftMaster integrated battery backup garage door openers.
Other features, such as remote close through the MyQ app, Timer-to-Close and lights are disabled in battery mode to save power. The battery is enough to provide power for up to 24 hours, depending on the usage. The LiftMaster 8160WB has light indicators to tell you whether the battery is fully charged, charging, releasing power, or almost depleted.
Conclusion
With its chain drive operation, the LiftMaster 8160WB is an affordable garage door opener and it's available for around $300. It is designed for homeowners who look for a low-cost model with the latest features, including easy integration with the home network system. The heavy-duty chain drive ensures increased reliability compared to the quieter belt-drive openers and it can operate larger heavier garage doors.
The smooth, low-noise DC motor ensures reliability and quieter operation, which is ideal if you don't want to disturb neighbors late at the night. The DC motor makes the addition of a backup battery possible and you can ensure the LiftMaster 8160WB remains operational during long power outages. Despite its full features and excellent durability, the LiftMaster 8160WB is among the market's least expensive garage door openers, ensuring an excellent value for your money.