The LiftMaster 8500 and 8500W are side mount, jackshaft or wall mount garage door opener models. They have clean designs and will match most, if not any home exterior design. With the built-in DC motors, these models are known as being quiet, with the ability to open and close garage doors with low noise levels.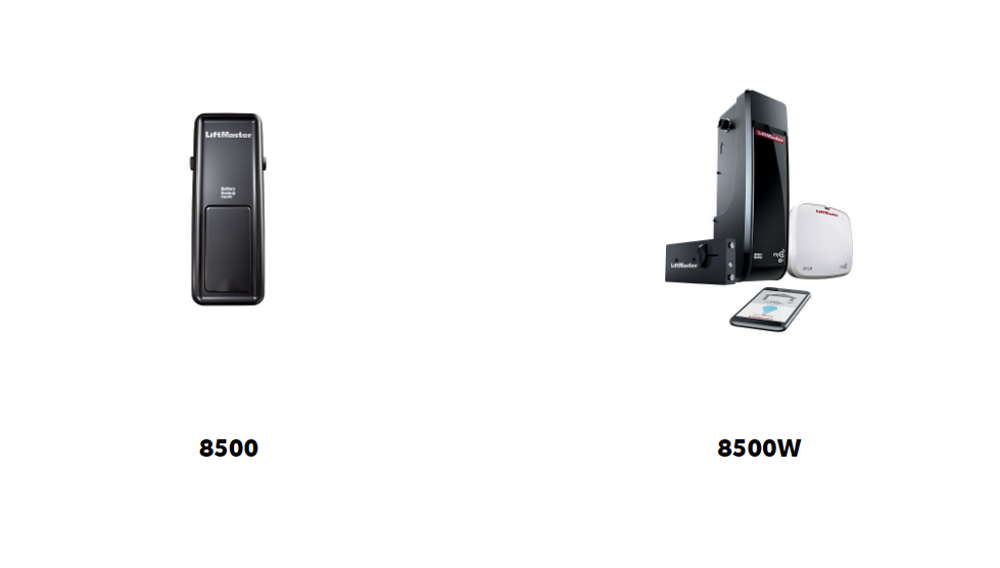 If you had a garage door opener with a copper wound AC motor before, it is usually quite noisy when activated. Garage door openers with DC motors are proven to be reliable for long-term use and many homes have used them for many years.
What you can find in this article
If you have a smaller garage, the LiftMaster 8500 and 8500W come with a space-saving design. Because they are mounted to one side of the garage door, you will get extra space for overhead storage racks. This leaves extra floor space in your garage to store lawnmowers, leaf blowers, bikes, and other things. LiftMaster 8500 and 8500W are good choices for high-ceiling garages that make it difficult to install overhead garage door openers.
Liftmaster 8500
The LiftMaster 8500 is the base model with a low-noise DC motor that can operate up to 430-lbs garage door and with sizes up to 18-feet wide by 14-feet tall. It supports remote monitoring and controlling through the MyQ app on your smartphone, but you need to buy an Internet gateway separately. This model is compatible with garage doors that have a torsion bar and springs.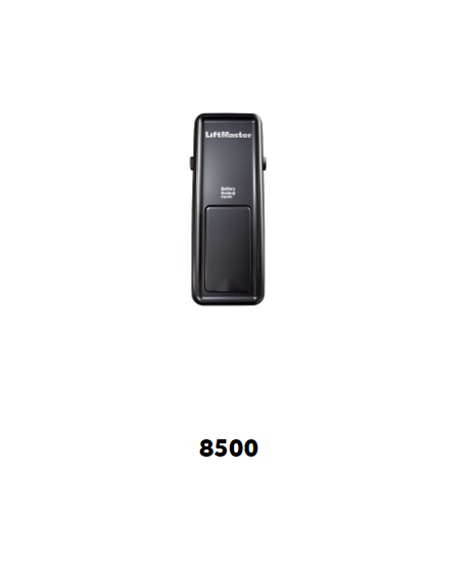 Before installing the Liftmaster 8500, it is necessary to remove locks from your garage doors. Included in the box are 3-button remote control, MyQ-compatible control panel, remote light, power door lock, cable tension monitor, protector system, collars, brackets and cables. Because it requires accurate measurements to install the LiftMaster 8500, it is recommended to hire an experienced technician.
Installation begins with attaching the collar and mounting bracket to the garage door opener. After taking precise measurements, the technician will position and mount the LiftMaster 8500. Next, the emergency release handle and power door lock will be installed. After the cable tension monitor is properly attached, the technician will install and configure the MyQ control panel.
LiftMaster 8500W
The LiftMaster 8500W is similar in basic specifications to the LiftMaster 8500, including the low-noise DC motor. However, it has many improvements and features.
The DC motor is more powerful and it can lift garage doors up to 850lbs in weight. Instead of having a standard remote light, it has a brighter 1,500-lumen LED light that helps you see more at night or during a power outage. The "W" in LiftMaster 8500W naming refers to the built-in Wi-Fi support and you don't need to buy a separate Internet gateway. Homeowners can integrate LiftMaster 8500W easily with their smart home network. The LCD control panel of 8500W is more functional and easier to use than the non-LCD control panel of the more basic LiftMaster 8500.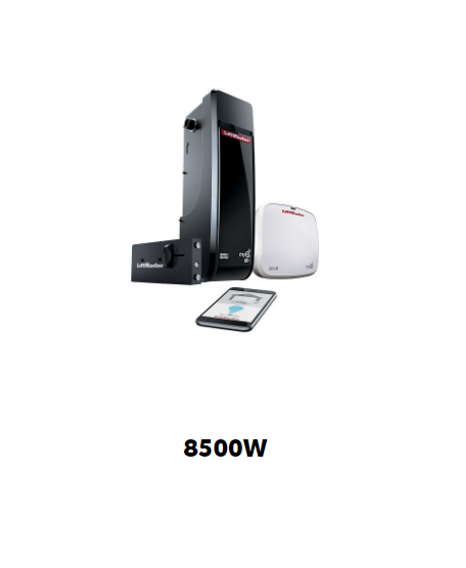 LiftMaster has been offering garage door openers with Wi-Fi functionality longer than other brands. Its software solutions are more mature and the MyQ mobile app is easy to use.
Once opened, the MyQ app will always run in the background and you can easily monitor the current status of the garage door through your smartphone. The LiftMaster 8500W comes with a battery backup, so it will remain operational during a power outage caused by a wildfire or storm. The battery is sufficient to provide power for 20 open and close cycles, especially if you have a smaller, lightweight garage door.
The wall control panel is motion-activated and the 1,500-lumen LED light will turn on automatically when you walk into the garage. Because LED light is long-lasting, you don't need to replace it regularly. You can set the timer to close the feature on the wall control panel at 1, 5, or 10-minute intervals. The garage door will close when the timer is triggered. It's convenient to prevent exposing valuables inside your garage if you forget to close the garage door. LiftMaster has teamed up with Amazon to develop the In-Garage Delivery feature. When the delivery guy arrives at your home, he can use a one-time code to open the door to put packages into the garage. It's a very useful security feature to have if porch piracy is a common issue in your neighborhood.
Conclusion
At $615, the LiftMaster 8500W offers many extra features, compared to the more affordable LiftMaster 8500, available for $450.
If you have a larger and heavier garage door, you need to choose the LiftMaster 8500W with its more powerful DC motor. Also with its built-in Wi-Fi module, the LiftMaster 8500W makes it easier to integrate with the existing smart home systems. Even so, many users have testified that the more affordable LiftMaster 8500 is a reliable wall-mounted garage door opener and it works well for most homes.
LiftMaster is one of the market leaders and it has extensive experience in manufacturing wall mount openers with jackshaft mechanisms, so you will get a dependable product, regardless of what model you choose.