The Thermomate Tankless Water Heater is a modern, energy-efficient way to heat your home's water supply. This type of water heater heats water on demand as you need it, meaning you don't have to worry about running out of hot water ever again.
What you can find in this article
The Thermomate Tankless Water Heater is designed to save you up to 25% on your energy bills while providing an endless supply of hot water. Its compact size makes it ideal for small spaces, and its easy installation makes it simple to install in any location.
With its digital display, you can easily monitor the temperature and adjust it to your desired level. The Thermomate Tankless Water Heater is an efficient and reliable way to heat your water.
Hot Water On Demand With Tankless Water Heater
A tankless water heater is a type of water heating system that does not use a storage tank. Instead, it heats water directly when it is needed. The water is heated as it passes through a series of coils or heating elements. Tankless water heaters deliver hot water on demand, meaning you don't have to wait for a tank to fill up with enough hot water. This can save energy and money since the tankless system only heats water when it is needed. Tankless water heaters are available in both electric and gas models.
Thermomate Water Heater Products
Thermomate has a range of water heaters products to offer and we're going to review some people use the most. In this post, we're going to make a tankless water heater review and compare a few units from this manufacturer. The review includes both tankless (instantaneous) and tank-style electric water heaters.
The tankless models offer on-demand hot water in a variety of sizes to accommodate different water heating needs, while the tank-style models provide a larger storage capacity for hot water. Thermomate also offers a range of accessories, such as temperature controllers and remote controls, to improve the usability of its products.
Thermomate ET035 Review
The small size makes it perfect for sink installation, and it easily fits in small spaces like the under-sink.
Furthermore, Thermomate ET035 provides hot water in seconds and saves energy in the process. The touch control panel and digital temperature display make it easy to use and the multiple protections from leakage, dry fire, over-heating, and over-pressure make it safe and healthy. Going further with this review, we have to say it is easy to install and maintain.
We highly recommend this product to anyone looking for a great energy-efficient solution.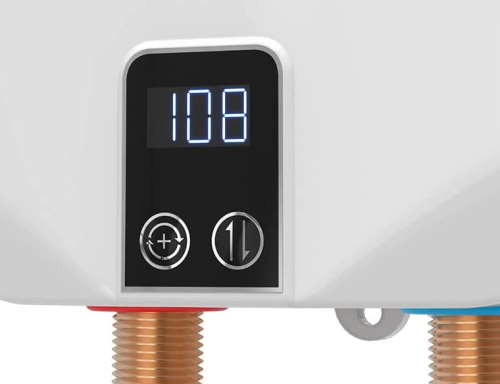 Small dimensions: 7.8W×6.3H×3.9D inch. It is a compact water heater designed for under-the-sink installations, wall-mounted fitting in small spaces throughout the kitchen closet, bathroom sink, hair salons, bar counters, and hotel reception. Temperature ranges from 85°F- 131°F.
Thermomate ET035 has a Touch control panel and digital temperature display. These make it easy to set the desired temp. It is lightweight and easy to install vertically facing up or down. Just open the tap and the unit will start heating with an activation flow rate of 0.4GPM.
Thermomate AZ132 Propane Tankless Water Heater
With 2 D cell batteries ignition, it is great for off-grid or other areas where electricity is not readily available. This tankless water heater is a great choice for outdoor use.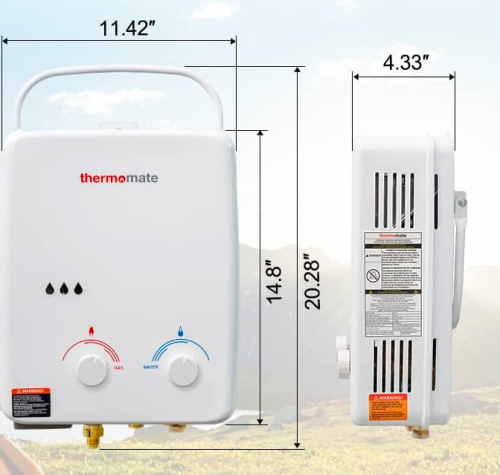 Weight: 8.0 lbs
Capacity: 1.32 GPM
Dimension: 13.4″x11.6″x4.7″
Related Gas Pressure: 0.4 PSI
Power Rating: 34,000 BTU/Hr
Water Pressure: 2.5 PSI ~ 110 PSI
Flue Type: LPG (Liquid Propane Only)
Thermomate AZ132 has a compact and space-saving design. This unit delivers minimal noise output and it is portable for outdoor use. A tankless water heater is a great partner for camping and road trips bringing an amazing hot shower for you when you are camping, hiking, fishing, beaching, etc. Furthermore, you can also wash your pets with this unit, or provide hot water for the swimming pool.
Conclusion
The Thermomate Tankless Water Heater is an innovative and efficient way to heat your water. It uses a high-efficiency condensing system to provide an endless supply of hot water without the need for a bulky and expensive tank. Its space-saving design is perfect for tight spaces, and the digital temperature control allows you to customize the temperature of your water to your preference. With the Thermomate Tankless Water Heater, you can enjoy an unlimited supply of hot water, while saving energy and money.