If you don't have much space, and still want to enjoy outside, consider using a small outdoor patio heater. We're going to explain the difference between a propane patio heater and an infrared unit. In this post, you can choose a small outdoor patio heater for your home.
Are you looking for a way to stay warm on chilly summer nights? If so, a small outdoor heater may be just what you need! Small outdoor heaters are perfect for providing just enough warmth for a small outdoor area, allowing you and your family to enjoy the outdoors even when temperatures begin to drop.
What you can find in this article
Small outdoor heaters are typically powered by either electricity or propane, and come in a variety of sizes and styles. If you're looking for a portable option, you can find small electric heaters that are powered by a standard electrical outlet. Alternatively, you can opt for a propane-powered model, which usually offers more powerful heating and a higher BTU output. No matter which option you choose, you can rest assured that your small outdoor heater will be providing a comfortable amount of heat.
Small outdoor heaters are also a great option if you're looking for a way to heat up your outdoor space without breaking the bank. Many models are surprisingly affordable, and you can even find some that are less than $100. With a small outdoor heater, you can enjoy the outdoors even when the temperatures dip.
Small electric patio heater
If you're looking for a way to extend the outdoor season at your home, a small electric patio heater can be a great solution. These heaters provide warmth without the need for a large, bulky gas or propane heater, and they're becoming increasingly popular for outdoor entertaining.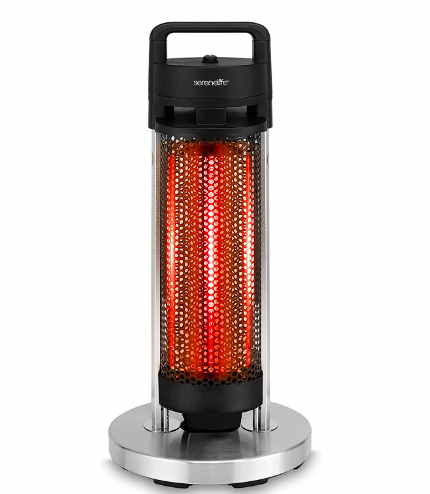 Small electric patio heaters are perfect for small outdoor spaces, like balconies and patios. They're easy to install and generally don't take up much space. Plus, they don't require a lot of maintenance or fuel storage. Depending on the model, they can be either wall-mounted or free-standing.
This IP44-approved heater backyard features a dust and waterproof design an aluminum alloy frame, and stainless steel base cover making it the perfect heating solution for a patio, outdoor restaurant terrace, garage, or balcony.
A porch heater is equipped with a 360-degree tip-over safety switch to ensure the safety of your family. Therefore, you don't have to worry about it accidentally tipping over by the strong wind, your child, or your pet.
These heaters are also incredibly efficient. They use a fraction of the energy of gas or propane heaters, making them an eco-friendly option. Some models also come with adjustable temperature settings and remote controls, so you can set the heat to the perfect level for your outdoor gathering.
Overall, small electric patio heaters are an excellent choice for extending your outdoor season. They're efficient, easy to install, and can provide plenty of warmth on chilly nights. Plus, they're a great way to conserve energy while still enjoying the outdoors.
Small propane-powered patio heater
If you're looking for an efficient, cost-effective way to keep your outdoor space cozy during the cooler months, a small propane patio heater is a great option. Propane patio heaters are powerful and efficient, providing a steady, consistent heat that can be used to warm up a small patio or deck area. The propane tank is typically located outside the unit, making it easy to refill and monitor fuel levels. With their sleek, modern design, small propane patio heaters can be a great aesthetic addition to your outdoor space. Plus, they are often portable and come with wheels, so you can move them around to wherever you need them.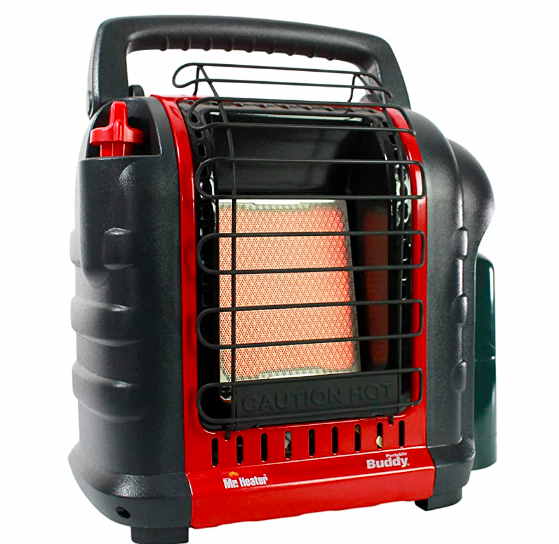 This unit is known as North America's most popular portable propane heater!
It has a patented radiant 4,000-9,000 BTU with a liquid propane heater that connects directly to a 1 lb. cylinder and is the perfect solution for heating enclosed spaces like large tents up to 200 sq. ft.
When it comes to safety, propane patio heaters are a great choice because they do not produce smoke or pollen, and they are easy to turn off and on. To get the most out of your small propane patio heater, make sure to buy the right size for the area you plan to heat.
A larger patio heater may be too much for a small patio, while a smaller one won't be able to effectively heat a larger area. Additionally, you'll want to make sure the patio heater is placed in a safe, secure spot, away from any flammable materials.
Propane-powered vs electric patio heater
Propane patio heaters are generally more powerful and easier to move than electric patio heaters. They also have a significantly higher BTU output, which means that they can heat up a larger area in less time. They are also more affordable, with most models costing less than $100. Electric patio heaters are usually less powerful than propane models and tend to be more expensive. They are also limited in the area they can heat, as most models are designed to heat up to 150 square feet. They are also less reliable, as they must be plugged into a power source.
Read about weatherproof heaters also.
The best small outdoor heater depends on what type of outdoor space you have and what your needs are. If you are looking for a small, portable heater that can be used in a variety of outdoor spaces, then a propane or electric patio heater is a great option. If you need a more permanent solution, then a gas-powered patio heater may be the best choice. Ultimately, the best heater for you will depend on your specific needs and the outdoor space you have.