There are three different models of 49-inch desktop monitors available from the three competing companies in this review. Each is a curved monitor with ultra-wide and UHD features that offer great resolution clarity and superb picture quality. Therefore, we'll look at each and find out who brings the most to this monitor review and in turn what model you should choose.
The largest monitor you can buy is a 49-inch ultra-widescreen, which we currently have on three different brands. Take some time and read this review.
The benefits of using a large desktop monitor are
Increased productivity: Large desktop monitors provide a larger workspace, allowing users to open multiple windows and applications at once, increasing their ability to multitask and work more efficiently.
Improved visuals: Large desktop monitors provide a larger, higher-resolution display, which can improve the quality of images and videos, making them easier to see and understand.
Enhanced comfort: Large desktop monitors can reduce eye strain and fatigue by providing a larger, more comfortable viewing area.
Reduced clutter: Having a large display can help reduce desk clutter, as multiple smaller displays can be replaced with a single large monitor, freeing up desk space.
Samsung 49-inch desktop monitor review
Game and watch movies the way developers intended with the Samsung CRG9 curved gaming monitor. The 1800R curvature immerses you in gameplay, cinematic viewing, and more. See every frame in detail with the 49″ screen and its innovative 32:9 aspect ratio. Keep your focus on the game without bothering other people around you. All that is thanks to Samsung's Eye Saver mode reducing eye fatigue.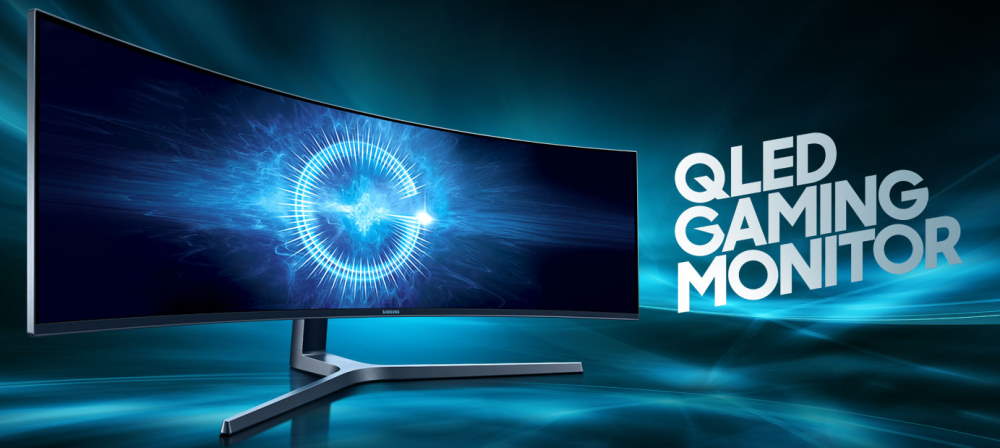 The Samsung CRG9 is a 49-inch ultrawide curved monitor that provides a large, immersive viewing experience. It features a 5120 x 1440 resolution, a 120Hz refresh rate, and HDR support, making it ideal for gamers, content creators, and multitaskers. With its large size, sharp visuals, and high refresh rate, the Samsung CRG9 is an excellent choice for anyone looking for a powerful, immersive display.
Incredible gaming performance
Your gaming experience just got a whole lot better with this Samsung QLED Monitor. With Quantum Dot technology, the monitor provides an extreme upgrade in your gaming experience by delivering a billion shades of accurate color. Furthermore, the monitor features a 144hz refresh rate and 1ms response time that keeps your games smooth and seamless, as well as AMD FreeSync 2 technology which helps minimize lag and screen tearing when you're playing your favorite games.
Excellent multitasking options
Plenty of space to multi-task across your screens. Easy Setting Box lets you partition the screen or display multiple screens of different sizes with just a click for truly simple multitasking. Picture-by-Picture (PBP) lets you connect two devices to the monitor and display each device's screen on 1/2 of the monitor, without overlapping windows.
LG 49-inch desktop monitor review
Dive into the world of seamless multi-tasking with the 49WL95C large desktop monitor. Featuring a 32:9 aspect ratio, you can experience a doubled 27-inch 16:9 QHD pixel space on one screen. Therefore, users experience greater immersion with this monitor that's perfect for working with 2 or 3 applications side by side.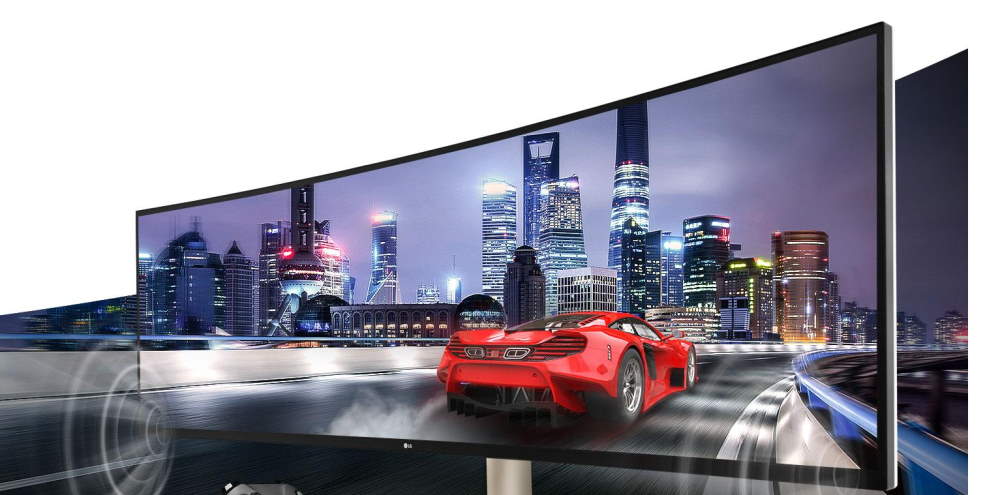 The LG 49WL95C is a 49-inch ultrawide curved monitor with an impressive 5120 x 1440 resolution and a 60Hz refresh rate. It also features HDR support and an ergonomic design, making it a great choice for gamers, content creators, and multitaskers looking for an immersive, comfortable viewing experience.
LG's HDR technology
Watch stunning HDR content created by the latest technology. The 49WL95C supports HDR 10 which enables viewers to enjoy the dramatic colors of the content.
For Office and work
Enjoy a near-seamless viewing experience on the LG 49-inch 49WL95C monitor. The 32:9 super ultra-wide screen provides an innovative and easy way to multitask with multiple active windows while providing crisp text, sharp graphics, and true-to-life colors.
DELL 49-inch desktop monitor review
Get incredible resolution, clarity, and brightness from multiple PCs with this large Dell desktop monitor. Experience the sharpest, most stunning images on the market. Moreover, features include Picture-by-Picture (PBP), Keyboard, Video, and Mouse (KVM). The Dell display allows you to connect several different devices at once so you can play games, stream movies, and watch your favorite shows. Comes with adjustable stand and tilt features.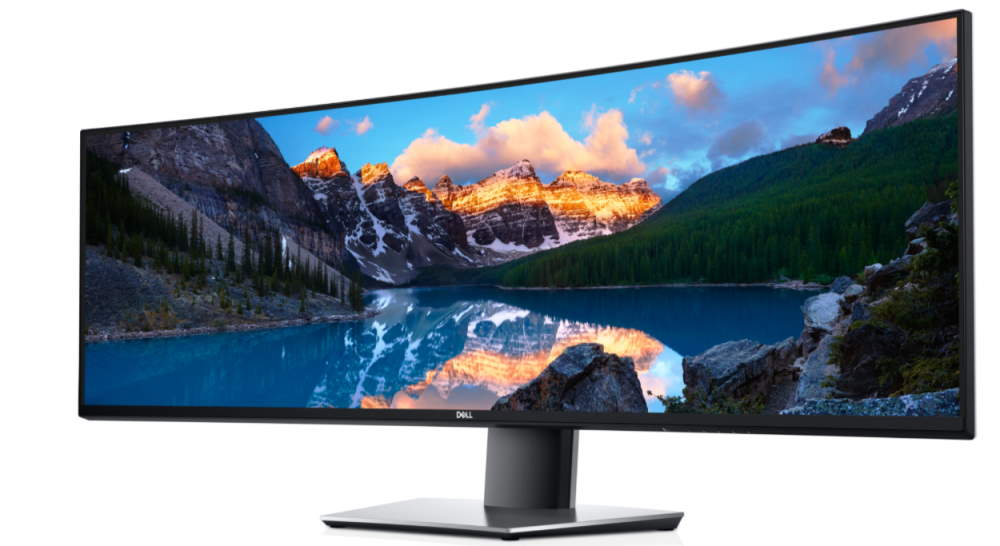 DELL's 49-inch desktop monitors are excellent choices for anyone looking for a large, immersive display. The DELL U4919DW is an ultrawide curved monitor that features a 5120 x 1440 resolution, a 60Hz refresh rate, and HDR support. The DELL P4317Q is also a great choice, offering a 4K UHD resolution, a 60Hz refresh rate, and HDR support. Both monitors offer excellent visuals and a comfortable viewing experience.
Best work companion
Keep your desktop tidy and looking like new with the Easy Arrange feature of Dell Display Manager. Click on any edge of the snapped application to view available arrangements. Or, use Auto-restore to reposition your previously used applications after disconnecting from a monitor.
Super Ultrawide 49-inch desktop monitor
This curved super-ultrawide 49-inch model is perfect for those who have always dreamed of having a huge monitor, with a reasonable price tag. This monitor's 32:9 aspect ratio matches that of ultra-wide cinema screens and its 3800R curvature delivers a consistent focal length across the entirety of the screen. This monitor also comes with a height-adjustable stand and a DisplayPort for easy connectivity.
In conclusion
A large desktop monitor can improve your productivity because it increases the size of the workspace for getting things done, and provides an overall better viewing experience. If you spend many hours per day working on a computer, a large monitor could be just what you need. So, what you have here is the best 49-inch monitor review for not just one, but three different LCDs you can choose from. It depends on your actual needs, and choosing the best one is on you. However, you have it all in one place – a 49-inch monitor review.
Maybe you're interested in this: A dual monitor stand. Check these Home-office desk options.