Countertops, appliances, and cabinets can be at the top of your priorities list when planning a kitchen renovation. However, deciding on the most suitable material for your kitchen is very important. Material options for your kitchen flooring are numerous and it could depend on many factors.
What you can find in this article
Some materials may look great, but they are not suitable for your situation. A family with pets and a few children may need a different flooring material compared to a young couple. Even so, you need flooring that will withstand heavy traffic and stains. Nonslip material is important if you have an elderly or very young family member. Consider choosing tile or stone, if there's heavy foot traffic in your kitchen each day.
Ceramic tiles resist scratches and dents easily and they are a good choice to anticipate dropped pans and pots. If the visual style is your preference and you want hardwood flooring, you should choose pre-finished products that resist water stains better.
When it comes to kitchen renovation flooring, one of the most popular choices is tile. The tile is easy to clean and comes in a variety of colors and styles, making it a great choice for creating a modern and stylish kitchen. Laminate flooring is also a popular choice as it is durable and easy to maintain. Vinyl is also an option, as it is water-resistant and comes in a variety of styles and colors. There are also hardwood and bamboo flooring options available, which can provide a natural and warm look. Whatever your choice, make sure the flooring option you choose is durable and easy to maintain.
The best kitchen flooring
Your sense of style deserves consideration and kitchen flooring should complement the rest of your interior design. The flooring material and color should match the look, feel and color scheme of your interior. Consider whether it looks good with various patterns and textures of your kitchen design. For a neutral backdrop, you should choose grey, off-white, or soft beige. If you want the kitchen floor becomes a focal point, choose checkered black and white tiling. Neutral colors and good patterns should remain relevant for many years to come.
Maintenance and clean-ups are also two factors to think about when choosing a flooring material for your kitchen. You shouldn't be concerned about stubborn stains, just because you choose a porous flooring material that absorbs moisture easily. The waterproof material is essentially stain-resistant. If you need limestone flooring in the kitchen to match the interior design, make sure that it has been properly sealed, preferably twice each year. Although pre-treated wood flooring is generally quite durable, you need to reseal it every five years. If you choose to tile for your kitchen, be sure that it will be convenient to clean and reseal the grout periodically.
Keep the flooring on a budget
Budget is an inescapable consideration in your search for an ideal kitchen flooring. Avoid choosing something you can't afford and some of the less-costly alternatives are suitable for your situation. Flooring material options run the gamut from $5 to $100 per square foot. If hardwood flooring is expensive, some high-pressured laminate flooring products have nearly a similar look and feel. But just because you don't want to break the bank, it doesn't mean that you choose the cheapest product out there. Cheap flooring won't hold up against daily abuse and it will require more frequent maintenance and repairs.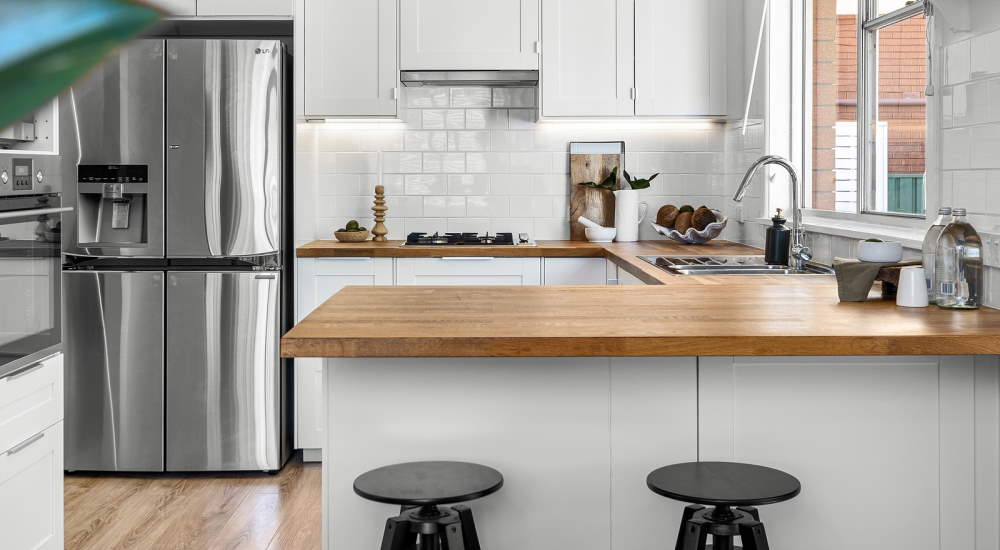 From cork to concrete, linoleum to limestone, there's a host of good flooring options for your kitchen. Rather than being a focal point, flooring should complement the interior design of your home, including in the kitchen. Along with walls, flooring should be a basic platform for the home design and it shouldn't attract too much attention.
Kitchen flooring options
Kitchen flooring options are plentiful, ranging from traditional materials such as tile and hardwood to modern, low-maintenance options such as vinyl and laminate. Each material offers its own unique benefits, such as durability, comfort, style, and ease of maintenance. When choosing kitchen flooring, it is important to consider factors such as the overall style of the kitchen, the amount of foot traffic, and the budget.
Here are among the flooring material options you can choose for your kitchen:
Concrete
Polished concrete is a good option for kitchen flooring because it's durable and requires low maintenance. It will easily shrug off hard impacts, spills, stains, grit, and dirt. All it needs is only damp mopping or a little sweeping. If you want something more than a boring shiny, greyish look, wet concrete can be dyed and brushed to mimic natural stone. Concrete is also a thermally conductive material and you can put a heating element under the kitchen to keep the flooring comfortable during winter. Because it requires mostly sand, gravel and cement, concrete has minimum impact on the environment. However, it's important to properly seal concrete, because poor soil drainage and leaky gutters can make your concrete floor feels perpetually damp.
Resin
As a plastic derivative, the resin is a cheap flooring material and it's easy to install. Once it hardens, the resin is very firm and you can use a thicker layer to withstand heavy foot traffic and heavy kitchen appliances. Epoxy resin flooring may last for decades with normal use and it's a good investment in any home. To further protect it against spills and stains, you can treat the resin floor with protective layers and sealants. A skid-resistant layer is necessary for resin flooring in the kitchen because it's quite slippery when wet. When installing resin flooring, make sure to choose an experienced contractor, because an uneven surface may crack more easily. Cracking of resin flooring doesn't only ruin its visual aspect, but may also allow moisture and stain to seep.
Natural stone
Natural stone flooring is a good option for an outdoor kitchen, as it seamlessly integrates with your backyard and nature. It has a pleasing aesthetic impact on your cooking area and if sourced responsibly, natural stone is a green, non-polluting material.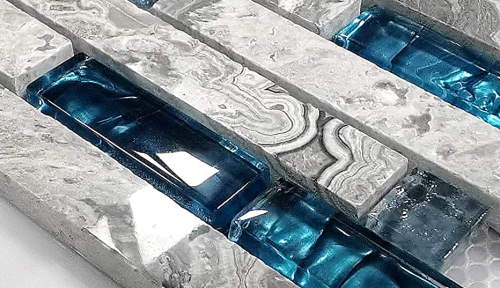 Slate and granite are very strong and can withstand heavy foot traffic. Natural stones from different quarries may have varying grains and colors. So, if you prefer granite, slate, limestone, or sandstone for your kitchen, never expect that they will look identical. It's important to arrange natural stone slabs before installing, so their grains and colors are properly aligned. Limestone and sandstone absorb moisture and stains more easily, so they need to be sealed and re-sealed again after a few years.
Porcelain
Porcelain tiles are made of clay fired at higher temperatures, compared to regular ceramic tiles. They are known to be non-porous and highly uniform in appearance.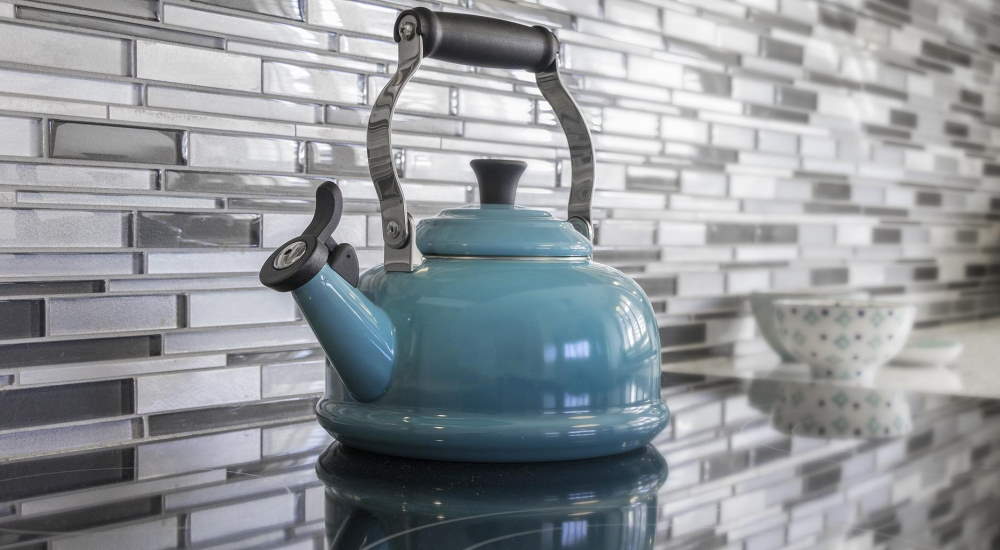 Porcelain works well in areas with fluctuating temperatures and it can withstand heat better. It resists wear and tear better than ceramic, due to its higher density and fewer air pockets. It will look good for decades and is less prone to breaking, although you accidentally drop a heavy cooking pot. Cleaning up porcelain tiles is quick and easy. A few wipes with a damp mop are enough to remove any stain. Because porcelain tiles are denser, they can be more difficult to install. Due to its more rigorous production process and higher material quality, porcelain tiles are also more expensive. Although porcelain is very durable, it can be more difficult to repair when damaged. In some cases, your only option is to replace damaged tiles with new ones.
Composite decking
Composite decking is a 50/50 mix of recycled plastic and wood fibers. This means composite decking has the characteristics of wood, but it's far less prone to rotting. Preserving the look of your composite decking only involves a mild cleaning. As a recycled product, composite decking helps to reduce plastic waste and the use of wood. You can hide fasteners when installing composite decking to create a smooth, cleaner look. Due to the use of plastic, this material doesn't absorb plastic as easily, compared to natural wood products. Before choosing composite decking for your kitchen flooring, you should be aware that it's 50 percent more expensive than pressure-treated wood, even compared to more expensive wood types, like cedar or redwood. Composite decking is also heavier than natural wood and it requires a stronger frame for better construction.
Ceramic
Despite being one of the lower-priced flooring options, ceramic tiles are known for their ability to stand up to wear and tear well. From muddy footprints to dropped heavy objects, ceramic can withstand plenty of abuse. Most of the time, you only need to dry-dust ceramic tiles with a vacuum or broom.
There are different styles and colors of ceramic tiles in the market. To create an illusion of a larger kitchen, you may choose a bigger ceramic tile. For enhanced visual aspects, you may choose ceramic tiles that mimic the appearance of hardwood or natural stone. Ceramic tiles in the kitchen can be slippery when wet, so you may choose those with slightly textured surfaces for better traction. After constant use, you need to periodically clean the grout and reseal it to prevent near-permanent stains.
Hardwood
Hardwood flooring can be a real plus if you plan to sell the house later. But as an entirely organic material, hardwood changes over time, because it's sensitive to heat and moisture. It must be treated with linseed oil, lacquer, or polyurethane for better protection and durability. When choosing a gloss level, you should avoid a high gloss option, which may show more marks and scratches. Properly treated hardwood is an ideal option for kitchen flooring because it can be cleaned easily and is resistant to spills.
Installing hardwood flooring is relatively easy, but you still need to hire a professional for the best results. It's important to choose a reputable supplier because small variations in dimension may make your hardwood flooring look and feel uneven. The cost of hardwood flooring is higher than more affordable materials, such as ceramic tiles. If poorly treated and maintained, hardwood flooring can be prone to termite attack, mold growth, and rotting.
Laminate
Laminate flooring is a fused multi-layer material, which is treated with a clear protective layer. It's usually made of layers of fibreboard and melamine resin. Compared to hardwood flooring, laminates don't scratch as easily, so they will retain a pristine look longer. But because it contains synthetic material, laminate flooring doesn't look genuinely as natural. Once damaged, repairing laminate flooring may not be easy. It can withstand moisture better than hardwood flooring, so it's a more suitable option if spills are frequent in your kitchen.
Cork
Cork flooring is made from the bark of Quercus suber or cork oak tree. It's an easily replenishable material, which can be harvested periodically from commercial plantations.
To manufacture cork flooring, the bark of the cork oak tree is ground up and bonded with resins. It only takes daily vacuuming and sweeping to remove dirt particles and small grit. It is important to clean up spills immediately, because high humidity may cause the cork to plump or curl. If not addressed immediately, cork planks may start to buckle. Depending on the manufacturer, cork flooring may be processed to visually resemble natural stone, hardwood, or concrete.
Rubber
Rubber flooring is easy to install, affordable and long-lasting. It's extremely resilient and very durable. Compared to many flooring materials, rubber ensures a good grip and it's far less slippery when wet. For older adults, the rubber feels soft and comfortable under their feet, especially if they cook for the whole family each day. There are different color and texture variants for rubber flooring. It can be made of virgin, recycled, or synthetic rubber material.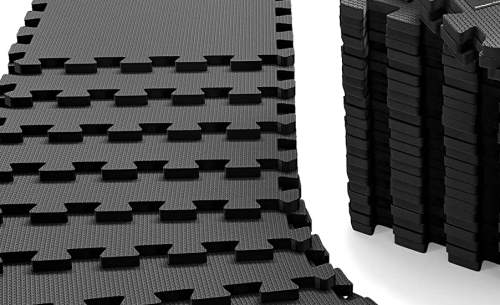 Thanks to the infinitely expandable puzzle shape of the protective mats, your floor protection can be easily cut to size, installed, and adapted to your individual needs.
Rubber flooring is usually available as squares, which can be cut into different shapes and sizes. It's a perfect fit for your smaller kitchen space and is resistant to heavy foot traffic. Due to its lightweight characteristic and interlocking design, installation is easy and quick. No adhesive is needed during installation; if a piece of rubber is damaged, it can be replaced easily. Installation of rubber flooring in larger spaces is not recommended, because it won't appear even and seamless. When there's a spill, water may go through seams to the subfloor. Also, a few weeks after installation, your kitchen may smell somewhat rubbery.
Linoleum kitchen flooring
Linoleum flooring is made of solidified linseed oil and pine resin, along with other ingredients, including mineral fillers, sawdust, and ground cork dust. Because it's mostly made of natural ingredients, linoleum flooring is flexible and comfortable on your feet. If properly installed and maintained, your linoleum flooring may last for more than 30 years. However, due to its relative softness, linoleum flooring can be more prone to tearing and scratches. So, it's more suitable in kitchens without heavy appliances.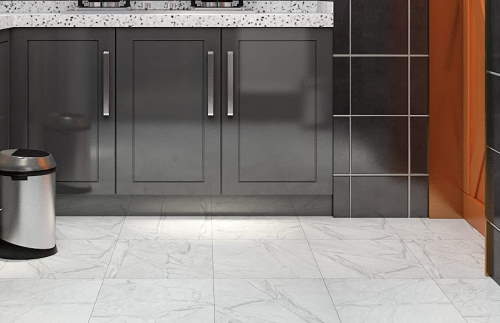 Whether you have a big or small space, you can install these with ease and still have a durable floor. It's so easy to maintain and care for that it makes this choice one that you can appreciate for years to come. Peel and stick vinyl floor tiles are the do-it-yourselves dream.
Excessive humidity may cause linoleum flooring to curl, so it's important to clean up spills regularly. During the manufacturing process, dye is infused directly into the linoleum layer, so it holds a pattern and colors better than laminate or vinyl flooring. However, be sure that it's not exposed directly to sunlight because your linoleum flooring will start to develop a yellowish tinge. It's a non-toxic and biodegradable material, which will decompose naturally when disposed of. After installation, linoleum flooring may give off a unique fume for about a month, but it's completely safe.
Final words to end
You can't start a kitchen floor renovation until you have evaluated some kitchen floor ideas and considered the cost of each. Many kitchen floor renovations don't take up much time, but it's best to expect a weekend at a minimum.
The best way to prepare your kitchen for a flooring renovation is to plan ahead by gathering what you'll need before starting. The first thing you'll want to do when renovating your kitchen floor is clear out your cabinets and appliances from that area. When renovating your kitchen floors, it's important to clean and remove all dirt, dust, paint splatter, mildew, and grease. Your new kitchen floor will have an impact on your home's entire aesthetic as well as its resale value.