If you have been searching for an automatic coffee machine, you may have come across some Jura models in stores. Here comes the Jura Z10 review, for which we believe you're here in the first place.
What you can find in this article
The brand is known for its high-quality coffee-making machines, despite their relatively high price tags. Among those, the Jura Z10 offers an elegant design and plenty of useful features. In fact, it is the only automated coffee machine in the market that can make you either cold or hot brewed cups of coffee. Read this Jura Z10 review, and find out what you get with it.
The Jura Z10 is a high-end fully automatic espresso machine that is designed to make specialty coffee drinks with ease. It features an intuitive touch screen display with pre-programmed drink settings, an integrated milk frother, a fine foam technology system for perfect milk foam, and an adjustable spout for larger cups. The machine also has a built-in grinder for freshly ground coffee beans and an Intelligent Water System for automatic water filtration. The Jura Z10 is a great choice for those who want to make specialty coffee drinks at home with ease. It is a bit pricey, but it is well worth the investment.
Elegant Design
With its boxy design, the Z10 is one of Jura's modern-looking machines and it's available in two color choices, diamond black, and aluminum white. Both are sleek and elegant, so they will fit in most kitchens. However, fingerprints tend to be more visible on the aluminum white version, but you can wipe them down easily. There are a couple of spouts at the front, which you can adjust vertically to fit mug sizes and heights. You can also adjust them horizontally to have two single espressos or one double espresso.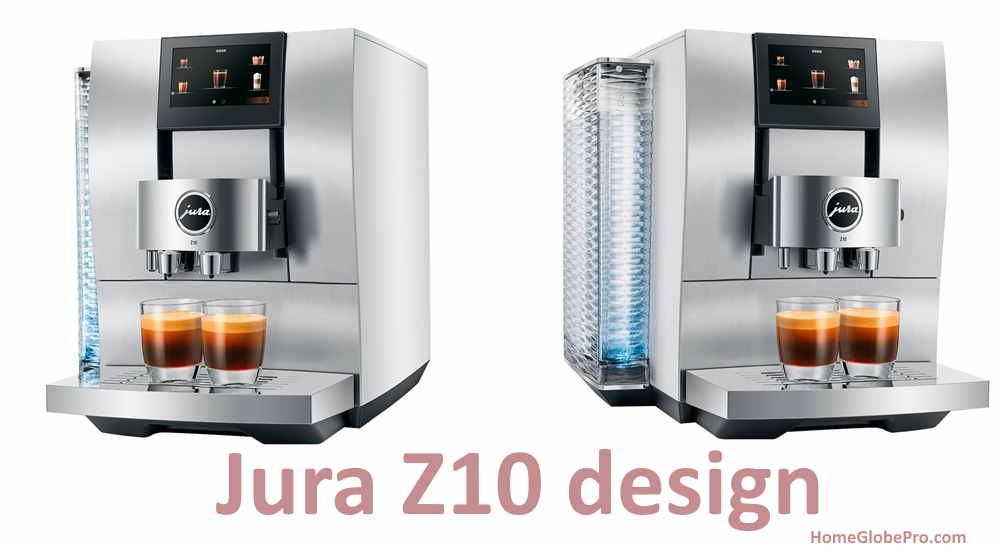 Under your kitchen light, the Jura Z10 review reveals this coffee machine looks sleek with its chrome details and large touchscreen display. Being an automatic espresso machine, it is a rather large unit, which measures at 15-inch high, 12.5 inches wide, and 17.7 inches deep. Because it takes plenty of space, ensure that your pantry counter is large enough to accommodate it. With the Z10, Jura continues to maintain its reputation for delivering products with precision design and high-quality build. Unlike cheaper models with their flimsy ground bins and drip trays, the Jura Z10 feels thoroughly solid and elegant.
Crystal water tank
The 2.4-liter water tank is large enough and I don't have to constantly fill it up every day. The geometric pattern of the water tank makes scratches less visible, which are unavoidable with daily uses. With its rectangular shape, it won't add too much bulk to the overall design. Since water quality affects your coffee, the tank comes with an intelligent water filter. Also known as CLARIS Smart, it's an advanced filtration technology that gathers information about the condition of the filter. The tank and its filtration system are suitable for any tap water. Even with a high level of water hardness, the granulate filters are quite effective to remove excessive amounts of minerals. However, favorable minerals that contribute to the pleasant flavor of your coffee are fully preserved. Excellent lime control and filtering of harmful microorganisms ensure proper water quality to get the perfect flavor and aroma.
With Jura Z10 reviews, we assume you can't go wrong if decide to purchase one for the kitchen stand in your own home.
LCD touch color display
The colorful 4.3-inch display supports touchscreen operations, making it easy to start grinding and extracting espresso. If there are ample coffee beans in the hopper and the water tank is full, you can start using the display immediately. Coffee strength, amount of milk, milk foam, and brewing temperature is programmable and you can store these settings in the machine's internal memory. You can adjust the coffee strength with ten varying levels on the display. The Active Bean Monitoring tells you when there are enough beans in the hopper, so the grinder won't turn empty.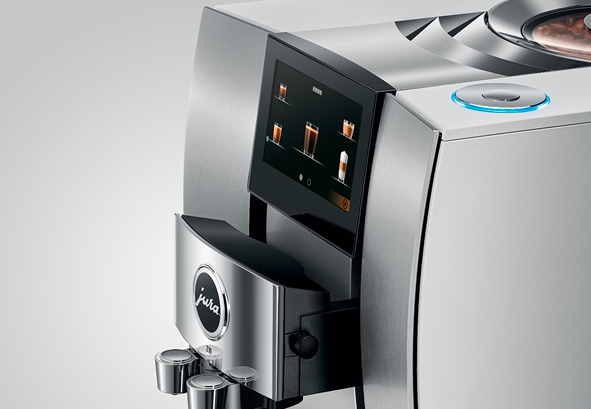 You can choose any type of coffee by moving your finger across the display to choose your preferred type of coffee. If you make a mistake and choose the wrong type, you can tap "Cancel" immediately to halt the preparation process. If you have a favorite coffee type, you can tap and hold it for a few seconds and it will be designated as your preferred coffee.
Just tap the name of your preferred coffee on the display to prepare it quickly.
It's very easy to use the touchscreen interface of the Jura Z10. You can turn the Rotary Switch or move your finger across the display to adjust the strength or quantity of your coffee. Tap and hold the drink selection icon on the display for a few seconds to go to "Product settings" and adjust the default temperature, quantity, strength, and grind consistency. This will speed up the brewing process, especially when I need to make an espresso in a hurry each morning. Jura Z10 can make you 32 types of coffee, including single espresso, double espresso, cappuccino, cappuccino extra shot, macchiato, and latte.
Hot and Cold drinks
With its cold extraction system, Jura Z10 can make refreshing cold brew coffees quickly, especially during a warm, humid day.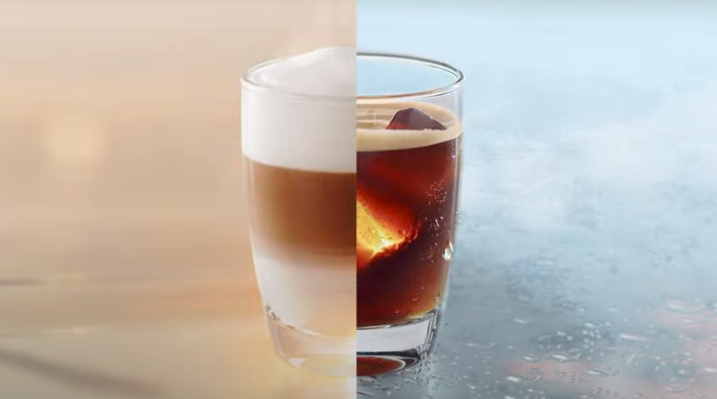 Cold and hot brews are available for regular coffee, cappuccino, espresso, latte, macchiato, cortado, latte macchiato, and flat white. The cold extraction process is an efficient way to make a cold coffee brew, which pulses cold water slowly under high pressure and mixes it with freshly ground coffee. This makes your cold brews taste especially refreshing with the natural fruity aromas of coffee without excessive bitter undertones.
Jura Z10 price
When talking about the Jura Z10 price, we can say it is an expensive model. However, Jura Z10 is a top-notch and fully equipped coffee maker. If you know what you're looking for, no matter its price, Jura Z10 is a choice to make. If you go with Jura Z10, you'll get an all-in-one coffee machine, that is priced as it should be. Don't just ignore all the features that Jura Z10 has to deliver.
Note: Jura Z10 price however overcomes budget for many people, and it is a coffee maker for those people who know what is on the table.
Finally, to be completely honest, we do mind the fact that milk container is sold separately. For this price, it would be great if the milk container comes in the box with the machine itself.
Why do you want it in your kitchen?
If you want to spend $3,500 or more on an automatic coffee-making machine, the Jura Z10 is a convincing option with its full features and indulgence. It promises maximum convenience for daily use. At the moment, there's no other brand that offers coffee extraction capabilities as good as Jura's. If you prefer a cup of aromatic cortado or lungo, there's probably no coffee machine that can match Jura's high-end models. It's as easy as tapping a few times on the display and you will get an excellent cup of coffee. The cold extraction system is among the biggest reasons why you should choose Jura Z10. It's a vastly superior feature, compared to one you find in competing coffee machines. During a hot summer day, it's easy and quick to get a big glass of cold latte with low coffee strength and extra milk, which is no different than a coffee-flavored milkshake.
One big question is whether the Jura Z10 justifies its high cost and whether should you have one in your kitchen. A moment after finishing Jura Z10 Review, we can say the answer is yes. Especially if you want an easy-to-use automatic coffee-making machine with a dazzling array of features and coffee-making options. Whether you like it hot or cold, you will get an excellent cup of coffee, although it still depends on the quality of your coffee beans and milk. But if you have the best ingredients available, the Jura Z10 will never disappoint. In my opinion, the Jura Z10 is a fully featured, convenient, and innovative coffee-making machine that's worth every dollar you spend.
Grounds, whole beans, or pods? What are the best coffee beans you can use in the Jura Z10 coffee maker? As with all automatic coffee machines, including Jura coffee machines, Z10 uses whole beans.
Some other Jura products can be found on these URLs:
Conclusion
Overall, the Jura Z10 is a great choice for those who are looking for a machine that can make specialty coffee drinks with ease. It is well-built and reliable, and the touch screen display is easy to use. The integrated milk frother and fine foam technology system make it easy to get the perfect foam every time. The built-in grinder is great for freshly ground coffee beans, and the Intelligent Water System ensures that your coffee will taste great. If you are looking for a top-of-the-line espresso machine, the Jura Z10 is a great choice.