The JURA ENA 8 is a multi-award-winning super-automatic espresso machine with exceptional user utility and aesthetics. Take some time and read the complete Jura Ena 8 review that follows. The ENA 8 Signature Line is available in a variety of colors.
The outstanding new one-cup machine: compact, beautiful, and straightforward, a must-have for all coffee lovers and fans.
The ENA 8 impresses with freshly ground, not capsuled, coffee specialty. It is sure to please even the most discriminating palates, given the diversity, it provides at the push of a button. Also, with ENA 8, customers have all of the functions we've come to expect from JURA machines, plus some new ones that make this award-winning super-automatic even more enjoyable to use.
The ENA 8's space-saving design makes it ideal for kitchens with low-hanging cabinets. Given its size, the drink selections are fantastic and making a cappuccino, latte macchiato, or flat white requires no moving of the cup.
It grinds quietly when producing drinks, and JURA's Pulse Extraction Process assures a full-bodied beverage. Ultimately, the ENA 8 is a complete success. Read this Jura Ena 8 Review to the end.
Jura Ena 8 at a glance
The Jura Ena 8 is a high-end automatic coffee machine designed for the home user. It is capable of making both espresso and cappuccino drinks. It features a 15-bar pump system, an adjustable coffee spout, and a milk frother for making cappuccinos. The Ena 8 also has an integrated grinder for freshly ground coffee beans and a programmable menu for customizing your favorite drinks. It includes a removable water tank and an adjustable cup stand for added convenience. Overall, the Jura Ena 8 is a great choice for those who want a high-quality, automated espresso machine with plenty of features.
First impressions of the Jura ENA 8 coffee maker. Like all other Jura coffee machines, you won't be wondering whether the Jura ENA 8 will look attractive in your kitchen. However, you may begin to worry about your kitchen not appearing presentable for the coffee machine.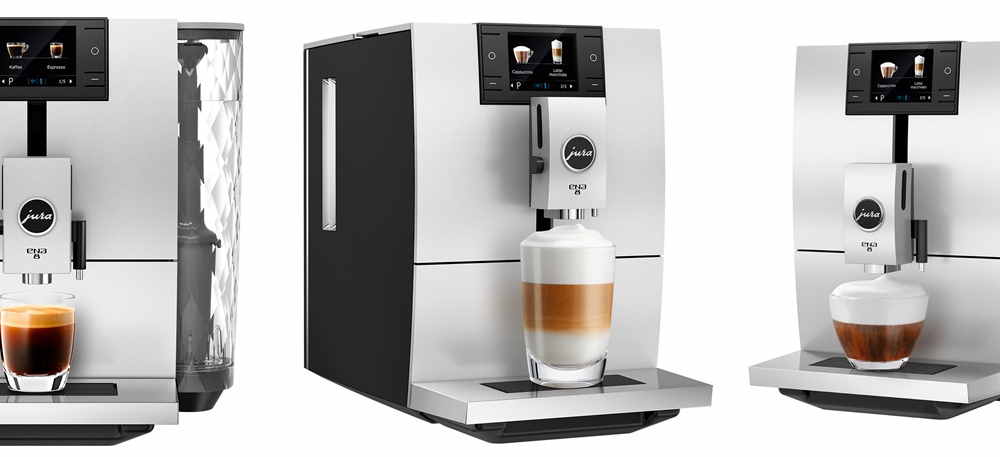 The Jura ENA 8 is a gorgeous appliance with its slim, elegant appearance and modern design. Nonetheless, the protruding cylindrical water tank might not be persuasive. The manufacturer evidently takes pride in this aspect, describing it as "inspired by fine crystal carafes." Well, we think beauty is in the eye of the observer.
With the Jura ENA 8 Bean-to-Cup Coffee Maker, you can always have a high-quality cup of coffee. The ENA 8 from JURA is a modest-sized espresso machine featuring a selection of ten one-touch coffee specialties and a striking asymmetrical design. It features a compact design (H32.3 x W27.1 x D44.5cm) not to take up too much worktop space and offers ten various specialties that you can rapidly select from the 2.8″ TFT color screen located in front and center, providing an easy method to connect with the machine. On either side of the 2.8-inch (7.1-centimeter) screen, there are clearly outlined working panels. The Jura Ena 8 is a kitchen-friendly small quantity with a striking, cutting-edge design. It significantly departs from conventional superautomatics' fundamental boxy design, offering stunning good looks in a stamp-size footprint.
Features We Like The Most
The ENA 8 has a 2.8″ TFT color screen with ten built-in specialty beverages to choose from, featuring cappuccino, latte macchiato, and plenty more. The gadget can offer crema-rich espresso beverages at the push of a button, requiring no further effort on your side. The ENA 8 is inspired by traditional craftsmanship and advanced technology, elegantly blending the two worlds to create beverages that taste like a cappuccino crafted particularly for you by your neighborhood barista. Instead of needing to queue for seconds, the machine is ready to create ten different specialties such as ristretto, espresso, espresso doppio, coffee, macchiato, latte macchiato, cappuccino, flat white, milk foam, and hot water, among other beverages produced from freshly ground coffee.
The ENA 8 is also fitted with some of JURA's most advanced and remarkable features, such as the P.E.P (Pulse Extraction Process), which pulses water through the puck to extract all of the flavors and aromas from your coffee, I.W.S (Intelligent Water System), which uses RFID technology to detect if the CLEARYL Smart mini (1,000-oz capacity) or CLEARLY Smart (2,000-oz capacity) Water Filter is in.
One-Touch Cappuccino System: The Jura Ena 8 features a unique one-touch cappuccino system that allows you to prepare a cappuccino with the touch of a button.
Dual Frother System: This machine features a dual frother system, allowing for simultaneous milk and coffee extraction for cappuccinos and lattes.
Programmable Settings: The Jura Ena 8 allows you to program the settings to your preferences, allowing you to customize your coffee experience.
Intuitive Touchscreen: The Ena 8 features a 4.3-inch intuitive touchscreen, allowing you to easily navigate through the different coffee settings.
Automatic Cleaning System: The Ena 8 features an automatic cleaning system, which will clean the coffee grinder and the coffee machine after each use, making maintenance a breeze.
Adjustable Spout: The Ena 8 features an adjustable spout, allowing you to adjust the height of the spout to fit different cups, mugs, and glass sizes.
Aroma Grinder: The Ena 8 features an aroma grinder, which grinds coffee beans more slowly, allowing more flavor and aroma to be extracted from each bean.
Jura Smart Connect: The Ena 8 features Jura Smart Connect, which allows you to use your smartphone to control the machine's settings, as well as monitor the machine's performance.
Compatibility with the J.O.E App and Smart Connect
JURA machines are noted for seamlessly integrating modern technology with their equipment. With the ENA 8, you can use the Smart Link Bluetooth Adapter to link your smartphone to the device and make an espresso beverage using the J.O.E app, which is accessible in the Apple and Android app stores.
Bypass Doser
Want to test a new coffee or brew decaf? A bypass dosing tube lets you shovel pre-ground coffee into the machine on the go.
Compact
The ENA 8 is 12.7″ high, 10.7″ wide, and 17.5″ deep, allowing all coffee and espresso connoisseurs to keep this super-automatic in a convenient location in their kitchen or office.
Pros:
Case Layout: The Ena 8 has excellent organizational skills. The generally simple lines are separated by circular visual signals. They even ribbon the spout track as a contrast line around the rest of the case, which is a typical golden ratio. In your kitchen, this will look great.
Compact Quality: Unlike other things, the Ena 8 does not compromise functionality in order to fit inside its small frame. Jura crams a lot of technology into his film, and it shows.
Good Coffee: The Ena 8 competes with its full-size counterparts in terms of quality and consistency.
Cons:
Refill: With the Ena 8, you'll have to give up some space. Because we could only fit 500 grams of espresso in the hopper and the storage is so small (36 ounces), they had to release a smaller water filter to save you a few precious ounces.
Price: The Ena 8's overall design and technologies come at a cost.
Jura ENA 8 – Overall design
The Ena 8 starts with a slanted brushed aluminum front that complements its matched colors. Nordic White, Sunset Red, and Metropolitan Black panel options are available for the ENA 8 Signature Line. The water reservoir, which is situated on the right side of the machine, stands out thanks to its straightforward crystal design and diamond-shaped pattern, which complements the machine's elegant design.
Grinding
The Aroma G3 grinder that comes standard on the Jura ENA 8 is one of the greatest ultra-automated crushers we ever used. The Aroma G3 is a rapid, silent, and effective grinder that consistently provides ground coffee.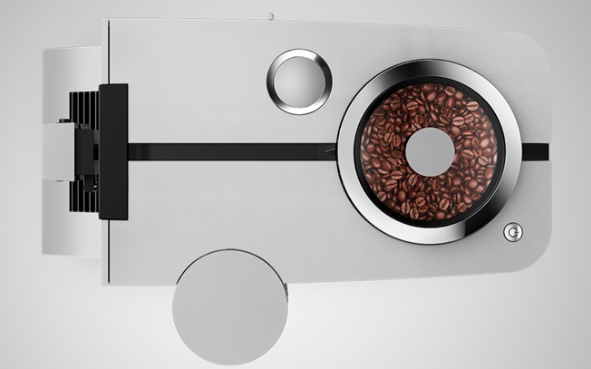 Freshly ground coffee: Enjoy your favorite out of 10 different specialties that are available at the touch of a button. The first VC compact brewing unit ensures that the coffee always flows into the cup under ideal conditions.
On the Jura ENA 8, changing the grind is as simple as adjusting the grinding wheel that surrounds the bean hopper. But keep in mind that you should only alter the grind settings when the grinder is running!
Cleaning Jura ENA 8 Coffee Machine
Like any highly automatic machine, the Jura ENA 8 requires some regular maintenance to keep it running smoothly. There are several possible hiding places for mold, germs, and other pests in espresso machines. So it's well worth going the additional mile.
The drip tray and grinds container should be emptied and washed with lukewarm water once every day. It's also a good idea to use a gentle detergent. The milking process is the same way.
Although the Jura ENA 8 auto-rinses the milking system after each use, you should still separate it and thoroughly wash it at the close of the day. It is advisable to replace the milk hose every few months or so. Whenever the coffee system cleanup cycle is due, your Jura automatic espresso maker will notify you. During this cycle, you'll also need to use Jura cleaning tablets such as Jura 64308 or 66281.
If you do not use a water filter, you will need to descale the Jura ENA 8 on a regular basis. Again, the gadget will notify you when it is time to do this operation and walk you through the steps. You're almost certainly going to get more excellent coffee, and you won't have to deal with the trouble of a descaling program. You'll require Jura's descaling pills. For this, you can try using Jura 66281 Decalcifying.
Extras
Jura coffee machines deserve special notes again for the richness of milk froth they produce. If creamy, feather-light milk foam is your style, you'll be pleased with the Jura ENA 8's outcome.
The milk system is simple to set up: easily plug the milk pipe into the double spout and insert the other end in a milk container of your preference. You need to understand that you cannot change the texture of the milk foam. However, you can customize the amount of milk foam in each beverage, giving you plenty of freedom to explore. The Jura ENA 8 also satisfies the latte macchiato test, making milk foam first, let it settle before extracting espresso on top to make a multi-layered drink.
The verdict on Jura ENA 8
Jura coffee machines are not cheap, which is a reality of life. Whether or not the Jura ENA 8 is worth the price has not been established. But, having taken the time to study this machine, the Jura ENA 8 is considered to represent excellent value for money.
We wouldn't call this the ultimate Jura coffee maker. Still, we're fighting the impulse to pull out our credit cards and click the Buy Now button.
Read about the Jura Milk System Cleaning also.