A portable dishwasher is a good solution if you no longer have an available waterline at home for a regular dishwasher. Portable dishwashers are smaller and they don't require a complicated plumbing system if you have a small kitchen, it should be easy to fit one. For a hassle-free experience, a portable dishwasher usually comes with a guideline and a universal faucet adapter.
A portable dishwasher adapter for pull-out faucets usually works with a threaded spout. If you have a problem connecting the portable dishwasher to the pull-down faucet hose, you may need to remove the aerator first.
What you can find in this article
Both pull-out and pull-down faucets usually have a spray system and hose extensions. Each faucet design caters to different sink sizes and kitchen configurations. Pull-down kitchen faucets are more popular among homeowners because they work best for deeper kitchen sinks. But if you have a small kitchen, it's preferable to choose a pull-out faucet, because of its compact design.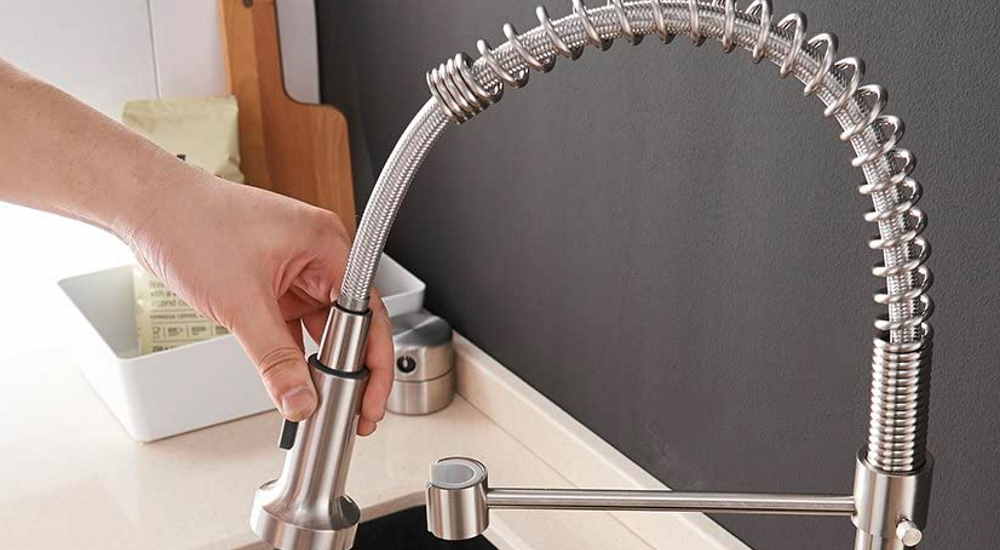 Here are things to consider when choosing a pull-out/pull-down faucet for your portable dishwasher:
Features
For an optimum operation, your faucet should have a good flow, preferably more than 1.5 gallons per minute. A swivel ball joint should allow 360-degree movement, which makes it easier to connect the faucet with the hose and it won't tangle up. Choose a faucet with a side sprayer, which can spray water into the sink. Some faucets have temperature sensors that need a battery to work.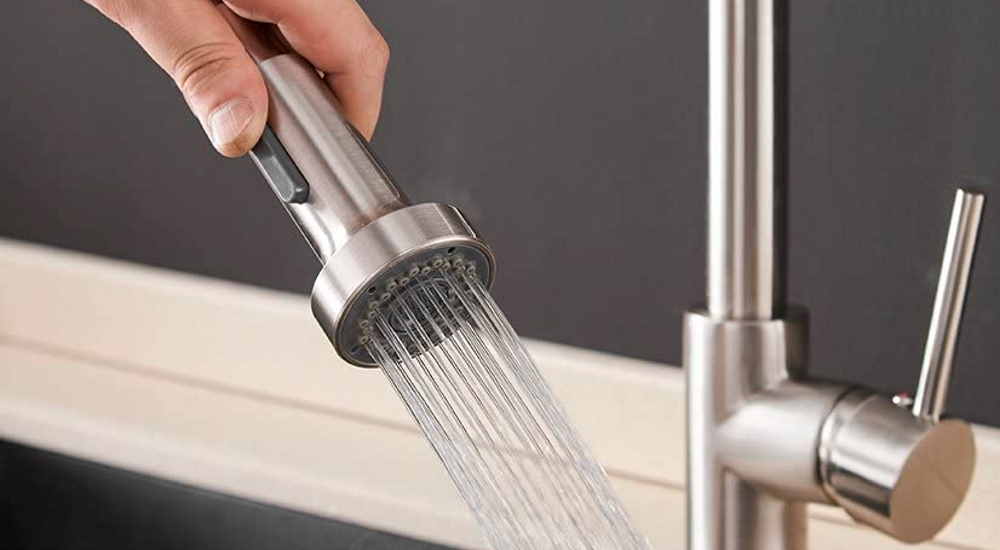 This allows the faucet to deliver water at the right temperature for the dishwasher to work optimally. If you want to have better control of the temperature, choose a faucet with a LED indicator. The battery-powered faucet is also convenient because it allows touchless sensing. The water starts whenever you put your hand near the faucet. If your hands are dirty, it's convenient to have a touchless sensor to turn the faucet on or off.
Material
When choosing a pull-down faucet for your countertop dishwasher, you may consider one made from brass. Brass is an alloy of aluminum, copper, and zinc, which lasts for a long time in your kitchen. It resists corrosion when exposed to salt or acidic water because homeowners often use salt and vinegar when cooking. If the reddish or yellowish color of brass doesn't match your kitchen design, you may choose a brass faucet with a coating of chrome. Stainless steel faucets are also common. Stainless steel is an alloy of iron with a small amount of nickel and chromium. The former adds malleability and strength to iron, while the latter protects your faucet against corrosion in a humid environment. Stainless steel faucets are usually quite affordable and they have a shiny metallic appearance.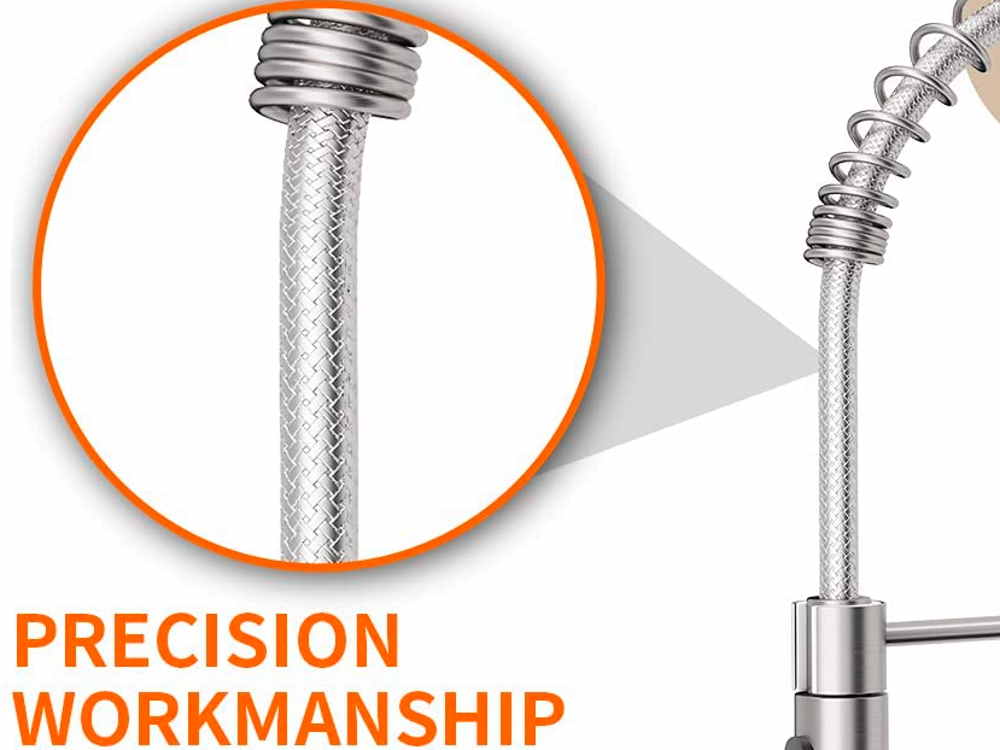 Zinc faucets are less expensive compared to their brass and stainless-steel counterparts. Despite being more affordable, faucets made of an alloy of zinc, aluminum, copper, and magnesium are quite reliable. Although less durable than brass and stainless-steel faucets, they are still resistant to water corrosion. If money is tight and you want to delay the purchase of expensive metallic faucets, you may choose one made of plastic. Because plastic is neither durable nor reliable and faucets made of it may break down and lose color in less than a year. But when coated properly, plastic faucets may look like made of metals.
Easy installation
Be sure that the pull-down faucet for your portable dishwasher is easy to install. You shouldn't drill more than two holes to install the faucet. If you follow the instructions, it should take no more than 30 minutes to complete an installation. A portable dishwasher has a hole assembly that can be attached to the sink. It will not only deliver water to the countertop dishwasher but also dispose of dirty water. A sink often has an aerator to save energy and conserve water. However, you need to remove it for proper installation of the portable dishwasher. To unscrew the aerator, you need to use a plier. Pull the aerator out and store it for future use. The portable dishwasher should include a universal faucet adapter. Attach it to the faucet using the threaded spout.
If you want to know whether the faucet is working properly, turn on the hot water and be sure that the water feels hot on your hand. Put the portable dishwasher next to the sink and attach the hose to its backside. You need a collar to attach the hose to the faucet and gently slide the collar to the adapter. After you are sure that everything is properly connected, you can plug the countertop dishwasher with the AC electrical supply. Be sure to keep the dishwasher unplugged when connecting the hose to avoid the risk of electric shocks. Load your dishwasher and choose an appropriate washing cycle. Check for signs of water leakage, but it should be fine if you properly connect the hose and adapter.
Check also: