Looking for a perfect coffee maker to buy? Let's find out which is better – Jura E8 vs Breville Oracle Touch. We're going to compare these two and try to find out the differences between them.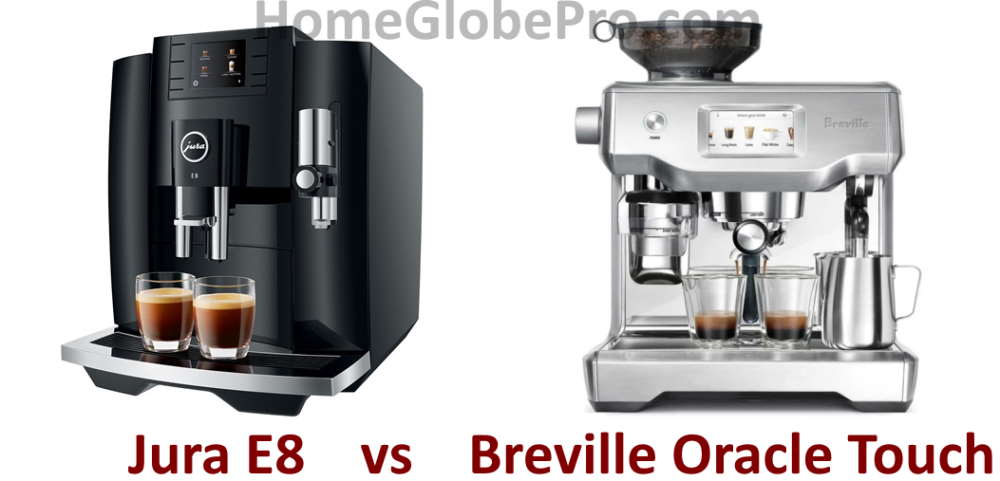 Both are fully automatic coffee makers, delivering top-notch features. We're going to compare the device design, functionality, and features that each has to offer. Keep reading this post: Jura E8 vs Breville Oracle Touch.
What you can find in this article
Jura E8 delivers all the functionalities and a sturdy design combined with stainless steel and high-quality plastic. Whoever goes for Jura E8, I believe there is no mistake.
Breville Oracle Touch has a retro (bit nostalgic) design, and while it is called a fully automatic coffee maker, you need to prepare a portafilter each time you ask for a cup of coffee. Other than that, to make coffee all you need is to choose the option using the touch-screen.
Jura E8 vs Breville Oracle Touch specifications and option
Let's compare these two coffee machines side by side. Jura E8 vs Breville Oracle Touch comparison follows.
Capacity
There are some differences between water tank capacity and bean tank capacity. Furthermore, coffee maker measures are different, which is why we are making this comparison table.
| Specifications | Jura E8 | Breville Oracle Touch |
| --- | --- | --- |
| Water tank capacity | 0.50 gallons | 0.66 gallons |
| Bean storage capacity | 0.61 pounds | 0.5 pounds |
| Dimensions WxDxH inches | 11 x 17 x 13 | 12 x 15 x 14 |
comparison table: Jura E8 vs Breville Oracle Touch
Touch screen options
Both machines have a touch-screen placed in front. Let's go through the menu and options they have.
Both coffee machines have a fully functional color touchscreen display, which makes it easy to choose your preferable beverage just by touching the LCD panel.
NOTE: Before using a touch screen on Breville Oracle Touch, you need to prepare a portafilter.
Navigating through the menu is user-friendly and easy to understand. Users can choose a pre-programmed beverage, or make beverages that taste differently.
Additional hardware
Let's write a few words about grinders and milk containers.
While Breville Oracle Touch has both – an authentic portafilter and milk tank, Jura on the other hand doesn't have any of those two. Some people consider this as a flaw, some don't. In our opinion, Jura E8 is a fully automatic coffee machine exactly because it doesn't have a portafilter, and moreover — milk tank can be bought separately.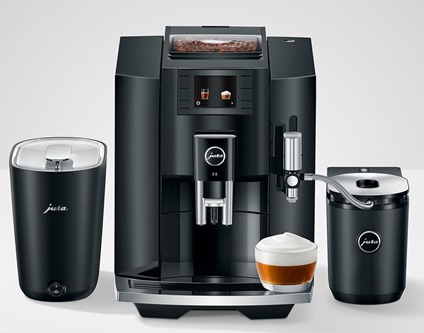 With a 2.8″ color display, and six buttons it is more than just easy to make preferred beverages. Moreover, Jura gives you a completely new operating concept featuring artificial intelligence to enable simple handling.
AI algorithm identifies individual preferences and adapts the start screen making it customized to that individual. Product settings and their positions on the screen can be adapted in line with personal preferences and product names can be displayed or hidden. Not so many coffee machines in the world have these options and features.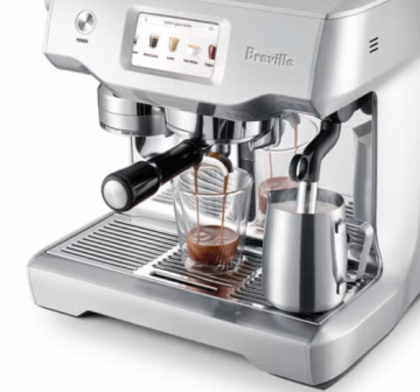 Breville Oracle Touch gives you your own barista. It has a fully-integrated hardened precision conical burr grinder that automatically grinds, doses, and tamps 22 grams of coffee straight into the 58mm professional-style portafilter.
For the best coffee aroma, Breville uses a low-pressure pre-infusion followed by 9 bar extraction process delivered via strong 15-bar Italian-made pump.
Price comparison
While talking about the price, we must say that Jura E8 is more expensive than Breville Oracle Touch. In our own opinion, the higher price comes with the additional features it delivers. Jura E8 delivers more programmable options, and it gives a fully automated coffee-making machine. Furthermore, Jura E8 has 9 levels of coffee strength, 3 levels of hot water temperature, and 2 levels of coffee brewing temperature.
On the other hand, if you're on a budget, Breville Oracle Touch is a great coffee-making machine. It is less expensive, and still, it makes great coffee whenever you want it.
Conclusion
Before ending this post, if you have a few minutes, read our favorite Jura machines, and Breville coffee machines, we have written about before.
Both brands are making excellent products for either home or office. The right choice actually is, finding an appropriate coffee-making machine for you and your preferences. Either Jura or Breville, you'll be served with the best coffee taste there is.