For this comparison, we're taking a look at Breville BES870BSXL, Breville BES880BSS, and Breville BES878BSS all-in-one machine models. In this post, you can read a short review of each, and compare them. What to look for, and how to choose an all-in-one espresso machine that fits your needs? Keep reading and find out answers to all the questions you have in mind.
What you can find in this article
Take complete control of your espresso-making with the all-in-one Breville espresso machine that lets you grind, tamp, brew and froth with the touch of a button.
Love espressos? This compact Breville all-in-one is perfect for your kitchen. No need to head out to expensive coffee shops! And with an integrated grinder, milk frother and automatic function, you can have that perfect cup of cappuccino or latte at any time. Yes, all three models BES870BSXL, BES880BSS, and BES878BSS have grinders and other features mentioned earlier.
Breville Espresso with grinder
Why fresh coffee makes a difference? Built grinder gives you all the coffee freshness and full aroma.
As part of the Breville Control series, these espresso makers will make you feel in charge like a real barista. It's as simple as turning a dial – creating your favorite espresso drink at the touch of a button in well under a minute. The built-in grinder makes it super easy to grind your beans fresh and gives you all the coffee freshness and full aroma.
Breville BES870XL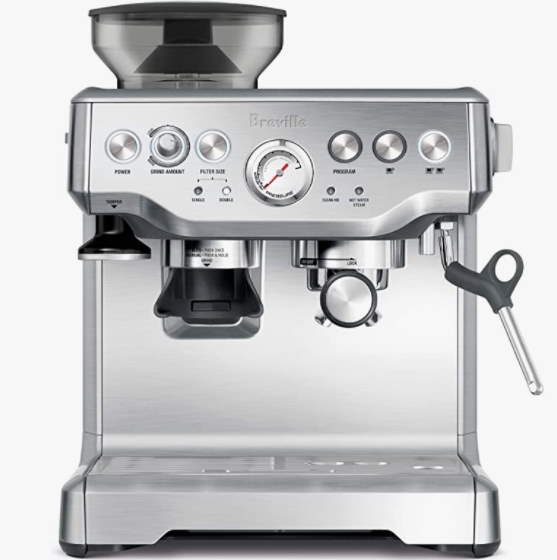 The Breville Barista Express lets you grind beans right before extraction, choose the ground and brew quantities or select pre-programmed single or double espressos or cappuccinos. A choice of automatic or manual operation ensures authentic coffee style results in no time at all.
Breville BES870XL specifications:
Espresso Machine
Capacity: 4 Pounds
Color: Stainless Steel
Special Feature: Manual Coffee Maker
Type Espresso Machine
This model gives you all you need for barista-quality coffee, in a compact footprint. From bean to espresso in less than a minute. Unlike the BES880BSS and BES878BSS, this model uses the manual action needed for making coffee.
Breville BES878BSS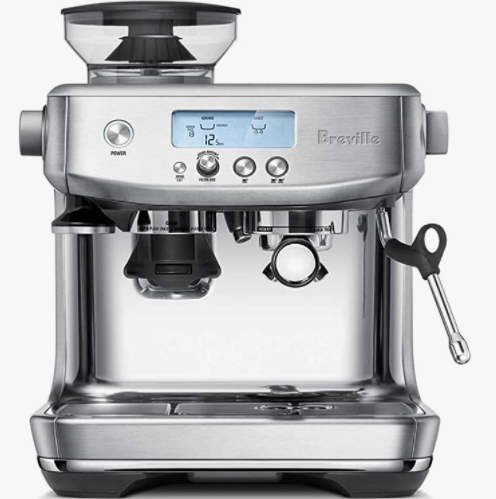 For true coffee lovers, the ability to enjoy great specialty coffee at home is a welcome luxury. The intuitive user interface and powerful grinder of this Barista Express model by Breville make it simple to create third-wave specialty coffee. This model's 3-second heat-up time, combined with its new pre-infusion mode, ensures that you're always pouring a fresh drink.
Breville BES878BSS specifications:
Espresso Machine
Capacity: 4.4 Pounds
Color: Brushed Stainless Steel
Special Feature: Programmable Coffee Maker
Type Espresso Machine
The Barista Express espresso machine allows you to create lattes, and cappuccinos, and filter coffee with ease. Single-touch operation is as easy as one-two-three: Freshly grind your beans and it's ready to go. The Barista Express has a built-in conical burr grinder with dose control for maximum flavor.
Breville BES880BSS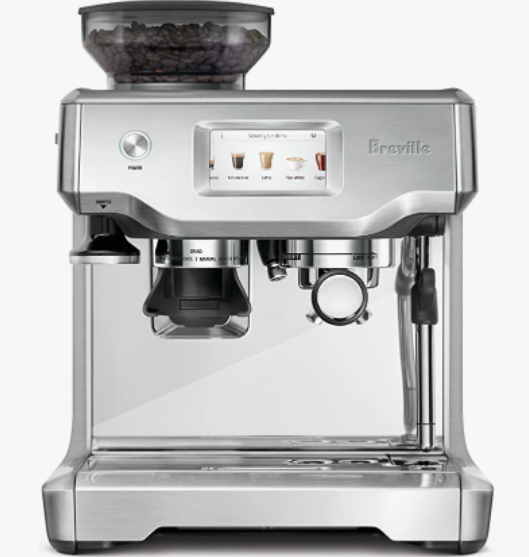 Why do people love coffee? It can be for many reasons, but the most common one is that it tastes great! With this new Breville BES880BSS espresso maker, the coffee can taste even greater because it helps to make it just how the customer prefers. You can adjust the milk texture and temperature, the strength of taste, and other parts to create the very best-tasting coffee. This is a machine that goes beyond just coffee.
Breville BES880BSS specifications:
Espresso Machine
Capacity: 67 Fluid Ounces
Color: Stainless Steel
Special Feature: Programmable Coffee Maker
Type Espresso Machine
The Breville Espresso Maker makes delicious espresso, cappuccino, and latte with the touch of a button, and grinds coffee just before brewing for maximum flavor. The integrated conical burr grinder with dose control delivers the right amount of coffee on demand, while the innovative ThermoJet heating system achieves the optimum extraction temperature in just 3 seconds. It will wake up your taste buds in the morning and smile every time you drink one of your favorite beverages at home or out on the town.
In conclusion
When it comes to espresso machines, the possibilities are endless. There are so many features and options that can be added on or within the machine that it's difficult to know where to start. The first thing to keep in mind when purchasing one of these compact miracle machines is, what do you want from an espresso maker.
Which Breville espresso machine is best for you? Take a look at our review and find out. The three models we provide here have comparable features, but some slight differences that might impact your choice. Remember, these are all-in-one Breville coffee machines. It means you'll get a grinder as well. The final decision is yours. Hope you'll enjoy a great coffee.
Maybe you're interested in Jura coffee machines, or DeLonghi?