Short DeLonghi ECAM37095ti Dinamica Plus review follows, and product specifications. Read more about this coffee machine, to see if it is your choice or not.
What you can find in this article
The Dinamica Plus is a fully-automatic espresso and coffee machine that precisely prepares 16 barista-style beverages at the touch of a button. The new Coffee Link App levels up personalization like never before by letting you save up to 3 custom profiles complete with recipe favorites. From recipe selection to the first sip, this masterful machine is built to deliver authentic espresso in the comfort of your home.
Simply select your coffee and the DeLonghi Dinamica Plus will do the rest. Experience the simplistic elegance of a color touch screen that controls a built-in conical grinder, delivering maximum freshness and flavor with every use. It is easy to find the ECAM37095TI model, which is the most wanted coffee machine made by DeLonghi in 2021 and 2022. So, why do so many people choose exactly this model?
DeLonghi Dinamica Plus Specifications
At a glance, ECAM37095TI has an intuitive and colorful 3.5" TFT display. Furthermore, this coffee machine has a DeLonghi Coffee Link App functionality.
It has an intuitive touchscreen interface that makes it easy to select the perfect drink for you. The one-touch brewing system is incredibly fast and efficient, producing a great cup of coffee every time. The milk frother is also top-notch, producing perfectly frothed milk for your cappuccino every time. The design is sleek and modern and looks great in my kitchen. Overall, we're extremely satisfied with DeLonghi ECAM37095TI Dinamica Plus and would highly recommend it to anyone looking for a great espresso machine.
Dinamica Plus Features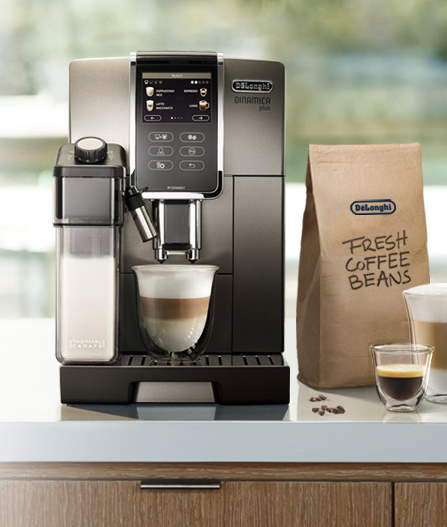 3.5" TFT full-touch, colorful display provides an intuitive and simple experience of one-touch specialty recipes. De'Longhi Coffee Link App lets you create and save up to 3 personalized espresso recipes in your profile, so every cup of coffee is always customized to your unique taste. 16 one-touch or customized coffee drinks: latte, espresso, cappuccino, flat white, iced coffee, regular coffee, and much more. It has a built-in conical burr grinder with 13 settings for always freshly ground coffee, for any beans of your choice. The intelligent Smart-One-Touch feature recognizes your preferences and is programmed to list your most frequently selected drinks as first on the display.
Intuitive and colorful 3.5" TFT display
De'Longhi Coffee Link App Functionality
Integrated Conical Burr Grinder
Smart-One-Touch System
Proprietary LatteCrema System
Designed to simplify maintenance routines
The Dinamica Plus combines superior espresso and coffee making with a modern, compact design. The built-in conical burr grinder provides freshly ground coffee every time, while the Smart-One-Touch System allows you to easily choose between 12 user settings with the touch of one button. To ensure superior taste, De'Longhi's exclusive LatteCrema System creates perfectly layered espresso drinks, from smooth cappuccinos to rich macchiatos. With dishwasher-safe parts for a simple cleanup, the Dinamica Plus is designed to offer both an excellent brewing experience and low-maintenance routines.
DeLonghi Dinamica Plus Review
Can't get through the morning without your espresso? Creating fresh espressos and delicious specialty drinks is easier than ever with this new, fully automatic Dinamica Plus by De'Longhi. Simply use our intuitive, three-step Coffee Link App to select your choice of 16 beverages, save up to 3 user profiles, or create your own original recipes. Its revolutionary MY Function allows you to personalize and save your chosen settings with ease. There's no longer a need to be an expert barista; with its sleek design and easy-to-use 3.5" TFT full-color touch display, all you have to do is make it yours – and enjoy.
When you have a craving for a cappuccino or latte, DeLonghi's Dinamica makes it for you. Tap an app to choose your favorite drink, and then just enjoy.
Product Specifications for DeLonghi ECAM37095TI
Type: Fully Automatic Coffee Machine
Dimensions: 20.5" x 15.5" x 13.5"
Weight: 21.2 lbs
Power: 1400 Watts
Voltage: 220-240 Volts
Cup Capacity: 2
Water Tank Capacity: 67 oz
Bean Hopper Capacity: 8.8 oz
Coffee Aroma Control: Yes
Cappuccino System: Yes
Adjustable Coffee Dispensing: Yes
Removable Brewing Unit: Yes
Adjustable Grinder Settings: Yes
Programmable Menus: Yes
Energy Saving Function: Yes
Integrated Milk Carafe: Yes
Automatic Shut-off: Yes
In conclusion
In the end, what to say about this coffee machine? It is quite good, and wish for so many people out there. In conclusion, a short overview of DeLonghi Dinamica Plus follows.
DeLonghi Dinamica Plus is a coffee machine with all possible features, including automated coffee grinding, brewing, and milk foaming. All you have to do is put coffee beans in it and press the desired type of coffee. Designed to achieve the perfect taste, the DeLonghi Dinamica Plus is built to impress coffee lovers. It comes with three coffee selections, can easily be programmed, and offers a quiet and fast operation. Ideal for busy homes and offices where coffee is a must, this model gives you all the power you need to enjoy fully a delicious cup of cappuccino.