Get this excellent espresso machine and enjoy the first residential machine with dual smart temperature sensors. These two sensors communicate with each other, making sure to deliver optimal temperature and an authentic espresso taste and aroma. That's not all, keep reading KitchenAid's semi-automatic espresso machine review and see what other features it has. The KitchenAid KES6403 espresso machine review follows.
What you can find in this article
Give yourself a treat and buy this affordable coffee maker. It installs easily, and the most important part – this semi-automatic espresso maker has a small footprint. You can put it in a small kitchen as well.
For all you looking for a small-footprint coffee maker, this model could be the one. Also check, we have written about choosing a coffee maker for either small or large homes and offices.
KitchenAid semi-automatic espresso machine description
It is reasonably priced, and while operating you'll get your espresso quickly and easily. The espresso maker KES6403 is easy to operate and clean. It makes quick and delicious espresso which makes him suitable for almost every home. Why do we say almost? Well, no matter how good it is, this machine has some drawbacks.
This machine doesn't have a milk frother, and that could be a drawback for some people. However, with its steam wand, you can make milk foam to enjoy cappuccinos, lattes, or macchiatos.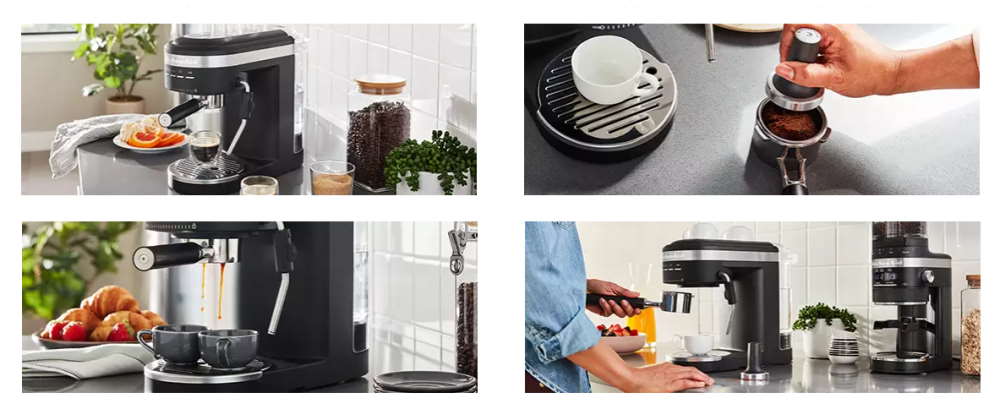 KitchenAid Semi-Automatic Espresso Machine KES6403 comes as a great option for those people without much extra space on the kitchen countertop. This coffee maker is easy to operate and takes up little counter space. We find it suitable for small kitchens, and for elegant kitchen designs.
KitchenAid Semi-Automatic Espresso Machine KES6403 review
What we do like, and what we don't like… Read this short review to find out. Keep reading on the topic, KitchenAid semi-automatic espresso machine review. The model name is KES6403.
KES6403 has a great sense of the right beverage temperature. That is the key to making only the best and great-tasting espresso. It accomplishes that with dual temperature sensors, making the consistent temperature and perfect espresso at home or in the office.
Furthermore, to achieve quality espresso at home, KitchenAid KES6403 gives you stable tamping for the best quality flavor. It is designed to sit flat on the counter, which makes it easy to evenly compress your grounds. Therefore, you're able to achieve rich-tasting espresso.
If you like to add some milk, no problem. With the steam wand, it is easy to create rich foam and warm milk. Therefore, you can make cappuccino, latte, or macchiato – whatever you like.
Although it is compact, and gives you a small footprint, with this espresso machine you can prepare two beverages simultaneously. Just use a 2-spout portafilter and there you go.
Few words at the end
Overall, we find this machine a good choice for the price. As said, it is reasonably priced and there isn't something negative worth mentioning. The KitchenAid Semi-Automatic espresso machine is a good machine for many homes, especially for small kitchens, where you want to save free space as much as you can.
KES6403 makes espresso quickly, with all the aroma and taste. It doesn't have a milk frother, which could be a drawback for some. If you really need a milk frother, maybe you should look for some other model. If not, consider choosing KitchenAid KES6403.
The KitchenAid Semi-Automatic Espresso Machine KES6403 is an excellent choice for those who are looking for a semi-automatic espresso machine that is both reliable and user-friendly. It offers a range of features such as a 15-bar pump, a stainless steel boiler, and a pair of steam wands for frothing milk. The machine also includes a large cup warmer on top, a tamper and portafilter, as well as a single and double shot filter basket. The water reservoir is removable for easy cleaning and the machine has a built-in timer for easy control of the espresso extraction. The machine is also equipped with an adjustable steam valve, allowing the user to adjust the temperature and pressure of the steam to achieve the perfect froth. In terms of performance, the KitchenAid Semi-Automatic Espresso Machine KES6403 produces excellent espresso shots with rich, creamy crema and a thick, velvety body. The machine is also easy to use and maintain, making it a great choice for both beginner and experienced baristas.