Being an espresso fanatic, perhaps you're curious about the finest Jura coffee machine. Here are the best picks from the Jura product line having done thorough research as regards their respective features. This post will provide you with various specifications to assist you in selecting the best Jura coffee machine in the year 2022 for your home.
The best Jura coffee machine depends on your needs and budget. If you're looking for an entry-level model, the Jura ENA Micro 1 is a great choice. If you're looking for a more advanced model, the Jura Giga X8c Professional is a great option. If you're looking for a top-of-the-line machine, the Jura Impressa XS90 One Touch has many features that make it a great choice.
The Best Jura household coffee machine
Continue reading in other to compare the Jura goods for yourself and to make an informed purchasing decision on the best products that suit your needs.
Jura Impressa A9
For a variety of reasons, the Jura Impressa A9 comes out on top. It's a good price for a coffee maker with a lot of features. Many people will disagree as its modest size only appeals to a small segment of the market, but it is believed this coffee machine provides everything you paid for. Above all, this is a small, solid and compact machine with dimensions of 9.4" x 17.5" x 12.7" and weighing about 23 pounds with a lot of useful features. Recommended for those who enjoy a casual cup of coffee and those who have small kitchen space.
With Jura Impressa A9 you'll have 12 specialties available. Make perfect latte macchiato doppio, or cappuccino doppio. The IMPRESSA A9 now features two completely new specialty coffees. The latte macchiato doppio and cappuccino doppio offer maximum flavor crowned with fine, feather-light milk foam. Thanks to the one-touch technology, you can prepare them without having to move the glass or cup.
The Jura A9 is a good choice for those that are looking for a mid-range machine. This model has many features, such as Pulse Extraction Process technology, Aroma G3 grinder, and a variety of pre-programmed coffee drinks. It also has a large water tank, a height-adjustable coffee spout, and an energy-saving mode.
Regrettably, the Jura A9 was not designed with a large reservoir in mind. Its top-loading, back-mounted water tank holds only 37 ounces, leaving you wanting more. There are smaller machines with substantially larger reservoirs; this was a missed great opportunity by Jura.
Jura GIGA 6
It is simple to state that the Jura GIGA 6 is a fantastic coffee machine. As it is a luxurious double-boiler super-automatic espresso machine that brings a cafe experience to your home or business. Two thermoblocks, two grinders, two hoppers, and a wealth of configurable options are included. It is uncertain to qualify it as a professional coffee maker. However, Jura GIGA 6 can readily be classified as a professional coffee machine based on its pricing and overall characteristics.
Many important characteristics were included in the machine's design and they are:
Touchscreen display: A 4.3-inch touchscreen display and a blue crystal rotary switch manage the Jura Giga 6. The Giga, like a luxury car's dual-climate function, can make two individualized drinks from two different coffee sources at the same time. Dual hoppers and dual grinders essentially combine the power of two highly automated espresso machines into one. Keep two different kinds of beans in airtight, opaque hoppers for variety, and the ceramic disc grinders will take care of the rest. The user has the option of creating her blends of these two sources.
Variety of drink options: From one cup to a whole jug, the Giga 6 includes 28 different programmable drinks, including cappuccino, flat white, cortado, latte, or just straight black coffee. This feature sets it apart from practically all other machines: it can produce more drinks than a typical coffee shop menu. with JURA's exclusive ability to simultaneously produce milk and coffee. This pairs well with the GIGA 6's ability to mix the beans in both hoppers in increments of 25%, allowing you to create some very unique blends. The GIGA 6 gives access to ten strength settings, ten milk temperature settings, and three brewing temperatures to choose from. While brewing, you can also alter the strength and volume.in addition, to provide ideal layers of milk, coffee, and milk foam, an automatic milk/milk foam changeover has been integrated.
Self-learning algorithm: This Jura machine learns your preferences and displays your favorite drinks. You may also use the JURA app to control the GIGA 6 remotely if you have a WiFi or Bluetooth connection. This feature allows you to prepare drinks on your walk over to the machine. The Jura firm has pushed what we can expect from today's technology with this model.
Intelligent preheating: Intelligent preheating in the Jura Giga 6 ensures that the first cup of coffee you serve is as hot as it should be.
Active bean monitoring: This special feature ensures that adequate coffee beans are available at all times. You'll be able to keep grinders from working when they're empty this way.
Many significant elements were included in the design that other espresso machines lacked. Therefore you can make a fantastic coffee beverage by combining all of these technologies. You can create a perfect cup of coffee with just a pick of a touch screen.
Pros & Cons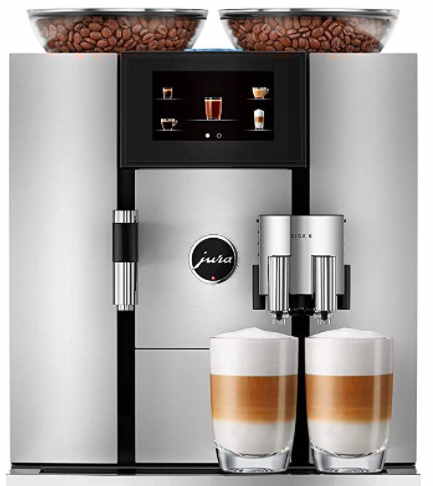 Pros:
Outstanding Customization opportunities
Heating is provided by two Thermoblocks
28 drink specialties with dual automated milk/foam spouts
Parts made of aluminum or stainless steel for maximum durability
For tracking and developing user profiles, AI technology is used
Bluetooth smart connect
Cons:
This gadget is expensive, and not everyone can afford it
Large footprint—requires a significant amount of counter space
The JOE app isn't very user-friendly
There are a lot of features to learn
Jura E6
What should you do if you want a great espresso in less time than it takes to brew a capsule pod coffee?
You have a hectic schedule and don't have much time in the morning to pull a flawlessly crafted espresso. Not to mention the foaming of milk for a cappuccino.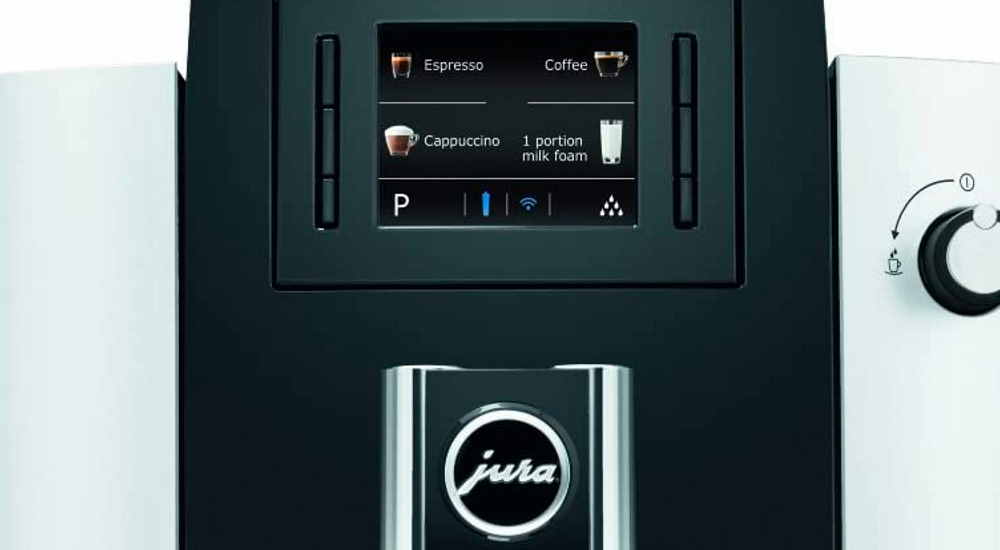 The solution is rather straightforward. A bean-to-cup coffee maker like the Jura E6 is a good choice.
Although it is only in third place, its appearance and general design are admirable. The Jura E6 resembles a professional coffee machine and offers 11 distinct specialty coffees:
Features include:
Pulse extraction: Hands can do a lot of things that machines can't, like keeping the flavor and taste of freshly brewed coffee. Machines, on the other hand, are getting closer to perfecting it every day. This coffee machine uses a pulse extraction procedure that retains the majority of the coffee's flavor.
Professional aroma grinder: If you are used to burr grinders sounding like a chainsaw cutting through a bag of bolts then you will be pleasantly surprised by how quiet the Jura burr grinder is. It also can grind beans at a very high rate with no loss of quality either. Because it grinds faster, the added heat does not affect the beans. As a result, more oils from the coffee beans can be extracted, resulting in a wonderful crema. Every bean is extracted with as much taste and richness as possible.
Intelligent water system: It's critical to test the hardness or softness of the water you'll be using with your Jura E6 coffee machine when you first set it up. Fortunately, Jura has included some water test strips with the machine, allowing you to find out right away.
Touch display: The Jura E6 has a lovely small Torch display right in the middle of the machine. There are some buttons next to the display that relate to the options shown on the display. If you place it in a brightly lit room, the display will be visible. It's also pretty apparent what's available and what kinds of cocktails you can make. To use, simply click the button that corresponds to the beverage of your choosing.
The intelligent pre-brew aroma system: The Jura E6 automatic coffee maker features a one-of-a-kind state-of-the-art brewing system called the intelligent pre-brew aroma system, or I.P.B.A.S. for short. This is a brewing machine that allows you to select a certain amount of ground coffee to have a little amount of water extracted onto it. This allows the coffee's aroma to be transmitted through the Pulse Extraction Process, resulting in the greatest coffee aroma and flavor possible.
Perfect for single-cup brewing: For the best flavor and aroma, this coffee machine grinds whole beans, tamps, and freshly makes each cup. One-touch preparation and enjoy the coffee flavor – Jura E8 prepares perfect coffee specialties at the touch of a button. It takes less than 60 seconds.
Programmable: Personalized brewing intensities, volumes, and a height-adjustable coffee spout make it simple to program and alter.
Fine Foam Milk Technology by Jura: Every time you desire milk foam, it'll be perfect – Produces creamy milk foam for one-touch cappuccinos, latte macchiatos, and flat whites.
Cost-effectiveness: Prepares professional coffee shop beverages for a fraction of the price.
Jura smart connect: The Jura E6 coffee machine is truly a 21st-century device, with its "smart connect" technology solidifying its place in the new world. Essentially, the user may download a JURA's free and exclusive app J.O.E. (JURA Operating Experience) which allows you to operate the machine from your smartphone or tablet. and use it to create your favorite while sitting in your garden.
The 2.8′′ color display is simple to navigate. Because it features a sophisticated rinsing, cleaning, and descaling routine, it is simple to maintain.
The best-selling JURA model has a color display with selectable buttons for easy operation. As a result, the user's guesswork is eliminated.
Pros & Cons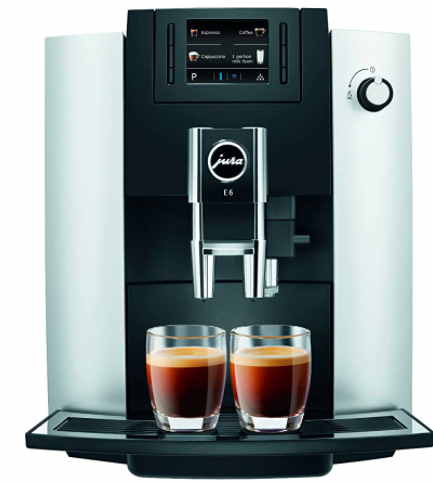 Pros:
The easy controls make it simple to operate
Allows you to customize the level of coffee intensity
Because of its qualities, it is quite simple to maintain
Quick and low-key
It can quickly make coffee for two people
The flavor is ensured by the pulse extraction technique
For small kitchens, a compact design is ideal
Coffee flavor aromas are preserved
The water chamber is quite spacious
The options can be saved and customized
Cons:
It's not straightforward to replace pieces that don't work
The milk temperature is low
The Best Jura professional coffee machine
Unlike home coffee machines, professional coffee machines are required to deliver a lot more. Jura offers a complete professional product line for usage at home or in the business. You might want more beverages, coffee specialties, and high-quality, long-lasting coffee equipment.
Is Jura the greatest automatic coffee machine? You are looking for an answer, right? It is among the world's best. Jura has a unique look and a diverse product line that is updated regularly, above all, it provides a complete coffee business concept. Jura has everything you need to experience your preferred coffee aroma.
Jura WE6 for professional
The JURA WE6 is a large-capacity automatic coffee and espresso, that combines simplicity and performance whether you're producing a single shot of espresso or a classic coffee milk drink with its 8-specialties, a 3-liter tank, and a 500-gram bean container.
It has the same look as E6. The Jura WE6 offers a lot more capabilities, and it's primarily a coffee machine for offices. The Jura WE6 Superautomatic Espresso Machine will bring life to your office. The WE6 is designed for a small office's bulk coffee demands, with outsized proportions and high-capacity coffee and water reservoirs that allow for many drinks without multiple refills. However, you like it and have a kitchen large enough for it, go for it. Jura WE6 is a new model that is still hard to get. If you come across one, don't hesitate to take it. WE6 is a professional coffee machine with a long lifespan and plenty of features. The maximum daily output advised by WE6 is 30 drinks. In less than a minute, you'll have two cups of coffee. In 45 seconds, 2 espressos are served.
Large Capacity: The WE6 has an 18-ounce bean hopper and a 100-ounce water tank, allowing for longer periods between refills.
One-touch: Non-milk drinks, such as americanos, and other options, are just a touch away.
How water spout: For americanos or tea, a hot water spout can be substituted for the milk spout.
Smart Filtration: The WE6 is compatible with Clearly Smart and Pro Smart water filters, both of which keep track of usage automatically.
Drink options eight programmable drink recipes are available on the WE6.
The Jura WE6 also includes a Pulse Extraction Process invented by Jura, it pumps hot water through the ground coffee at short intervals to generate a ristretto or espresso. A variable brewing unit, and a professional aroma grinder that maintains the aroma, by grinding the beans fresh, rapidly but delicately.
Pros & Cons
Pros:
Large Format: The WE6, Jura's most economical Pro machine, is a terrific way to make outstanding coffee for a small group
Managed maintenance: Jura's software makes keeping up with the machine simple, with step-by-step on-screen instructions that automate the majority of cleaning and care
Cons:
Tradeoffs: Not all flowers; in order to achieve its price point, the WE6 foregoes a bigger recipe library and a dedicated hot water tap
The Jura WE6 is another mid-range option that is a good choice for those that want a reliable machine with plenty of features. It has a built-in conical burr grinder, a height-adjustable coffee spout, and the ability to make up to eight different types of coffee drinks. It also has an energy-saving mode and a large water tank.
Jura WE8 professional coffee machine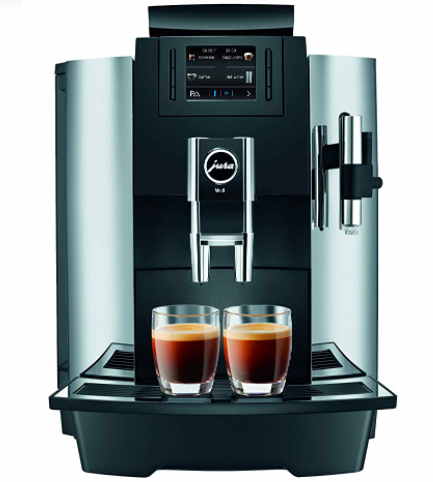 Any coffee enthusiast will appreciate the Jura WE8 Bean to Cup Domestic Coffee Machine. The Jura WE8 is a professional espresso machine that is easy to use even by a novice. The Jura WE8 is an ideal professional machine, capable of brewing roughly 30 cups of specialty coffee per day. It has a 101-ounce water tank, a 17.6-ounce bean container, and a grounds container that can accommodate 25 parts.
This could be the spot to go if you're seeking a coffee specialty for your office. Jura WE8 is a modern kitchen or workstation solution. The WE8 is the perfect breakroom barista, with time-saving features including descale-reducing smart filters, one-touch operation, and a streamlined control schema. It has a clean, linear design that resembles WE6 and Jura E6. Although it is not the greatest Jura automated coffee machine, the WE8 is one of the best on the market.
This model comes with a lot of features and is built to last. Jura WE8 is simple to use, with a 2.8′′ color display. WE8 contains a nozzleG2 foam frother that enhances the enjoyment of your beverages.
Office espresso: The larger bean hopper, reservoir, and drip tray of the WE8 make it a good choice for a small office coffee solution.
PEP Brewing: Jura's proprietary Pulse Extraction Process adjusts the pressure in the brew unit, resulting in a more balanced, rounder shot.
Milk spout and CLEARYL Smart Filter: An RFID-enabled water filter tracks usage and notifies you when it's time to replace it. hence maintaining hygiene on a high level
One-touch Lattes: Jura's milk siphon technology dispenses milk-based beverages at the push of a button, eliminating the need for manual steaming.
Large Bean Hopper: For busy personnel, a 1.1-pound bean hopper offers less frequent upkeep.
Menu Simplified: The WE8 foregoes the rotary dial and touchscreen found in other versions in favor of a streamlined drink menu perfect for a quick coffee boost.
Pros & Cons
Pros:
Office Mate: When it comes to office environments, the WE8 is a better option than most. It's more user-friendly than a semi-automatic and better prepared for high traffic and little maintenance than any other machine in its price range
Simple: For hectic workplaces, the simple push-button controls and restricted drink menu are ideal
Shot quality: Compared to prior, non-equipped models, the new PEP system improves shot flavor
Cons:
Dispensers that work in tandem: The taller dispenser on the right is where milk drinks are delivered. more than one groggy employee will forget all about it on their way to an 8 a.m. meeting
Fingerprints: The machine's polished chrome highlights are showy, but they'll smudge quickly with printer ink
Jura Coffee Machine Maintenance
The automatic coffee machine must be kept in good working order. This is especially true for coffee makers that have a milk frother. Regular maintenance is essential for your Jura coffee machine to have a long and healthy life – if set up correctly, your Jura coffee machine should prompt you for filters or descale cycles at the appropriate intervals. If you want to keep them for a long time, you should clean them regularly. Cleaning these machines is easier than cleaning other types of machines.
How do you keep your Jura coffee machine in good working order?
The answer to that is straightforward, you must rinse the machine after each usage by starting the cleaning process which is a feature that comes with Jura products. The machine will be rinsed during the cleaning procedure, and the water will pour out through the coffee spout. The cleaning process is automatically terminated once the machine has completed its task. ensure you clean the milk frother (if your machine has one) after every use.
The most prevalent problems for cappuccino and other milky beverage drinkers are Cold milk and flat milk both of which may be avoided by properly cleaning the frother after each use. Remember that the frother grows hot since it contains steam and then milk travels through narrow openings, therefore a small amount of milk left in the frother will fast turn to butter and restrict the flow of milk or air.
These Jura machines can endure for years if they are properly maintained. To ensure maximum longevity, they're made of durable plastic and a metal chassis. A new Jura coffee machine comes with a two-year limited guarantee, which covers up to 6,000 coffee brewings. This warranty is only valid in the United States of America. Your machine will be repaired if there are any material or manufacturing problems. If the machine cannot be repaired, you will be given a new one.
Jura's finest products
Care items are something to consider for all Jura machine owners, as well as those who want to buy in the future. Jura makes the full care line products you'll need for the best Jura machine maintenance. Cleaning tablets for coffee machines are available from Jura.
Why would you use these in the first place?
Maintenance is critical for anyone who uses a Jura coffee machine. The Jura cleaning tablets are specifically designed to preserve and clean all of the vital inside parts, allowing you to enjoy the coffee taste as you did when you first made it. These tablets are designed exclusively for Jura espresso machines. They'll use the brew group to dissolve all of the coffee and milk residues and dispense spouts. This is especially true for those who possess milk containers in Jura.
Jura 2-phase cleaning tablets
The 2-phase cleaning tablet reliably eliminates coffee lipids between the brewing unit and the coffee spout when used in conjunction with the integrated, electronically regulated cleaning program. It not only cleans but also closes all of the pipes, thereby delaying the deposition of coffee fat. Nothing happens unless the user presses a button, and the user does not have to reach into the machine.
Jura 2 phase cleaning tablets have been designed specifically for Jura fully automatic coffee machines. What will you receive if you use 2-phase cleaning tablets?
Phase 1: Removes all of the machine's internal oil build-up.
Phase 2: Seals to prevent subsequent accumulation.
Keep in mind that one pill is required for each cleaning cycle.
For Jura coffee makers, 2-phase cleaning tablets enable effective cleaning and long-lasting protection. It is necessary for the automatic coffee machine's maintenance and overall machine hygiene. Keep in mind that whether working with milk, coffee, or water, you must protect the inner workings of the machine.
Your coffee beverages will taste excellent cup after cup thanks to 2-phase tablets. Cleaning tablets are specifically designed for Jura fully automatic coffee machines. These are designed to be used with Jura coffee machines. At the touch of a button, tablets will maintain your machine ready for excellent coffee quality, coffee flavor, and ultimate enjoyment.
Jura 3-phase cleaning tablet
The latest 3-phase cleaning tablet is the result of extensive research and now gives even better results, thanks to an additional protection phase that protects against mineral deposits for a longer period. The tablets, on the other hand, are just as simple to use.
When it comes to spotting cleaning, 3-phase Jura tablets are far more effective. Long-lasting protection is provided by 3-phase cleaning tablets. When coffee lipids between the brewing unit are required, they give dependability. More so 3-phase pills clean as well as seal all pipes, postponing the deposition of coffee fat with long-term effectiveness.
It's important to take good care of your fully automatic equipment and handle milk in a sanitary manner. For excellent coffee quality, keep all interior parts clean and hygienic, including coffee and water. No extra effort is required; simply place the 3-phase tablet and press the button.
Also, check for Jura Milk System Cleaner.
The best Jura coffee machine in 2022?
The best Jura coffee machine for 2022 is the Jura GIGA 6. This model has all the features you'll need, plus a few extras. It has a new grinder, an adjustable hot water spout for making other hot drinks, and a touch display for easy operation. The machine also has an energy-saving mode and a large water tank.