If you use your coffee machine daily, cleaning it can be a bit tricky. It has many mechanical and electronic components that you need to maintain and look after. Among the most overlooked component is the milk system, which is an important part of household and commercial espresso machines, either with automatic or semi-automatic operation.
What you can find in this article
Regular maintenance extends the service life of your Jura coffee machine and ensures hygienic clean-ups for the next use. Furthermore, the alkaline formulation of the Jura milk system cleaner is adapted precisely for all Jura coffee machines. In conclusion, it effectively cleans the milk system without leaving toxic residue or damaging the internal components.
Why It Is Important to Maintain Coffee Machine
Milk is a perfect addition if you want to make a cup of creamy cappuccino, latte, or flat white. Unfortunately, after regular use, milk will leave fatty deposits in your coffee machine that will go sour and rancid. An uncleaned milk system is a perfect habitat for harmful bacteria and you need to clean it up often. In other words, all parts that come into direct contact with milk must be cleaned properly. Therefore, you need a cleaner product that can reach all the pipe systems. A blocked pipe or steam nozzle may cause all sorts of problems. Milk may go into the boiler if the steam wand and anti-suction valve are blocked. With Jura milk system cleaner, you will prevent a major problem that prevents the machine from working properly.
Jura Milk System Cleaner Instructions
Because milk residues go bad quickly, it is important to clean up the milk system daily. If you have a commercial coffee maker, it must be cleaned and maintained more often. Make sure to use only the Jura milk system cleaner for your Jura coffee machine to avoid unwanted problems.
Prepare your Jura coffee machine: Tap "Clean the milk system" twice. Tap Start once and tap Start again. Choose Milk System Cleaner > Connect The Milk Tube > Fresh Water.
Pour the milk system cleaner: Remove the milk pipe from the milk cooler or milk container. Pour the Jura milk system cleaner into the front part of the container until it reaches the bottom mark. Dilute the milk system cleaner with fresh water until it reaches the upper mark. Put the container of your Jura machine under the fine foam frother and connect the milk pipe to the container.
Start the cleaning process: Tap Next and the display will show "Milk System is Being Cleaned". Wait for a moment, the cleaning process will be interrupted and the display will show "Fresh Water". Remove the cleaning solution from the container and rinse it. Fill the container with fresh water until the upper mark. Place the container under the fine foam frother and reconnect the milk pipe. Tap Next and "Milk System is Being Cleaned" will appear again on the display. Wait until the cleaning process stops.
When talking about Jura Milk System Cleaner Instructions, it is easy to follow them. Just add 1 dosing unit of the cleaner into the container and fill it with water. Furthermore, fill the water up to the upper mark, and place the container under the milk system of the coffee machine. Connect the milk pipe to the container, and start the milk system cleaning process.
How Much Jura Milk System Cleaner to Use
When using Jura milk cleaner to remove milky residue from your coffee machine, it is important to do it properly. You should know how much Jura milk system cleaner to use each time you clean up the coffee machine. As mentioned in the instructions above, you need to add the milk system cleaner up to the bottom mark in the container. This is equal to about 10 ml of Jura milk system cleaner needed for each clean-up session. When you add fresh water to dilute the cleaning liquid up to the upper mark of the container, that's about 200 ml of water. Be aware that adding more Jura milk system cleaner isn't necessarily better or makes your machine cleaner.
Important: Don't overreact. Keep in mind that there is a precise measure of how much Jura Milk System Cleaner to use. Follow these instructions, and you'll know how to clean Jura Milk System.
Excessive use may cause unnecessary health risks. Jura specifies that its milk system cleaner product is classified as an irritant and may cause inflammations if there's prolonged contact with mucous membranes or skin. However, there should be minimum environmental impacts of the Jura milk system cleaner, because it complies with Regulation (EC) No.648/2004 on detergents about biodegradability. If you add the Jura milk cleaner system above the bottom mark in the front container, traces of the cleaning solution could remain inside the milk system. In order to reduce the risks of toxicity, it is important to rinse the front container and the internal system thoroughly. Follow the instructions above to ensure optimum safety.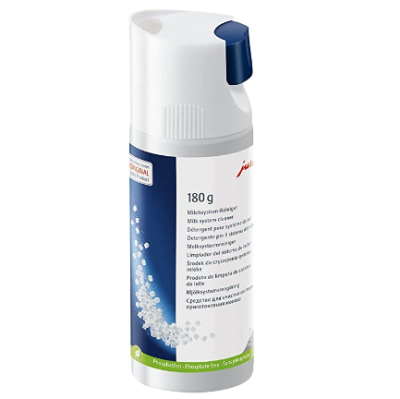 Replaces liquid 1000 bottle Jura Milk System Cleaner, and it is compatible with any JURA Automatic Coffee Machine.
For Jura products all around the world, Jura makes 1000ml bottles for cleaning milk systems. This is a common measure for all Jura products out there, and that is why Jura is offering Milk System Cleaner bottles in a 1000 ml bottle size.
Keep your Jura products clean and you'll get the best coffee you can wish for. If you like Jura coffee machines, we suggest the Jura Z10 review. It is a brand new model that Jura has to offer. Read a review and see if it suits your needs.
Conclusion
The Jura Milk Cleaning Solution is a specially formulated solution designed specifically for cleaning and maintaining the hygiene of Jura coffee machines. This solution is designed to clean the milk frothing system of Jura machines, and it can be used on the inside of the machine, as well as the outside. It is formulated to remove any residue which may have built up within the machine, as well as any bacteria which may have accumulated.
It is made from a combination of natural ingredients which are designed to be effective, yet gentle on your machine. It is free from any harsh chemicals which could damage the internal parts of your machine, and it is also safe for use around food and drink.
To use the Jura Milk Cleaning Solution, simply pour a small amount into the milk frothing system of your Jura coffee machine. Run the machine for a few seconds to allow the solution to mix with the milk, and then rinse the machine with clean water. Repeat this process a few times to ensure that all of the solution has been removed.
This formula can help to keep your Jura coffee machine clean and hygienic, ensuring that your coffee tastes as good as it should. It is an easy and effective way to keep your machine running smoothly and maintain its hygiene.
The main difference between liquid and tablet cleaning solutions is the form in which they are available. Liquid cleaning solutions are available in liquid form and are generally used by pouring them directly into the machine. Tablet cleaning solutions are available in tablet form and are generally dissolved in water before being added to the machine.
Liquid cleaning solutions tend to be more concentrated and are therefore more effective at cleaning. They can also be easier to use, as they don't require any additional steps before use, such as dissolving the tablets in water.
Tablet cleaning solutions can be more convenient, as they are pre-measured and can be added directly to the machine without any additional steps. They are also more cost-effective, as they are typically less expensive than liquid cleaning solutions.