Safe and clean drinking water is something we often take for granted until we realize what contaminants could be lurking in our water system. Despite strict regulations, many small towns and cities serve water with unsafe levels of lead and other contaminants. Haloacetic acids and trihalomethanes can be found in your drinking water as by-products of the chlorine-based water treatment process, which may increase the risk of reproductive issues and cancer. Lead is another common contaminant, especially if municipal water distribution systems still rely on old pipes. The lead will slowly leach from these pipes, potentially causing long-term health issues in adults and behavioral disorders in children.
Atrazine is a commonly-used agricultural herbicide and may cause disruptions in endocrine systems for people in rural areas. Runoff from agricultural areas may also cause fertilizers or nitrates to flow into groundwater and rivers, which will end up in your drinking water. High levels of nitrates may cause various issues in pregnant and infants, including the blue baby syndrome, which prevents red blood cells from carrying enough oxygen.
Water filter products are now easily found in online and offline stores. Quality products can remove unpleasant tastes, chemical pollutants, and dangerous germs. Depending on your location, the water supply may cause limescale deposits that damage appliances and block pipes. There are more than two thousand potential toxic chemicals that may pollute your drinking water, but EPA (Environmental Protection Agency) only regulates about sixty of them. By properly filtering your drinking water, you can remove potentially dangerous contaminants, whether they are regulated or not. Water filters for your faucets are cost-effective, especially if you regularly buy bottled water for daily consumption. A family of four may spend nearly $1,000 per year on bottled water if their tap water has questionable quality due to a poorly-maintained distribution system. Clean, filtered drinking water ensures a better quality of life and contributes to a healthier body and mind. If you use filtered water for bathing or showering, you will have healthier skin, shinier hair, and stronger nail.
Brita Faucet Water Filter
The Brita Basic water filter is designed to fit any standard faucet and it's a convenient alternative to purify your drinking water. Without any installation tool, you can screw the Brita Faucet water filter onto your faucet and it is designed to significantly reduce the level of 60 contaminants, including chlorine, benzene, asbestos, and lead. It filters 100 gallons of water or equal to about three months of use before replacement of filter cartridge is necessary. It's equal to 1,800 single-use water bottles, so you will contribute immensely to reducing plastic waste. There's an indicator on the water filter to let you know when cartridge replacement is due. Certified for NFS-ANSI Standard 42 and Standard 53, Brita Basic water filter may reduce the level of asbestos and lead by up to 99 percent. The primary element of the filter is activated carbon material, which effectively traps dirt and other contaminants in your tap water. Brita Faucet water filter has three spray modes, unfiltered spray, unfiltered normal flow, and filtered normal flow.
Brita vs Wingsol vs PUR vs Aiberle vs Waterdrop vs IVO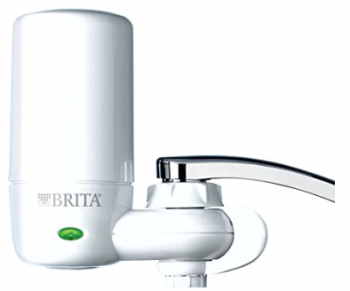 In this table, we're going to compare Brita water filter vs Wingsol vs PUR vs Aiberle vs Waterdrop vs IVO. See which one gives the most for the faucet system in your home. See how much each filter costs, and how each one performs.
| BRITA water filter | Specs. | Our opinion |
| --- | --- | --- |
| Capacity | 100 Gallons | It is not great, and still, it is OK for four months of usage. |
| Material | Acrylonitrile Butadiene Styrene | Nothing to say here. It is not stainless steel. |
| Dimensions LxWxH | 6.3 x 2.53 x 9.75 inches | Brita On Tap Filter System comes with reasonable dimensions. |
BRITA On Tap Filter System table
After installing the Brita Faucet water filter, you should let the water flows for a few minutes until the internal filtration system reaches its full effectiveness. After that, you will always get great-tasting and clean tap water.
Wingsol Faucet Water Filter
Wingsol Faucet water filter has a hygienic one-piece housing and long-lasting filter cartridge. With up to three liters per minute of water flow, the Wingsol Faucet water filter is suitable for your sinks and appliances. Made of carbon fiber, its filtration system significantly reduces the level of contaminants and smell of chlorine, while improving taste. Made of SAE 304 stainless steel, the outer housing of the filter is durable and meets food-grade specifications. At 3mm, the metal housing is three times thicker than other brands, so it easily withstands high water pressure and won't easily crack when accidentally dropped. With its welding-free design, the Wingsol faucet water filter won't crack after long-term usage.
Wingsol vs Brita vs PUR vs Aiberle vs Waterdrop vs IVO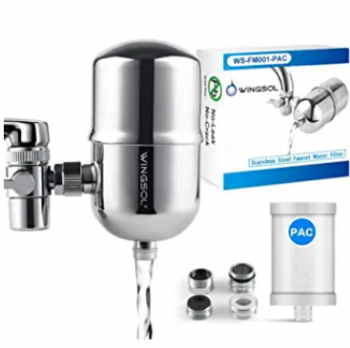 In this table, we're going to compare Wingsol water filter vs Brita vs PUR vs Aiberle vs Waterdrop vs IVO. WINGSOL is our favorite for many years now. Let's take a look at this faucet water filter.
| WINGSOL water filter | Specs. | Our opinion |
| --- | --- | --- |
| Capacity | 320 Gallons | This is more than enough for more than 5 months of usage. |
| Material | Stainless Steel | We find this material the best option for kitchen faucets. |
| Dimensions LxWxH | 5.31 x 5.12 x 2.76 inches | Compact and still powerful enough to ensure 3L per minute water flow. |
WINGSOL Water System table
Competing models with welded two-piece housing designs may have contaminants and germs accumulating around the welding joint, which reduces the overall hygiene. Welded points may rust easily, causing eventual leaking and cracking. It's easy to switch between unfiltered and filtered modes. Its stainless-steel net prevents unintended sprays, so there's no worry about getting your clothes wet. With its double-seal construction, the filter of Wingsol ensures complete filtration and prevents water leakage. The product includes multi-adapters, so it will fit most faucets. It's not necessary to purchase an extra adapter, which saves your time and money.
PUR Faucet Water Filter
PUR water filtration system is certified to significantly reduce the levels of 70 contaminants in drinking water, such as pesticides, mercury, and lead to safe levels. It has an attractive design, so it matches any stylish kitchen and bathroom. PUR water filter has a filter-change light, so you will get a visual reminder when it's time to change the filter cartridge. With its tool-free installation procedure, the PUR Faucet water filter comes with a two-year warranty. It combines ion exchange and carbon filtration technologies to ensure maximum effectiveness. Compared to cheap, uncertified water filters, PUR water filters have ten times better effectiveness in removing contaminants in your drinking water.
PUR vs Brita vs Wingsol vs Aiberle vs Waterdrop vs IVO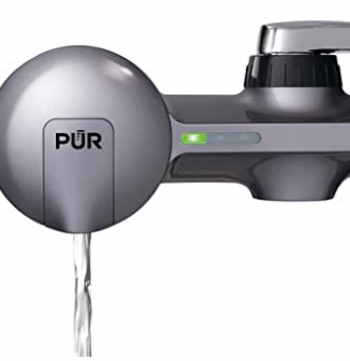 In this table, we're going to compare the PUR faucet mount water filtration system vs Brita vs Wingsol vs Aiberle vs Waterdrop vs IVO. PUR water filtration is well known either in U.S. and Canada. Why is that, and how good it actually is?
| PUR water filter | Specs. | Our opinion |
| --- | --- | --- |
| Capacity | 100 Gallons | It is OK for 3 months of typical use. This is like a standard capacity actually. |
| Material | Plastic | Although it is made of plastic, the finish gives a modern metal look. |
| Dimensions LxWxH | 6.75 x 2.88 x 5.25 inches | Compact enough, with a horizontal filter housing. |
PUR Water System table
Each replacement filter gives you 100 gallons of clean, filtered water, which save you up to $1,000 per year on single-use bottled water. With constant use, you need to replace filters four times per year or every three months. Both the PUR Basic and PUR Plus models use ion exchange media and granular activated carbon. The latter removes dirt and larger particles, while the former is more effective in removing contaminants at the molecular level. The Plus model works better in removing other contaminants, such as atrazine, bisphenol A, carbon tetrachloride, and lead. However, the PUR Basic model is still more than adequate for any household use, especially if your water supply is well-regulated by local authorities.
Aiberle Faucet Water Filter
Aiberle Faucet water filter has a transparent housing design, so you can easily see how the internal water purification system works. As tap water passes through the filter element, invisible contaminants and germs are removed efficiently. The outer part of the filtration system is made of deep-sea diatom porcelain, while the inner layer has a dense activated carbon component. It easily removes up to 99 percent of dirt, heavy metal particles, chlorine, lead, and other contaminants. Much of the chlorine and its harmful by-products are removed as well, so there will be no more unpleasant taste and odor. Its one-element filter is used for half a year, while the five-element filter can be replaced after two years of constant usage.
Aiberle vs Brita vs Wingsol vs PUR vs Waterdrop vs IVO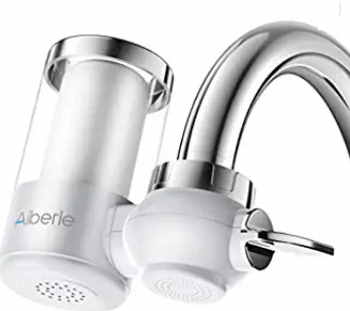 Let's take a closer look at the Aiberle water filter system, and compare it vs Brita vs Wingsol vs PUR vs Waterdrop vs IVO. What does it deliver, and how actually good this water filter system is?
| Aiberle water filter | Specs. | Our opinion |
| --- | --- | --- |
| Capacity | Not known | This water filter uses a converter and cleanable filter element. Read the manual for more information on this. |
| Material | Porcelain | With a porcelain body and transparent filter casing, this one stands out. |
| Dimensions LxWxH | 5.2 x 4.1 x 2.5 inches | Filter size is in a comparable range—nothing special to write here. |
Aiberle Water System table
If the quality of your water supply is adequate or if you clean the filter regularly, it is possible to extend the life of your cartridge, further saving you money. The deep-sea diatom porcelain filter is reusable. If its internal component has turned yellow, you can remove the porcelain filter and use a clean rag to clean up the discoloration. It's an easy way to restore the effectiveness of the porcelain filter and extend its life by up to six months. Each replacement water filter provides you an equivalent of two thousand 350ml single-use bottled water, which is a significant money saving. Included in the packaging, there is a water filter unit, adapter removal tool, multi-function adapter, two rubber rings, two external thread adapters, two female thread adapters, and four replacement filters.
Waterdrop Faucet Water Filter
Waterdrop is an NSF-certified faucet water filter that meets Standard 42 and Standard 372 for the removal of chlorine and lead. Its filtration system also helps to remove other contaminants, such as fluoride, rust, and dirt sediment. It has a high-flow rate of half a gallon per minute with automatic shut-off, as well as quick switching between unfiltered and filtered modes. Metal elements of the Waterdrop faucet water filter are made of SAE 304 food-grade stainless steel and it has a 360-degree swivel angle for easy usage. The Waterdrop faucet water filter is easy to install and you don't need any tool to do that. It is not necessary to drill anything and the Waterdrop faucet water filter is ideal for your kitchen, RV, or any rental property.
Waterdrop vs Brita vs Wingsol vs PUR vs Aiberle vs IVO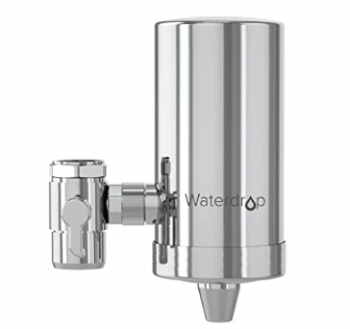 Another Stainless steel water system. Waterdrop is one of the best out there, and it is time to compare this water filter vs Brita vs Wingsol vs PUR vs Aiberle vs IVO. This one is one of the most used water filter systems in the States and Canada. We find it a great choice also.
| Waterdrop water filter | Specs. | Our opinion |
| --- | --- | --- |
| Capacity | 320 Gallons | This water filter can deliver 320 Gallons of filtered water. One filter can be used for up to 3 months. |
| Material | Lead-Free & Food-Grade Material | Simply, it is made of stainless steel, and it looks nice on kitchen faucets. |
| Dimensions LxWxH | 3.19 x 3.19 x 10.35 inches | Filter housing stays vertically and it looks great. |
Waterdrop Water System table
The activated carbon element is made of coconut shells and no Bisphenol A is used in the manufacturing process. The system may produce up to 320 gallons of filtered water for each replacement filter cartridge or about 3 months of normal usage. With its high flow rate, you may fill a medium-sized glass in just six seconds. The housing has a joint-free design, which prevents the accumulation of contaminants and potentially harmful microorganisms, which will reduce the quality of your filtered water.
IVO Faucet Water Filter
IVO faucet water filter uses a multi-stage filtration process. The first filter removes bigger particles, such as sediments and rust. Granulated activated carbon is the next filtration element that removes smaller particles and the unpleasant odor of chlorine. The final filtration element is a hollow membrane filter, which removes excess minerals and toxins. It's easy to attach an IVO water filter to your faucet, but it may not work with some faucet designs. After installing, you need to run the faucet for a few minutes to allow the filtration mechanism to reach its maximum effectiveness. Once fully working, you will get great-tasting and clean water straight from your top. Thanks to its multi-stage filtration system, it could remove any kind of impurity down to 0.1 microns.
IVO vs Brita vs Wingsol vs PUR vs Aiberle vs Waterdrop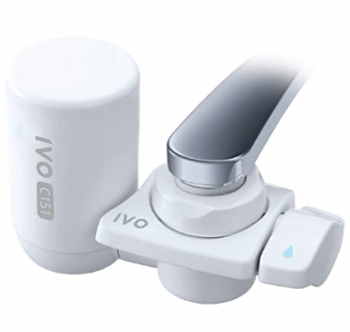 It is the last on this list, but not any less good. Let's compare IVO water filter vs Brita vs Wingsol vs PUR vs Aiberle vs Waterdrop. One thing that stands out is the design of this water filter. We like it a lot.
| IVO water filter | Specs. | Our opinion |
| --- | --- | --- |
| Capacity | 396 Gallons | Filtration capacity is the best of all other filtration systems mentioned here. |
| Material | Plastic | It is made of plastic, which is not so bad considering its great design. |
| Dimensions LxWxH | 10 x 4 x 3 inches | Nothing much to say here. It is in a comparable range. |
IVO Water System table
The manufacturer claims that the IVO faucet water filter performs similarly to the dialysis process used for patients with kidney failure. Each filter cartridge is worth up to three thousand 500ml plastic bottles, so you can reduce household plastic waste. There are three modes, unfiltered spray, unfiltered straight flow, and filtered spray, which you can change easily by turning a lever. The unfiltered spray mode reduces water consumption by about 30 percent and it has a big coverage area. Replacing the filter cartridge is also easy and you should do it every four months with normal usage. Produced by Toray Industries, Japan, the company has provided high-quality water filter products for 35 years, with more than 50 million units delivered to date.
Conclusion
At the end, read more about water impurities and safe using a water filter system.
The primary goal of a water filtration system is to remove water impurities, regardless of their source. Water coming from your mains may contain impurities that affect your health. Although water comes out clean and safe for consumption from the treatment facilities, a poorly-maintained distribution system may cause lead and other harmful substances may leech from old pipes. When choosing a faucet water filter product, make sure it's certified to remove at least 60 common contaminants. Excellent removal of impurities will not only keep your drinking water free of contaminants, but filters will also automatically get rid of pungent smell and foul taste while maintaining a good pH balance. The combination of the activated carbon filter and other filtration methods works really well in ensuring safe and clean water for your family.
Unlike reverse osmosis, faucet water filters keep a small number of essential minerals, such as iron, magnesium, fluoride, and calcium in your drinking water, which are important for your health. Drinking water that lacks any mineral actually doesn't taste as good and it may have slightly higher acidity. Another important factor is filtration flow rate and your water filter should produce at least 2.5 liters or half a gallon of filtered water per minute, so they will meet your daily consumption.
Read about: