For so many years now, Jura E6 brings all the best you can wish for – making excellent coffee at home. Furthermore, the Jura E6 automatic coffee machine is comparable to the highest level of barista-style coffee machines, and all that at an affordable price. Yes, you read it well. Jura E6 comes at a low price compared to the other automatic coffee machines available on the U.S. market today, and that's the main reason this review follows.
The Jura E6 has been present in the North American market for many years now, and this coffee machine got as many compliments as possible. Machine owners claim it is the best coffee machine available right now. We are going to navigate through the features and overall review of this automatic coffee machine, standing from the 2022 point of view.
Jura E6 Review
Before purchasing Jura E6, read more about it. We're convinced you'll go for this coffee machine. Why is the E6 so highly rated and one of the best Jura coffee machines overall? Keep reading this review, and you'll find the answers.
The Jura E6 is an excellent espresso machine for the home. It is simple to use, efficient and produces great-tasting espresso. The easy-to-use controls and user-friendly interface makes it easy to customize your espresso drinks to your own personal tastes. The built-in grinder produces a consistent grind, while the milk-frothing capabilities are also top-notch. Overall, the Jura E6 is an excellent choice for any home espresso enthusiast.
Design and Construction
The Jura E6 is one of the best coffee machines you can find right now. No matter if it is available for so many years, and new models came, this Jura coffee machine has a stunning design. It has unique and still simple lines, which is why this model fits any kitchen countertop. Why do we like the Jura E6?
The Jura e6 is a sleek and elegant espresso machine that would look great in any kitchen. It has an easy-to-use touchscreen interface, and a stylish stainless steel finish, making it an attractive and modern choice. The machine also has a variety of user-friendly features, including an auto-cleaning cycle and a programmable memory, so you can make your favorite drinks with the touch of a button.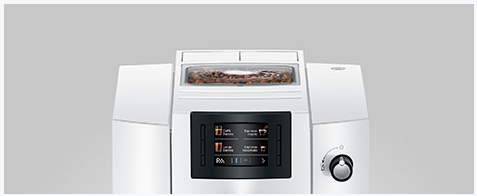 Starting at the top, the Jura E6 has a transparent bean container lid. The plastic lid keeps the freshness of the whole beans, and transparency helps you monitor the bean amount without opening the lid.
On the left side, slotted into the body, you have the 64 fl. oz water tank. Jura E6 is using filter cartridge CLARIS smart. The filter itself altogether with the water system prevents scaling and helps give the coffee a purer taste.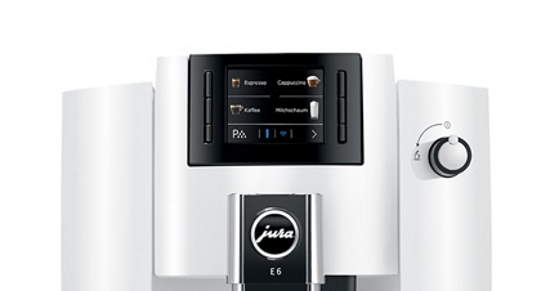 There is a 2.8-inch touchscreen color display on the front of the Jura E6 coffee maker. There you have all the options for coffee brewing, plus a few buttons on each side of the display. To use these buttons, simply click the button that corresponds to the beverage of your choosing.
Buttons come in handy in case of a brightly lit room, the display will be visible. It's also pretty apparent what's available and what kinds of cocktails you can make.
To make a perfect coffee each time, every day, this coffee machine uses a pulse extraction procedure. P.E.P. retains the majority of the coffee's flavor. Therefore, every time you desire milk foam, you'll get it perfectly. Jura E6 produces creamy milk foam for one-touch cappuccinos, latte macchiatos, and flat whites.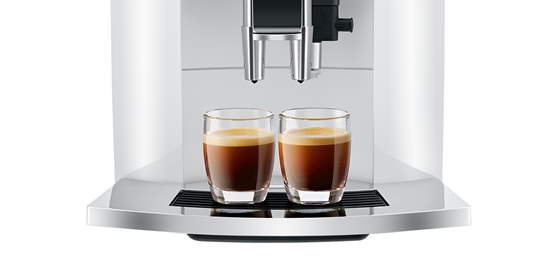 The milk-frothing spout can deliver either water or coffee.
Below the spouts rests the drip tray. It connects to the drawer that catches the coffee grounds. The grounds come out in dense, dry pucks. It is easy to clean resins and keep your coffee machine always ready.
Jura E6 – Drink Options
For the best flavor and aroma you can get, this coffee machine grinds whole beans at a time. Only when you want your coffee, the grinder goes ON and gives you freshly made coffee for each cup. Enjoy the coffee aroma with the Jura E6. It prepares perfect coffee specialties at the touch of a button, in less than 60 seconds.
The Jura E6 has been on the North American market for so many years now, and still, this fully automatic coffee machine is TOP notch in its category. The E6 comes with 11 drink options preprogrammed. Furthermore, each coffee specialty can be customized and reprogrammed.
The quality of espresso shots produced by the Jura e6 is great. It has a professional quality 15-bar pressure system that ensures consistent results every time. The machine also features a unique Aroma G3 grinder that helps to maintain the flavor and aroma of your beans.
E6 is one of the most versatile mid-range Jura coffee machines
It is hard to find a better brewing machine than this. The Jura E6 grinds coffee beans with the latest Professional aroma grinder. It operates quietly, and much faster than the built-in grinders in many other automatic espresso machines you can find at this price range.
Furthermore, E6 uses Jura's latest Pulse Extraction Process (P.E.P.) tech. It is a one-of-a-kind patented technology that blasts hot water through the grounds to extract the finest coffee aroma.
Quality of Taste
If compared to other coffee machines, the Jura E6 has TOP drink quality.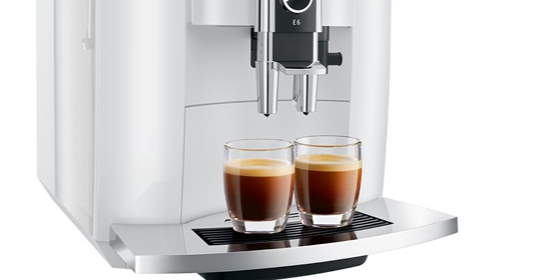 The Pulse Extraction Process mentioned above makes possible the perfect crema and balanced flavor of your espresso consistently shots after shot. The milk frother is also a stunning example of just how high-quality this espresso machine is. It can steam milk or foam milk depending on the drink you make, and it will switch to pouring first for the best effect.
This espresso machine can make drinks with steamed milk or foamed milk. It will automatically switch to pouring the milk or coffee first for the best effect depending on what drink you want.
Jura E6 Interface
Jura E6 has quite intuitive interface and making coffee has never been easier. This coffee machine is a streamlined and user-friendly device with all the latest features you'll need for making great coffee. The 2.8″ color touchscreen display is super sensitive and responsive to the touch. The most common coffee drinks are shown on the home screen of the Jura E6. Furthermore, other beverages can be accessed from buttons on each side of the display. If you have a preset you want to make, it's as straightforward as placing a cup and pressing a button. Continue reading the Jura E6 review and find out how to clean the Jura coffee machine.
Maintenance and Cleaning of Jura Coffee Machines
Automatic Jura machines can work for many years if they are properly maintained. To ensure maximum lifespan, you need to take care of them. However, there isn't much work for you. The Jura E6 does the most work when it comes to cleaning and maintenance.
The coffee system should be cleaned with specialized Jura cleaning tablets. They're easy to use. Just place a tablet in the ground coffee port and set the machine to auto-clean. The clean cycle is quick and efficient and cleans all the parts you can't reach.
To clean the milk frother, the Jura E6 comes with a small tray and a specialized Jura cleaning solution. The cleaning cycle is automated just like the cleaning coffee system.
Is Jura E6 Worth Buying?
The Jura E6 is a mid-range coffee machine and when it comes to price, it goes between $1,500 and $2,000. However, we find this coffee machine worth buying, first because of all the features it has, and second reason is that competing models have a price tag of over $2,000. At the end of this Jura E6 review, a short conclusion follows.
What is Jura E6's best price? The current best price for a Jura e6 espresso machine is around $2,500. Prices may vary depending on the retailer and any special offers they may have.
The Jura E6 has a 2.8″ touchscreen, plenty of drink options, easy maintenance, and customizability.
If maintained properly, this machine can last forever. Jura E6 has a better design and is made from higher-end parts than many competitors. Unless you decide to buy a commercial espresso maker, we think this one is a great option for home use and small offices as well.
At last: Check the best Jura coffee machines we wrote about.
The Jura E6 is an elegant and stylish espresso machine that is sure to impress. It has a variety of user-friendly features that make it easy to use and the 15-bar pressure system ensures consistent results. The unique Aroma G3 grinder helps to provide a flavorful and aromatic espresso every time. If you're looking for a high-quality espresso machine, the Jura e6 is definitely worth considering.