If your garage door opener is too large to fit on the ceiling of your garage, a wall mount opener might be ideal to save space and give you more headroom. These are perfect for installations, where space above the door is limited. And if you are in the market for a new wall-mounted garage door opener, look no further: Our top 3 recommendations will help you make the best decision.
What you can find in this article
TOP 3 Garage Door Opener Brands in America
If you need a wall-mounted garage door opener, look no further. We've put together this handy guide to help you find the model that best suits your needs.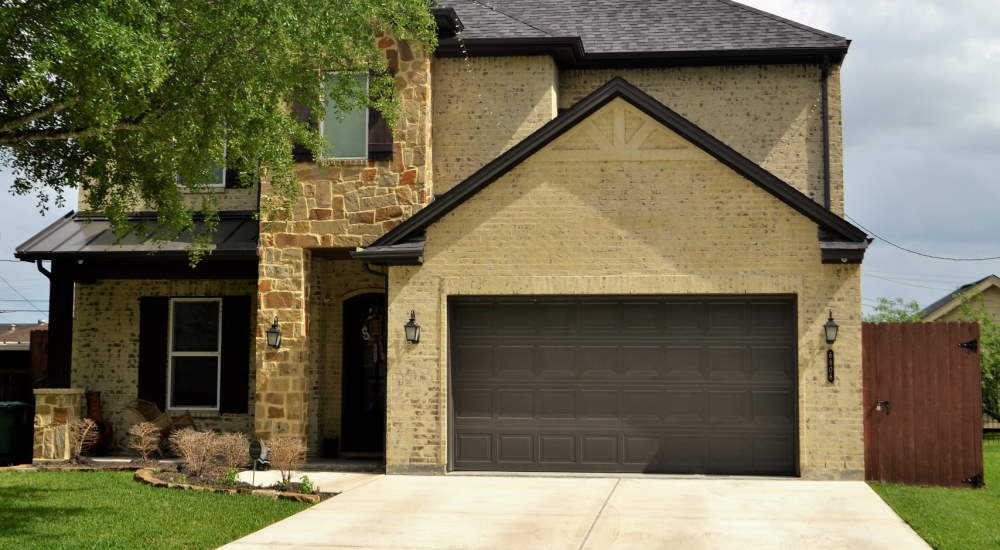 The brands you are going to pick from are Chamberlain, Genie, and LiftMaster.
The best Wall-Mount models are
Wall-mounted openers like the Chamberlain RJO70, LiftMaster 8500W, and Genie B6172H are the most common garage door openers in North America. These models offer a quiet operation and a range of convenient modern features including battery back-up and smart home connectivity.
Chamberlain RJO70 wall mount opener
Chamberlain garage door opener is a wall-mount model that mounts directly on the wall, discreetly without extra space for a large trolley. Chamberlain RJO70 has a slim design and it can be installed in tight spaces on either side of the garage door. Its design frees up ceiling space for extra storage. RJO70 motor unit operates very quietly due to its anti-vibration technology.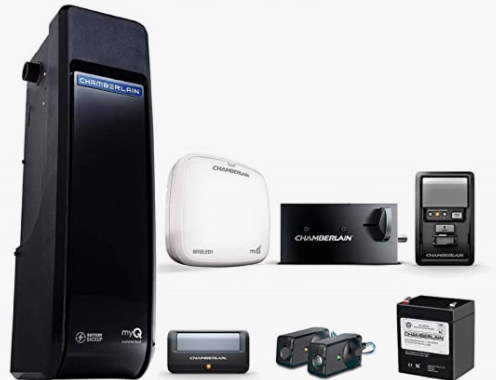 Wall-mount design frees up ceiling space for extra storage, light fixtures, ceiling fans, and more
Smooth, quiet operation virtually eliminates noise and vibration in living spaces
Monitor and control your garage from anywhere with built-in Wi-Fi and the myQ App
Automatic Garage Door Lock deadbolts your garage door every time it closes
Open and close your garage door even when the power is out with Battery Backup
The ultra-bright LED light can be controlled and scheduled from anywhere so you can come home to a brightly lit garage, or schedule it to turn on automatically when you're out of town. Plus, with battery backup, you can open and close the garage door even when the electricity's out. The MyQ app even lets you know if your garage door is open, closed, or has been left open for an extended period of time.
You'll get complete security with a deadbolt that automatically engages when the garage door closes. With a deadbolt, the garage is secured with a door locked down.
LiftMaster 8500W garage door opener
Liftmaster garage door opener is one of the best products when it comes to garage doors. You should have a clear idea about this wall mount opener. LiftMaster 8500W preserves the ceiling space, just like any other wall mount opener. Physically it looks like Chamberlains RJO70 with many features they share.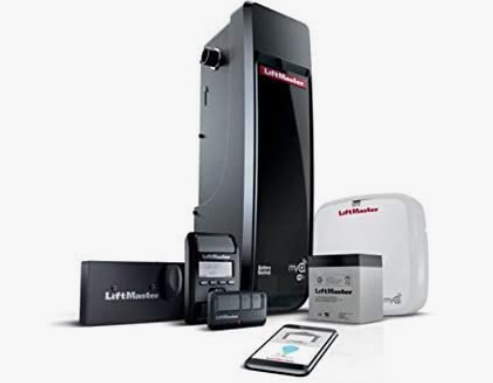 This sleek, space-saving design mounts on the wall beside your garage door, freeing up ceiling space
This elite series model comes fully equipped with security 2.0, myQ
Get reliable, durable, and powerful performance with our p3 motors
Runs ultra-quiet by eliminating sound and vibrations through the ceiling
We find it one of the best wall-mount garage openers available in the U.S.A. It is easy to install on either side of your garage door. LiftMaster 8500W comes with a battery backup that keeps it running in case of a power outage. Furthermore, this model meets California's SB-969 law. While we're talking about safety, it is worth mentioning its' automated LED lighting system. Furthermore, to achieve the best home security, LiftMaster 8500W comes equipped with a specially designed security feature "Automatic Garage Door Lock". In conclusion, the owner gets an extra security layer keeping the home safe and secured.
Safety sensors protect people and vehicles in case of the garage door closes. When the garage door closes, the sensor can stop operation automatically closing in case of any kind of obstruction.
Genie B6172H wall mount opener
Genie B6172H is a wall-mount garage door opener with a very compact design. It is good for doors up to 7 feet high. You may mount it on any wall as long as it's close to the door and has a power outlet nearby. A good thing about this unit is its professional installation service, which many people pay an extra fee to use.
If you're looking for a garage door opener that's easy to install and requires little maintenance, then this is the right choice. The Genie B6172H has a compact design so as not to take up too much space. It may be installed on any wall near an outlet. For your convenience, one can also buy the professional installation package at no extra cost.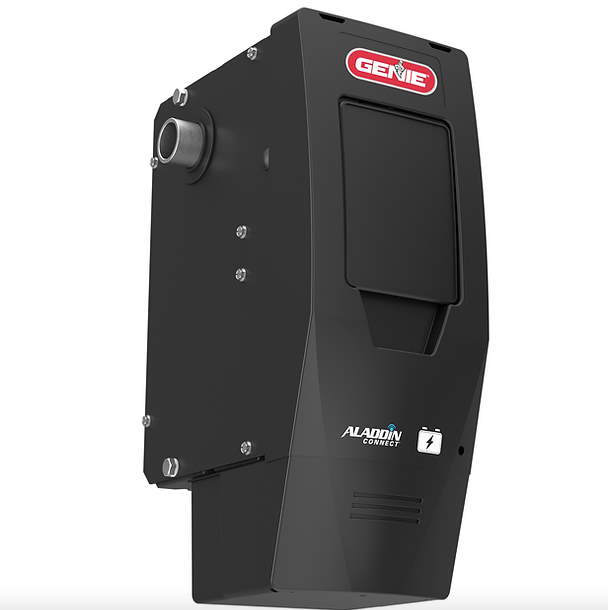 Getting in and out of the garage during a power outage has never been easier with Genie battery backup
Fast opening speeds with ultra-quiet operation
Features a Genie wireless wall console, Bluetooth LED light, Intellicode remote, and remote door lock
Safe-T-pulse internal slack cable detection system developed by Genie to insure safe door travel
Only 2.5 in. above and 7 in. to the side of the spring tube are required for installation
The Genie Wall Mount model is a premium option for homeowners looking for an innovative, smart garage door opener. It opens up space on the ceiling of your garage and features the Aladdin Connect smart home integration. Experience a whole new level of garage door possibilities.
Few words to end
As said before, Chamberlain RJO70, LiftMaster 8500W, and Genie B6172H are the most common garage door openers in the United States of America. These wall-mount openers use a direct shaft that connects to the door instead of running the rail along with the ceiling. These openers offer a quiet operation and a range of convenient modern features including battery back-up and smart home connectivity.
They offer advanced features and elegant designs. With these units, not only can you open and close your garage door by pressing a button but enjoy the convenience of opening and closing it remotely.
If you're not convinced about these, maybe you should look for overhead garage openers instead? These are all new Chamberlain overhead garage door opener models.