A wall mount design is also known as a side mount, and it is a common type of garage door opener system. It means that the garage door opener can be installed on either side of the garage door. It is mostly used in garages with high or irregularly shaped ceilings, or in small garages where the homeowner wants to save as much space as possible.
What you can find in this article
This kind of garage opener operates with a torsion bar. Therefore, we can say that both: Genie 6072 and 6171 are using a torsion bar (wall mount), which is more convenient than using either belt or chain (overhead design).
Wall mount Genie vs overhead
As said before, wall mount garage door openers are fastened on either side of the door. Unlike ceiling mount, wall-mount connects directly to the torsion bar on the door itself leaving them more accessible for maintenance. Furthermore, the wall mount leaves all the overhead space you need.
So, the question is: why we're writing about Genie wall mount and comparing it to overhead garage door openers? The answer is simple, these two models are a great choice if you're looking for the Genie brand and wall-mount design.
In other words: Genie 6072 vs 6172 is a fair comparison for wall-mount garage door openers, for those considering go ahead with Genie.
This Genie 6072 vs 6172 reviews and comparison should make it easy to choose. Although these are similar, there are some differences and we're going to point at them. Keep reading and make your choice to go with reasonable arguments.
Genie 6072 wall mount garage door opener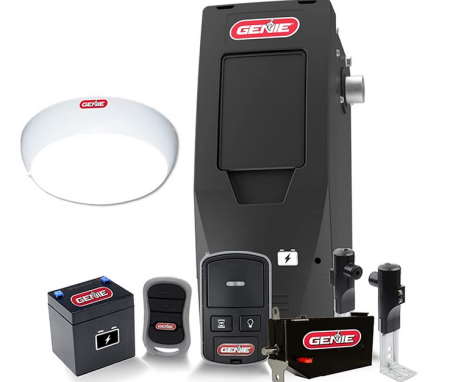 Wall mount Genie garage door opener eliminates the traditional rail design.
Genie 6072 wall mount garage door opener features an integrated battery backup which makes sure it operates if the power goes out. This wall mount garage door opener easily attaches directly to the garage door's spring tube mounted high and to the side of the garage door.
Wall-mount design saves all the space above, for something else if necessary.
Genie 6072 has a strong 24V DC motor, which makes it quiet and still powerful enough to operate the door up to 18 ft. wide. Battery backup ensures that 6072 operates when the power is out. A homeowner can park the car, or go out in case of a power outage.
Genie 6072 is capable of lifting the heavy sectional garage door up to 850 lbs, and up to 18 ft. wide.
Genie 6172 wall mount garage door opener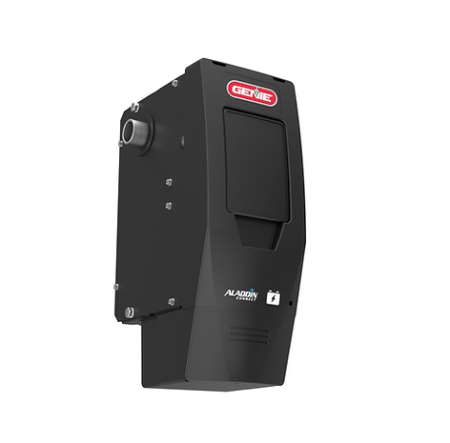 At first look, they seem the same. However, Genie 6072 has some differences comparing it to Genie 6172 model.
What are those and what does 6172 has to deliver? Let's find out.
The most obvious difference is that Genie 6172 comes with Aladdin Connect smart home control, and it is certified to work with Alexa. You won't find this feature if you buy Genie 6072.
We can't tell if that is a deal-breaker, it's up to you. It is good to know, however.
Genie 6172 has a 24V DC motor, powerful enough to operate quietly and lift up to an 18 ft. wide garage door. Just like Genie 6072, this one also comes with a battery backup system and gives all the convenience even if power is out.
Genie 6172 is a powerful wall mount garage door opener. It is strong enough to lift 850 lbs. doors, up to 18 ft. wide.
Genie 6072 vs 6172 wall-mount
Before ending this comparison, let's see what are the things that make the difference. Because Genie 6072 vs 6172 are similar models, with a few differences, we're going to write them all in one paragraph.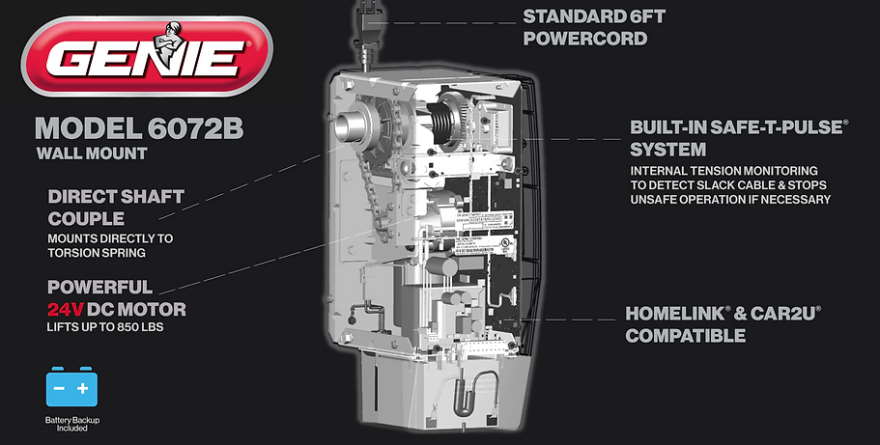 Genie 6072
Wall mount Genie 6072 garage door opener has a Direct shaft couple and it mounts directly to the torsion spring. Moreover, 6072 has a built-in Safe-T-Pulse system that monitors cables and stops operation if necessary. It is HomeLink & CAR2U compatible.
Let's see what 6172 has to offer.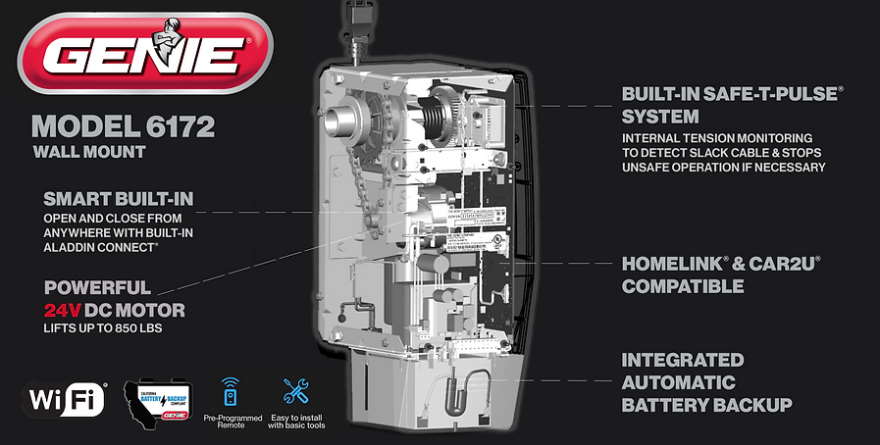 Genie 6172
While comparing Genie 6072 vs 6172 there isn't much of a difference. These are wall-mount designed, with a 24V DC motor, and enough power for 850 lbs. lifting up to 18 ft. wide door.
Genie 6172 has an Aladdin Connect that makes it more special, a bit Smarter than 6072 if you wish.
In conclusion
These are both great openers. No matter if you choose, either Genie 6072 or Genie 6172, you'll get a powerful and sturdy wall mount garage door opener. Slight differences persist, however. We're talking about small and not-so-important differences between Genie 6071 vs 6172 – design related.
On the other hand, one notable difference is that Genie 6172 has built-in Aladdin Connect, while 6072 doesn't have that feature.