Garage door openers eliminate the hassle of getting out of the car to open the garage door so you can park the car inside. This can keep you warm in the winter and cool in the summer, and it certainly keeps you dry on a rainy day. You could use the garage door opener to close the garage when you realize you left it open without going outside. Using a garage door saves you time, too. Just push a button and let it open up while you finish getting ready to pull out of the driveway. Push the button to close it, and you can continue on your journey.
In other words, we all like the comfort that comes with an automatic garage door opener system.
Garage doors come with risks if you don't have the right safety mechanisms in place. For example, you could accidentally close the door on your car, your child, or your pet if you aren't careful and there aren't safety sensors there to prevent it.
The Main Types of Garage Door Openers
Overhead garage door openers are the most popular choice in the United States. The overhead opener gets its name from the fact that the garage door is pulled overhead on a rail track until it is parallel to the ceiling. The garage door itself may be lifted via a belt, chain, or screw-drive mechanism. In most systems, if the motor breaks or the power is out, you can pull a lever to disconnect the garage door and then lift it or close it by hand. The motor is typically mounted to the ceiling and ends up sitting close to the top of the garage door once it is fully retracted.
A wall-mounted opener is mounted on the side of the garage door. It may be mounted on the left or right wall of the garage. This type of garage door opener doesn't use a rail track. Instead, it connected to the torsion bar of the garage door. The benefit of this approach is that it can be used in garages that don't have much overhead space or otherwise don't have space to store the garage door parallel to the ceiling. For example, wall-mounted garage door openers are ideal for vertical lift doors used in narrow garages. Let's look at the pros and cons of each type of garage door opener.
Chain Drive Openers
A chain drive opener has a higher lifting capacity than a belt drive opener. If you want to open a solid metal garage door that spans a two or three-car garage, it will probably be done with a chain drive opener. If you want to open a wooden garage door, you'll need a chain drive opener because nothing else can handle the weight.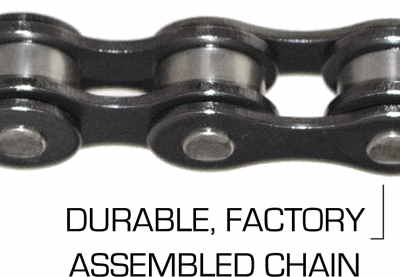 One downside of the chain drive opener is that it won't work if the chain breaks or simply comes off the drive. And someone can try to break the chain so they can then open the garage despite not having the garage door opener remote control.
Belt Drive Openers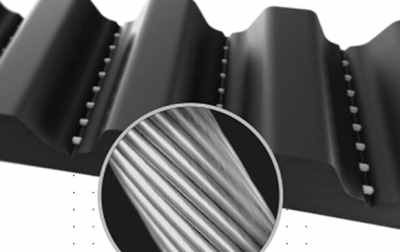 Belt drive openers can generally lift a basic single or double-width overhead garage door. The belt will run along with the rail before wrapping around a sprocket in the opener. The downside with belt drives is that the belt will stretch over time, so you have to periodically adjust it. Belt drives aren't strong enough to lift all-wood doors or composite overlay garage doors.
Screw Drive Openers
Screw drive overhead garage door openers don't pull on a chain to lift the garage door. Instead, it uses a screw drive with a threaded metal rod to lift the door. This type of garage door opener is reliable. It can last a long-time and functions well even toward the end of its life. The downside is that it needs regular lubrication.
Jackshaft Garage Door Openers
Jackshaft garage door openers are the most popular type of wall-mounted opener. They are much more secure than chain drive garage door openers. They operate smoothly, and that makes them relatively quiet. They're dependable, as well. They work well when you have very little space. If you install one with a vertical garage door, you can now hang bicycles from the top of the garage.
The downside of this design is the price. They cost more than traditional overhead garage doors pulled by chain drives.
What Should You Consider When You're Ready to Install a New Garage Door?
Whether you're designing your new home or ready to replace your aging garage door, you need to take a number of factors into account before you choose your new garage door.
Security
Do you want a garage door that is almost impossible for someone to try open so they can gain unauthorized access to your home? This may preclude certain types of garage doors. Do you want a heavy-duty garage door? Then a belt drive garage door opener may not be capable of lifting it.
Safety
Are you concerned about the garage door closing on children or pets? A chain drive that can quickly and easily be reversed may be the right choice for you, especially if you pair it with a sensor that stops the door if something is in the way. You may want to choose a garage door opener controlled with a remote control that relies on rolling code technology. That changes the garage door code every time someone opens it, and it prevents someone else from using an old door code from opening your garage.
Aesthetics
Garage doors could be made from sheet metal, heavy steel, wood, vinyl, or something else. Wood is the most attractive option and may be mandated by your local building code, but it is heavy and requires constant care. Steel is cheap and easily available, but it can dent or rust. Fiberglass is durable, but it will crack if the temperatures get too low. It can also break if someone backs their car into it. Aluminum resists rust and corrosion. The problem with these doors is that they are prone to dents that are hard to fix. Vinyl is low maintenance and relatively durable. The downside is their cost. They can also become brittle with age. They're not a good choice if you live in a cold climate.
You will pay more for a garage door that has built-in windows, though this will let more natural light into the garage.
The Motor
The motor you buy for the garage door opener must by definition be powerful enough to lift the garage door. If you want to buy a heavier garage door, buy a motor that has more than enough power to lift it. After all, the garage door opener will experience resistance if there is ice or dirt on the door, rust on the tracks or if the tracks themselves become warped. Unfortunately, the price of the garage door opener increases along with the power. If you choose a lighter garage door, you can choose a cheaper motor.
You can pay more for a more intelligent garage door opener. For example, you could buy a garage door that includes a smartphone kit. With this, your smartphone can serve as an alternative to a garage door opener. A garage door that automatically recognizes when there is unexpected pressure as it lowers may stop when it encounters something.
For the end
Read about garage door openers we have already written about:
Garage door openers are motorized devices that operate garage doors. They are typically powered by either an electric motor or a battery. Garage door openers have become increasingly popular in recent years, as they provide convenience and security to homeowners.
Garage door openers use a variety of components to open and close garage doors. This includes sensors, switches, and a control panel. The sensors detect when the door is opened and closed, while the switches control the motion of the door. The control panel allows the user to program the openers, as well as other features such as automatic closing and remote access.
Garage door openers come in a variety of styles and sizes to suit different garage door types and sizes. For example, belt-drive openers are quieter than chain-drive openers, and are typically used for heavier garage doors. Additionally, some openers are compatible with home automation systems, allowing for remote access and control.
Garage door openers must be installed correctly to ensure safety and proper operation. This includes making sure the door is properly balanced, and that the opener is correctly connected to a power source, such as a wall outlet. Additionally, garage door openers should be inspected and serviced regularly to ensure they are operating correctly.