This model has a chain drive-type and ceiling mount design. In its category, we find LiftMaster 8164W a very good garage door opener, which is why this review has been made. Therefore, a LiftMaster 8164W review and specifications are on the way.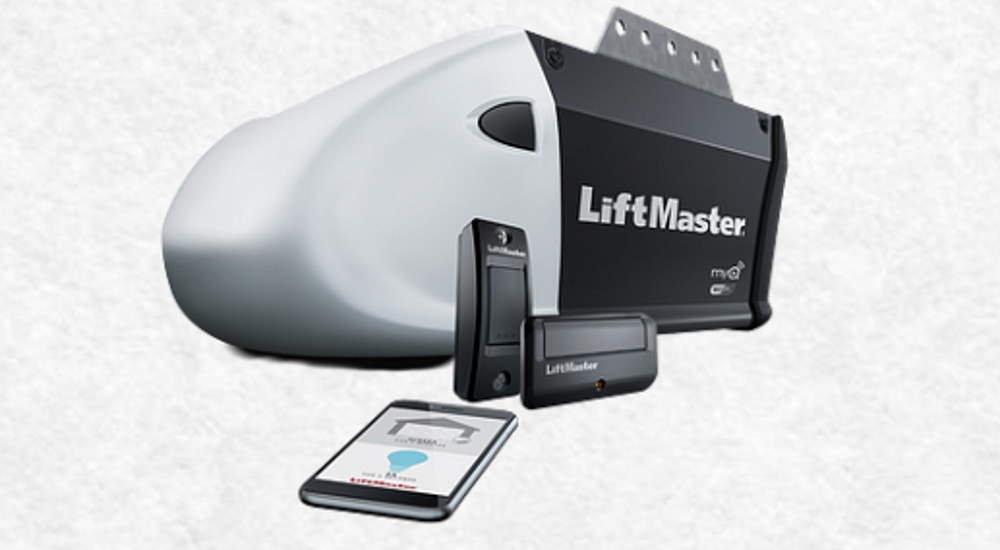 What you can find in this article
Great opener for a reasonable price. Let's see what you'll get if you purchase this: ½ HP AC, Chain Drive, with built-in Wi-Fi Garage Door Opener. First, take a quick look at this overhead garage door opener made by LiftMaster. Besides its strong and durable electric motor, LiftMaster 8164W has some other things to offer. Therefore, we're going with a short 8164W intro.
LiftMaster 8164W
Liftmaster 8164W overhead garage door has a ½ HP electric motor. This garage door opener combines AC electric motor & durable chain drive system. Therefore, a homeowner gets smooth and steady performances through many years of using it. Not only that, if you go with 8164W you'll get 100 watts of lighting in your garage with adjustable light time delay.
NOTE: If you go with a compact fluorescent lightbulb – keep the 26 watts limit.
Moreover, worth to note that LiftMaster 8164W is compatible with HomeLink version 4.0 or higher.
LiftMaster 8164W at a glance
Featuring an industrial-strength chain drive, LiftMaster 8164W includes a basic door control button, and it operates with Amazon Key. With Amazon Key, a homeowner has convenient and secure In-Garage Delivery. There is more…
Homeowners can use myQ Diagnostics in the myQ app to provide real-time insights for the garage doors. Therefore, a homeowner receives alerts and error codes in the app if an issue arises. Furthermore, with myQ Diagnostics, a homeowner easily connects with a professional for services if needed.
LiftMaster 8164W review
Make a smart choice before purchasing a new garage door opener. Take some time to read this short 8164W review, knowing the technical specifications for the 8164W LiftMaster model. LiftMaster 8164W review follows.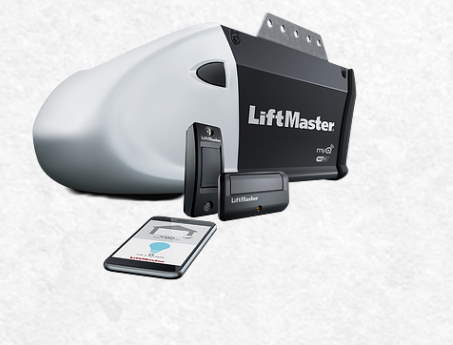 Featuring a durable ½ HP motor that combines with an industrial-strength chain drive, this opener provides smooth, steady performance whole its lifespan.
Furthermore, it delivers an excellent lighting system to your garage. With a LiftMaster 8164W, you'll get a light preparation for 1x light – 100 watts max. This lighting comes with an adjustable light time delay. It is compatible with compact fluorescent lightbulbs or LED which makes it energy efficient. If you choose to go with a fluorescent or LED, read the manufacturer manual first.
This is a chain drive garage door opener that has built-in Wi-Fi following all the smart features a garage door opener should have. It connects to a smartphone easily and you can get status notifications, and errors if any occur. By using a smartphone or tablet, you can monitor the garage and grant access from anywhere if needed.
There are few options available on the U.S. market: You can order 7, 8, or 10-foot rail to meet your garage door size.
While writing LiftMaster 8164W review, it is important mentioning its strong and durable ½ horsepower AC motor. This motor is combined with the industrial-strength full chain T-rail. 8164W delivers a smooth and sturdy operation. While it is in the operational mode you won't hear disturbing noise. Overall, LiftMaster 8164W is compatible with HomeLink version 4.0 or higher. To reduce electrical bills, LiftMaster 8164W uses 75% less energy while it is in standby mode.
LiftMaster 8164W Specifications
This garage door opener comes with a manufacturer's warranty on its motor. It can be synced with up to 12 remote controllers. LiftMaster 8164W has 1 wireless keyless entry system, and it is able to connect to up to 16 MyQ smart devices at the time.

Drive Type: Chain
AC/DC: AC
Motion-Detection Control: Yes
Timer To Close: No
Motor Power: 1/2 HP
Battery Backup: No
Security/Lock: No
Soft Start/Stop: No
myQ Diagnostics: Yes
8164W opener has many built-in features and accessories. The LiftMaster 8164W provides an easy way to monitor and access your garage. Before buying this opener make sure to choose an appropriate model: these are available between a 7, 8, or 10-foot rail. LiftMaster 8164 W features a durable ½ horsepower AC motor. It is combined with the industrial-strength full chain T-rail that makes this opener a durable and long-lasting unit.
LiftMaster 8164W – short review
Connectivity with myQ mobile app lets users receive alerts and control the opener from anywhere.
Performances are guaranteed with a 1/2 HP AC motor and industrial-strength chain drive combo.
Energy-efficient operation consumes up to 75% less power in standby mode.
Safety and Security are something every homeowner wants to have if possible. With LiftMaster 8164W you'll get Security+ 2.0 which safeguards the garage by sending a new code with every click.
Alert-2-Close warning system provides audible and visual warnings when the garage door is about to close when using myQ Technology.
The Protector System technology uses safety sensors to automatically reverse the door if anything interrupts the garage door.
How to Install LiftMaster Garage Door Opener
Carefully watch the whole video, to find out how to install an overhead LiftMaster garage door opener. This installation process takes some time, and a few tricks are good to know if you want to do it yourself.
In conclusion
Worth mentioning once again: LiftMaster 8164W garage door opener is compatible with HomeLink version 4.0 or higher. Also, keep in mind this opener – when in standby mode – uses way much less energy which reduces the monthly electric bills.
The 8164W opener comes with a manufacturer's warranty on its motor, and parts. It meets all UL325 standards and requirements through its Protector system and safety features.
With its built-in Wi-Fi and My-Q technology, the LiftMaster 8164W garage door opener allows you to monitor and control your garage door from your smartphone or any other smart device.