As a homeowner, you need to make sure that the garage is properly secured. It is important to keep your car and other items in the garage fully protected against burglars and the elements. Make sure to effectively secure the garage from unwanted visitors.
The garage provides direct access to the rest of your house. Furthermore, in many homes, the garage is a weaker spot, where burglars can easily sneak into. It is not enough to focus only on the strength of the lock and be sure to pay attention to the whole garage as a unit.
Properly securing your garage is an important aspect of overall good home security. By securing a garage you won't only protect your valuables from theft but will prevent unauthorized access to your home. For those homeowners that are looking for peace of mind whether they're at work for the day or on vacation for the month, there are several simple strategies you can employ to improve the security of your garage and dissuade thieves from trying to break into your home.
Your garage is an important part of your home, and it needs to be kept secure. It is the entryway to your home and can be a target for intruders or thieves. By taking the time to make your garage secure, you can help protect your home and possessions.
Install a security system: Invest in a professionally installed security system with motion sensors, cameras, and alarms.
Reinforce the door: Strengthen your garage door by installing a deadbolt lock and hinge reinforcements.
Secure the windows: Make sure your windows are securely shut and locked at all times.
Add exterior lighting: Install motion-sensing lights around the perimeter of your garage to deter any potential intruders.
Monitor your space: Monitor your garage with a security camera or a video doorbell to keep an eye on the area.
Store valuables out of sight: Keep any valuable items or tools out of sight to avoid any potential theft.
How to Effectively Secure Your Garage
Here are things for an Effectively Secure Garage:
Improve the wall
Many garages are made of single brick walls, which will lose their strength after a few decades. This will provide less protection against very cold temperatures during winter. You may consider adding a facade board or corrugated sheet for temporary, added protection against possible intrusion. You may also put heavy shelves fully stacked with items to provide an extra barrier if burglars plan to enter through a thinner wall of your garage.
Replace the garage door
If your garage door is old and weak, there's no way to return it to its original strength. After constant exposure to sunlight, rain, and cold temperature, wooden doorframes may lose much of their integrity. Unlike wooden doorframes, steel garage doors are long-lasting and durable. Even a hard bump may only ding the finish and it will be easy to repair. Despite its exceptional strength, a brand-new steel door should be quite affordable and it's a suitable replacement for most wooden doors.
For better protection against burglary, it's recommended to choose a thicker steel door with strong frames. Due to high-tech finishes, modern steel garage doors are resistant to rust and blemishes, even after being exposed to snow, rain, and sunlight. Choose steel doors with a baked-on enamel finish for years of very minimum maintenance. Most of the time, it only needs occasional brushes with soapy water and a brief hosing down. If you prefer a lightweight replacement door with good durability, an aluminum door could be a worthwhile investment.
Read more: Garage door insulation
For those living in a wetter climate, the aluminum doors won't deteriorate or rust easily. If you live in a coastal area, salt-laden air won't cause accelerated rusting of your aluminum garage door as well. It's much easier to manually lift or push an aluminum door and you won't need a powered mechanism. Therefore, this will significantly reduce installation costs and maintenance procedures will be very minimal.
Maintain lock and latches
The inner side of the garage door usually has a big bolt deadlock, which provides adequate protection in most situations. But if burglary is a real risk in your local areas, consider using a rim lock cylinder channel with padlock hasps to make it harder for burglars to break in. It's a basic rule to put the primary mechanism of your garage door on the inner side, so it will be much harder to reach. After 20 years of constant use, check your locking mechanism for wear and tear.
The external side of your locking mechanism should be covered with plastic to prevent direct exposure to moisture. Every fall and spring, you may remove the cover and lubricate the internal components. Proper lubrication also prevents the components to freeze in winter.
Latches are usually bolted on the passive side of your garage door and make sure they are always tightly screwed. After decades of use, latches will also wear out and they may start to rattle. In conclusion, if latches fail, it's easier for burglars to break into your home, although the primary locking mechanism is still working properly.
Strengthen hinges
Old garage doors have accessible hinges and they can become a weak point in your garage. Attached with screws, these hinges are quite easy to remove. Make sure that hinges are properly bolted through the garage door. The nuts of the hinge bolts should be inaccessible and placed inside the garage. So, when the garage doors are locked, burglars won't be able to lift them off the hinges. If hinges are visible and accessible from the outside, be sure that they are protected by security stud pins.
Use slide lock
A slide lock is an extra security measure for your garage door, in case the primary locking mechanism and its latch have failed. Installing a slide lock for your garage door should be a simple DIY task.
After buying the slide lock for your garage door, prepare all the necessary tools, such as an impact drill, hex screws, and flathead screwdriver. In the vertical tracks of your garage door, there should be a knockout template. In many garage doors, they are near the bottom. A vertical track may already have a hole in some doors and the latch will go into that hole. When installing the slide lock, it's essential to align the latch with the hole.
After everything is properly aligned and adjusted, drive the screws. If there are no appropriate holes for your slide lock, you need to use a power drill to make a few of them.
Install alarm
Any burglar wants to enter a home inconspicuously and quietly. As a savvy homeowner, you should arrange a loud surprise and it is as easy as installing an alarm. Here is how to effectively secure the garage with an alarm system. The loud noise will be psychologically disturbing and it will attract the attention of family members, neighbors, and passers-by. The alarm could be triggered by a door or motion sensor. The alarm should be installed entirely inside the garage, so burglars can't cut their cables. If there's no one at home, the alarm could be connected to your home's Wi-Fi system and it may send notifications to your instant messaging app or email. So, when the alarm is triggered, you will know about it in real time and make the right decision.
Furthermore, if there's an external CCTV camera, you can check the live feed through your smartphone. You can call the police or a neighbor if the burglar still remains on your property. Keep reading and find out how to effectively secure your garage.
Zip-tie emergency door release
It's probably the cheapest way to improve the security of your garage. If your garage door has an automatic emergency release, be sure to zip-tie it. If there's a power outage, its main purpose is to manually close or open the door. However, any burglar may exploit this feature, if there's enough gap to reach it from the outside. They may fish for the door release and pull it with a wire hook. When there's a power outage, you can easily remove the zip tie and replace it again when the power is restored.
Close the garage door automatically
You may notice that neighbors tend to leave their garage doors wide open for more than an hour at a time. If you also do this, it will be an open invitation for burglars to quickly snatch valuable items from your home. Anyone passing by may take a look inside your garage and your home could be targeted for a future burglary. Take nothing for granted, even if you are living in a very safe neighborhood. A complete stranger may start making his move if you are not taking any precautions.
Many garage door opener mechanisms include an automatic closing feature. The default for automatic closing may range between 3 to 5 minutes depending on the model. Be sure that the system includes a motion sensor as well, so the door won't automatically close as you back out of the garage.
If the garage door system integrates with your smart home network, it usually comes with a dedicated smartphone app. This means you can control the garage door remotely with your smartphone, regardless of your location. The app will also notice when you leave the door open for an extended period of time.
Check sensors
If sensors are working properly, they will ensure that you won't accidentally hit the garage door with your car. The door won't close if there's a car, people, and other objects under it. However, sensors could become dirty and malfunction, if you neglect them. When you are in a hurry, you may press the remote to close the garage door, only to find that the garage door is still open later. This could happen if debris on the sensor interferes with the operations and the door won't close. In many cases, it could be as easy as wiping the sensor with a dry microfiber cloth. Make sure there are no dust, debris, or pieces of dry leaves on the sensor. In conclusion, the sensor could malfunction if the problem persists. In this case, you need to seek a replacement.
Add enough lighting
Burglars love to operate in the dark and make their move at night when everyone is asleep. Bright light can be a strong deterrent to discourage thieves from going near your home. If you are away from home, proper lighting exposes potential intruders to the watchful eyes of neighbors.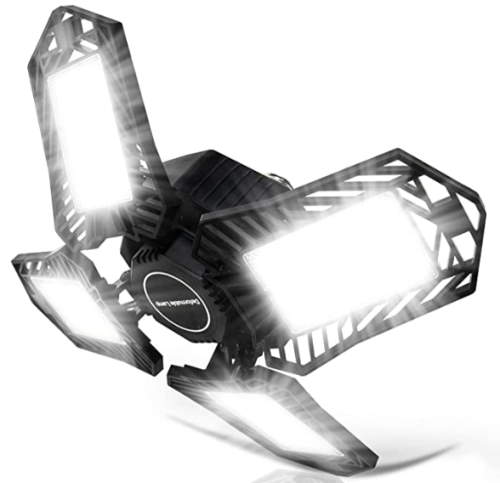 Use the LED garage ceiling light for the best performance. LEDs are much more convenient lights delivering brighter light with low energy consumption. Furthermore, LEDs can last more than regular bulbs.
Outdoor lighting should be exceptionally bright if there is a risk of burglary in your local area. Alternatively, you should use motion-activated lights, so they will be turned on when there's a trespasser. This simple mechanism is enough to surprise any burglar and they will flee the scene. Proper lighting allows your security cameras to capture the faces of intruders and it will be easier for law enforcement officers to apprehend them.
Hide your valuables
If you have a larger garage, it's a perfect place to store your items; some of them can be quite expensive. Vacuum cleaners, electric scooters, leaf blowers, portable air compressors, lawnmowers, and mini generator sets are often stored in a garage. Thieves can make a quick buck if they manage to steal these items from your garage. When doing yard work, you may leave the garage door open, because it's more convenient. But, thieves with keen eyes will know what's in your garage and so, it's important to keep those valuable objects out of their sight. Use your common sense, if there's an item of interest in the garage.
Secure windows
Windows are one of the entry points into your garage. You need them to let natural light and fresh air into the garage, without opening the door. However, it also allows potential thieves to check what's inside your garage. You need to limit visibility from the windows, so it is not easy for people to peek. Blinds and curtains are easy additions that block vision. If you prefer the garage to be illuminated constantly by natural light, consider using tinted or glazed glass for your windows. Regularly check the lock and replace it if it's wearing out. For extra security, you may install a steel bar to prevent entry.
Hide remote
This is one more way to effectively secure the garage. Remote is necessary if you want to open or close the garage door from the outside. The garage door remote is usually placed inside the car and it's often a prime target for burglars. When you park the car outside or on the driveway, be sure to lock its doors. A burglar may quietly steal the remote, so it will be easier to enter your home later. Hide your remote from plain sight and put it in an unlikely place inside your car. If you have lost the remote, disable the powered mechanism of your garage door. So, when you arrive home, you need to go through the front door and open the garage manually from the inside. You should also do the same to close the garage door when leaving home. It's less convenient, but a necessary step to prevent the burglar from using the remote.
Secure the door into your home from the garage
Beefing up the garage door and windows is not enough. The garage is a likely entry point for burglars to enter your home. So, even if burglars manage to go inside the garage, you should prevent them from entering your home. The door into your garage should be constantly locked, when you go to bed or when you are not at home. It's a very common mistake among homeowners to leave the door into the house wide open when they are away, thinking that a secured garage door is enough. Locking isn't enough, you also need a heavy-duty deadbolt for the door. Make sure that the door is made of thick wood or a strong metal frame, so it can't be easily smashed.
At the end
The garage space has many benefits for homeowners. However, the garage itself provides direct access to the rest of your house. Therefore, we need to consider safety and effectively secure our garage. If not secured, the garage becomes a weaker spot, from which point burglars can easily sneak into your home. Make the steps described above, and make sure you've done all that is necessary to make your home secure.