So many people still looking for a Chamberlain RJO70 garage door opener. Why is that, and what you should expect from this garage door opener? Let's take a few minutes and see how good is it. First of all, it is a wall-mounted opener or side-mounted as some people call it.
What you can find in this article
The wall-mount RJO70 garage door opener is one of the best out there on the U.S. market and it seems a proven choice for over many years of exploitation. Generally speaking, wall-mount openers have many advantages compared to overhead openers. We find this a good reason for many Americans, which is why they go for it. There are many other pros of wall-mount models, and it is time to reveal them.
The Chamberlain RJO70 garage door opener is an excellent choice for homeowners looking for a reliable and powerful garage door opener. It has a powerful 1/2 HP AC motor that provides smooth and quiet operation, and it comes with a variety of features that make it a great choice. These features include a battery backup, which allows you to open and close your garage door even during power outages; a timer-to-close feature, which allows you to set a specific time for your garage door to close; and a safety reversing system, which automatically reverses the door if it encounters an obstruction while closing. Additionally, this garage door opener is compatible with most home automation systems, allowing you to control your garage door from anywhere.
Why go with RJO70?
The RJO70 is a wall-mount garage door opener with a direct drive system. Moreover, it delivers the benefits of a small-profile design, including freeing up ceiling space and eliminating unwanted noises and vibrations. This opener features built-in Wi-Fi, which allows direct communication with a MyQ App. This gives the homeowner an option to control and monitor the garage door from anywhere.
Space-saving design and quiet operation: RJO70 attaches directly to the wall on either side of the garage door. This way you'll save space overhead and virtually eliminate noise and vibrations to rooms near the garage.
MyQ Smartphone control: This garage door opener has smart features that make your life easier and more convenient. In simple terms speaking, your garage is the gateway to your active life and with a myQ app, you can control the garage door using your smartphone. Close the garage door from anywhere, open it when necessary, and get all the alerts in real time.
Automatic garage door lock delivers an extra layer of security: This system is carefully designed to deadbolt the garage door every time it closes.
Battery backup: Not only this feature is mandatory in some U.S. countries, but users all over the States find it convenient to have a power backup system.
RJO70 is powerful enough for most residential homes
The RJO70 is a single-button garage door opener that can be mounted to a wall on either side of the garage door. It has self-learning electronics that allow homeowners to add up to 12 remotes. This garage door opener will open a standard sectional door up to 14 feet high and up to 18 ft. wide. RJO70 is very quiet, fairly fast, and very safe and secure.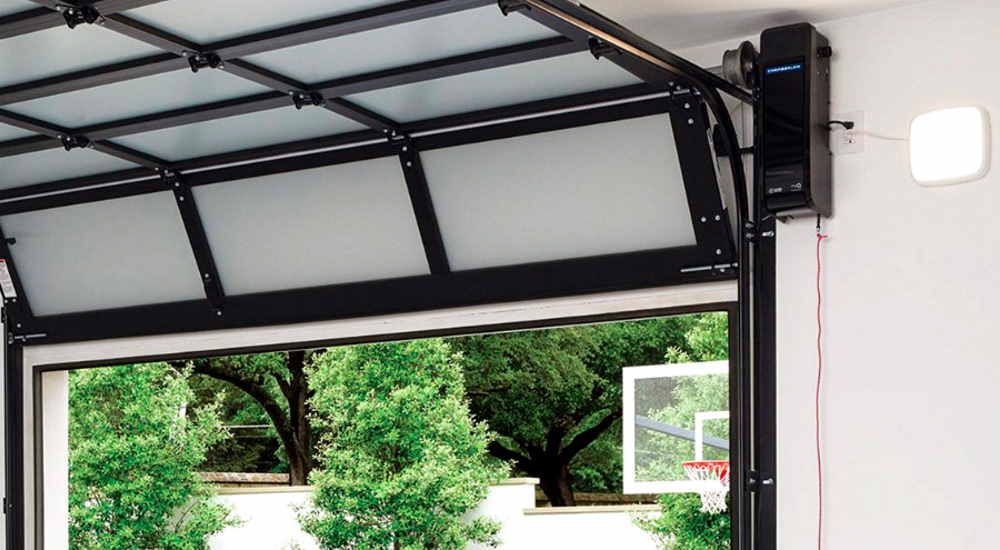 One more reason people love it is that it is an entry-level garage door opener, and still with many features competing models don't have.
RJO70 installs easily
Easy to install and highly effective, the new RJO70 remote opener from Chamberlain is the ultimate way to get more out of your garage. This new garage door opener features two eye-catching finishes, with one smooth side for mounting on either side of the garage door and an embossed "door" side for those who want a more traditional look. It also offers a sleek design that frees up valuable ceiling space and helps you make extra storage.
Chamberlain's RJO70 is perfect for those who want to save some ceiling space while still enjoying the convenience of a garage door opener. Mounted to the wall on either side, this opener provides you with enough clearance for you to open and close the door from just about anywhere.
In short, RJO70 gives you:
Wall-mount design that frees up ceiling space for extra storage, light fixtures, ceiling fans, and more.
RJO70 operates smoothly, and quietly eliminating noise and vibration in living spaces near the garage.
With a myQ app and Wi-Fi, it is easy to monitor and control your garage from anywhere.
Automatic Garage Door Lock deadbolts your garage door every time it closes.
A battery backup gives all the convenience the homeowner needs in case the power is out.
All the things mentioned early give us an answer to why RJO70 is the most wanted garage door opener Chamberlain is made.
Few words to end
RJO70 comes with safety sensors to prevent the door from closing on obstructions. With this opener, you'll get LED lighting in a garage, and a smart monitoring system for the whole garage. A garage door can be easily controlled via the MyQ app.
The Chamberlain RJO70 garage door opener can lift doors up to 8 feet tall and 18 feet wide.
A wall-mount garage door opener is beneficial in several ways. First, it is extremely quiet, compared to a belt-drive or chain-drive opener. Additionally, because it is mounted to the wall, it does not require a large amount of space, making it ideal for small garages. Finally, the wall-mount design allows for easy installation and maintenance.