The belt-driven 84501 LiftMaster opener has a huge fan base and it is one of the most wanted garage door openers these days. Why it is so good? Read this LiftMaster 84501 review and find out.
84501 has an Ultra-Quiet belt drive system and dual LED lighting with 1,500 lumens output. Let's take a closer look, to find more details and features it has.
What you can find in this article
We are going to write a short LiftMaster 84501 review, and make a specification table chart. Before all that, this is quite a good garage door opener, worth considering.
The Liftmaster 84501 is a heavy-duty garage door opener that is designed to provide reliable and powerful performance. It features a 1/2 HP motor, a belt drive system, and a timer-to-close feature. The unit is also compatible with MyQ and HomeLink technologies, allowing you to control your garage door remotely with your smartphone or other compatible device. It is a great choice for those looking for a reliable and powerful garage door opener.
The Liftmaster 84501 is an easy to install garage door opener, as it comes with all the necessary hardware and instructions for mounting. It is also very easy to use, with its easy-to-use control panel and LED status light. The unit also has a security feature that prevents unauthorized access to your garage. The unit is backed by a limited lifetime warranty, providing peace of mind.
Quick Intro and Features that 84501 LiftMaster has
LiftMaster 84501 Garage Door Opener is a state-of-the-art, reliable and versatile garage door opener designed to make your life more convenient and secure. With its advanced features and technology, it aims to provide maximum functionality and convenience to its users.
One of the standout features of the LiftMaster 84501 is its built-in Wi-Fi connectivity. With this feature, you can control your garage door opener using your smartphone from anywhere in the world. You no longer have to worry about forgetting to close the garage door or leaving your remote at home. The myQ app allows you to monitor the status of your garage door and open or close it remotely for added peace of mind.
Another impressive feature of the LiftMaster 84501 is its compatibility with voice assistants such as Google Assistant and Amazon Alexa. This means that you can simply use your voice to open or close your garage door, making it even more convenient to use.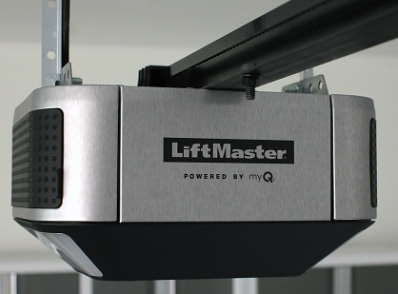 Powered by myQ this opener gives you options to control, secure, and monitor the garage anytime, from anywhere. An Integrated LED lighting system with 1,500 lumens gives all the best results in lighting every corner of the garage.
Unlike the previous model we wrote about (LiftMaster 87504) this one doesn't have a camera installed. If you can go over it, we find the LiftMaster 84501 quite a good garage door opener actually. It has some built-in features, and most importantly it is reasonably cheap. Furthermore, the 84501 LiftMaster has an Ultra-quiet, and strong belt drive system, paired with a powerful DC motor that ensures quiet operation.
LiftMaster 84501 specifications
You can take a closer look at the 84501 LiftMaster table chart. It gives you all the major features this garage opener has.
| | |
| --- | --- |
| LiftMaster 84501 | Specifications |
| Lighting | 1,500 Lumens Integrated LED lighting system |
| Drive Type | Belt drive |
| Battery Backup | No |
| Soft Start/Stop | Yes |
| myQ Compatibility | Yes |
| AC/DC | DC |
| Smartphone Control | Yes |
| Code Type Compatibility | Security + 2.0 |
| myQ Diagnostics | Yes |
LiftMaster 84501 specification chart
Compared to LiftMaster 87504, for example, this opener lacks some features. LiftMaster 84501 doesn't include a battery backup, and no Timer to close option is available.
LiftMaster 84501 Review
What do we like about 84501 LiftMaster? Read this short review and find out.
The belt drive of the LiftMaster 84501 Garage Door Opener is top-notch and highly efficient. It is made of high-quality materials that provide smooth and quiet operation while also enhancing the durability of the opener. The belt drive is also designed to reduce vibration and wear, making it a low maintenance option. Overall, the belt drive of the LiftMaster 84501 is of excellent quality and is one of the reasons why this opener is highly recommended by users.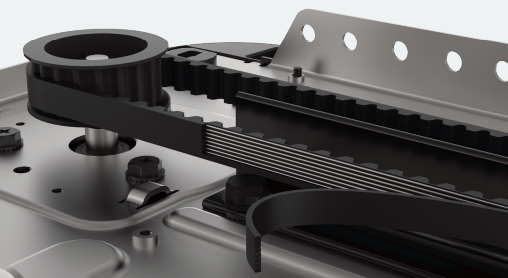 LiftMaster 84501 has been engineered for silent operation. It uses an extra-strong, steel-reinforced rubber belt to open and close the garage door quietly.
Therefore, this opener can be installed near the living spaces.
84501 LiftMaster popular features:
Quiet and smooth operation – Best in its class, this belt drive system and DC motor provide reliable operation and a long-lasting lifespan.
myQ Connected – Homeowners can Control, secure, and monitor the garage anytime, from anywhere.
Invisible light beam system – Auto-reverse system that reverses the garage door operation if there are obstructions.
Posilock protection – Electronical protection against forced openings.
Security
In terms of security, the LiftMaster 84501 offers advanced protection against burglaries. It comes with a Security+ 2.0 rolling code technology that ensures your remote code changes every time you use it, making it virtually impossible for anyone to steal the code and gain access to your garage without your knowledge.
The 84501 also has a PosiLock system that securely locks the door once it is closed, preventing manual entry from the outside. In case of a power outage, the opener comes with a battery backup system that allows you to still operate the garage door.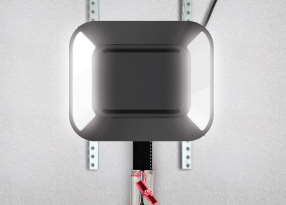 LiftMaster 84501 lighting
Integrated dual LED lighting system: Increases the functionality of the garage. You won't change a garage light bulb again. A dual lighting system ensures good lighting for the high-traffic areas in a garage.
Just by using your smartphone, with myQ app you can control, secure and monitor your garage. Furthermore, you can conveniently share and manage access to your home without sharing passcodes or keys.
Worth mentioning: With a smartphone application, a homeowner can easily give a connection to a trusted Dealer through the myQ app.
Before ending this review, a few more details about the 84501 belt drive LiftMaster garage door opener.
LiftMaster 84501 has a 12V DC motor that produces 53RPM, with automatic thermal protection integrated.
Power: 120V AC, 60Hz, 6A current rating
Speed: 7.2″ per second upward, 7.2″ per second downward
Lighting: 1,500 lumens integrated LED
Dimensions: 10.5″ L x 12.72″ W x 8.185″ H
Mounting: Side-to-Side
| | | | |
| --- | --- | --- | --- |
| Rail options | 7′ | 8′ | 10′ |
| Installed length | 122.5″ | 139″ | 163″ |
| Max opening | 7′ 6″ | 8′ 6″ | 10′ 6″ |
LiftMaster 84501 rail options
What is in the box?
To gain all the features mentioned in the text above, LiftMaster 84501 original box includes these compatible devices: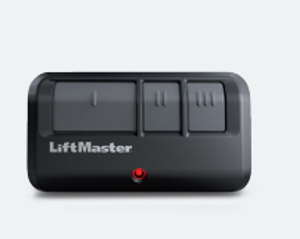 893LM
In the box, you'll get a 3-Button Remote Control. It operates up to 3 openers or myQ light accessories.
Multi-Functional Control Panel operates the garage door opener and lights from inside the garage.
Conclusion
We find this opener the best option for those who want a silent, and compact garage door opener. LiftMaster 84501 gives you quiet operation and plenty of light inside the garage.
A homeowner has the option to control, secure, and monitor the whole garage anytime, from anywhere. Just by using its own smartphone myQ app.
Steel chassis, T-rail, and trolley reinforce the whole belt drive mechanism, making him last longer. There is also Auto-force adjustment for changing weather and environmental conditions. This design makes sure the opener operates properly no matter the environmental conditions outside.
Check for LiftMaster 8164W also.
LiftMaster 84501 Garage Door Opener is a top-of-the-line product that offers convenience, security, and durability. With its advanced features, it truly stands out in the market, making it a top choice for homeowners looking for a reliable and efficient garage door opener. Consider investing in the LiftMaster 84501 for a seamless and secure garage door operation experience.
Overall, the Liftmaster 84501 is a great choice for those looking for a reliable and powerful garage door opener. Its easy installation, advanced features, and lifetime warranty make it a great value for the money.