Starting a home improvement project is no piece of cake and it's very likely you will encounter unexpected challenges. But, once you get the job done, it will be one of the most memorable accomplishments in life. If you understand all the basic rules of home improvement, tackling such a project should be easier to do.
Home improvement projects come in many shapes and sizes. It may range from simple addition to comprehensive extensions. Planning a project may sound very interesting on the surface, but you should bear in mind the usual problems and challenges. Mishaps will cause delays and expensive budget overruns. It's important to follow these rules to ensure a smooth flow of your home improvement project.
Home improvement rules you should stick to
Create a budget
Unfortunately, many homeowners still don't follow this obvious rule. They only have a rough idea about how much to spend, but they don't set up a detailed budget for the project. With a carefully planned budget, you will know what components to pay for. In many cases, you could be surprised how much you need to pay and some necessary adjustments will be needed.
A budget also prevents cost components from creeping up and it will be much easier to track your expenses all the time. A single kitchen renovation mistake may cause the whole project to exceed what you can afford. An unforeseen problem may make it harder to stay on track, although you have a well-calculated budget. It's a good idea to add a 20 percent cushion into your home improvement budget to prevent any anxiety and delay that comes with the cost hike. It is a great way to keep the project going and it's less likely that you will be left strapped for cash.
Calculate ROI (return on investment)
If you are planning to sell the property or relocate later, you should know that certain improvements fetch a higher price. Steer clear of outdated wallpaper patterns or trendy light fixtures that contribute nothing to the overall value of your home. Because potential buyers have different preferences, it's recommended to stick to minimal patterns and neutral colors.
A well-executed improvement project will increase the resale value if it improves life quality and comfort. If you want to update the exterior of your home, make sure that it will increase curb appeal. Avoid overdoing anything, because it may reduce the ROI of your improvement project.
Find reputable contractors
We have heard more than a few horror stories about unreliable contractors who do poor-quality work. These contractors may do some remodeling mistakes and in some cases, they fail to complete projects.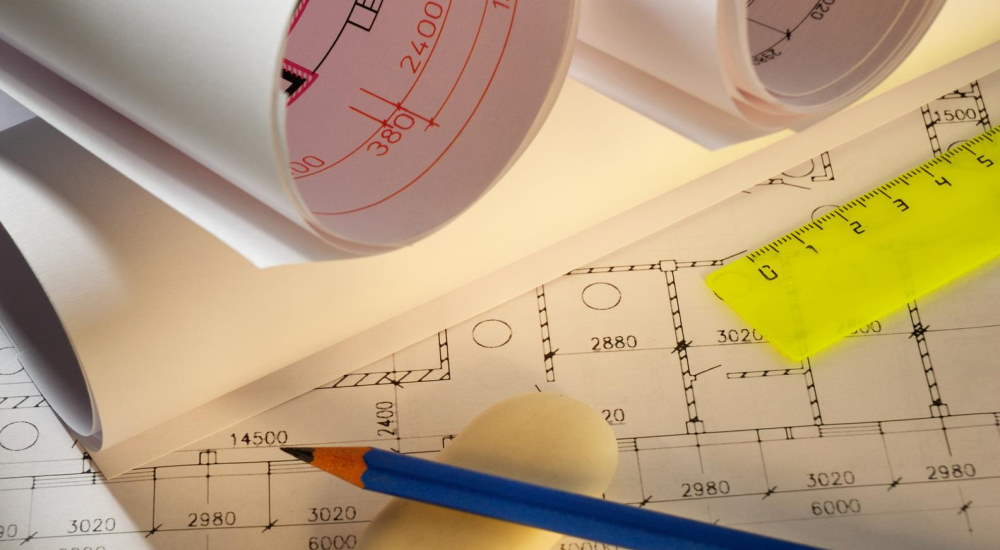 Ask neighbors and friends for recommendations, when evaluating contractors in your local area. Once you find a few good candidates, ask them for a quote that includes a breakdown of cost components and schedules. You shouldn't hesitate to ask for references and there should be satisfied clients who will agree to provide honest testimonials. Many homeowners are tempted to save money and they go with the lowest option. However, the low price could be equal to low-quality work and unsatisfactory results.
Get home renovation permits
Many homeowners are under the impression that they don't need a permit from the local authority. Unless it's just a few cosmetic fixes, it is important to secure permission.
Any major alteration that includes a bathroom remodeling or tearing down of a wall will require a permit. As long as it involves a structure, electrical, or plumbing change, a permit would be needed. An experienced contractor may help you pull an appropriate permit because they are familiar with the procedure needed. A bureaucratic mistake could have financial or legal ramifications. You may face a hefty fine and you will be required to shut down the operation until a permit is issued. Even if you manage to complete the project without a permit, it may affect the home's value and future buyers can't secure a mortgage.
Set a timeline
A lengthy home improvement project will affect the cost of labor and supplies. It will also affect your quality of life, due to the constant presence of clutter, noise, and dust. External problems like supply chain issues may affect the time needed to complete your project.
During a home improvement project, patience is key and it's important to have a fairly accurate forecast about market and supply chain situations. If you have been working with a reliable contractor, they will be communicative and honest about likely problems to face. If you get enough information, it should be easier to come up with a more sensible timeline. It's important to remain reasonable and flexible, so you won't freak out when a task is delayed.
Get renovations done gradually
It is unlikely your home improvement project can get done in one fell swoop. It's better to tackle what's important and delay the rest if it's necessary. A renovation will affect your daily activity, because you may lose access to different parts of your home. You need to deal with obstructions, dust, and noise in nearly all parts of your home. This may encourage you to get it all done at once and avoid inconveniences.
Due to various roadblocks, it is more sensible to have an extended timeline. Homeowners should consider which tasks should be tackled immediately. You need to make a list of priorities. For example, when renovating your kitchen, it's better to prioritize countertops than minor decorations.
Don't over-renovate
Renovating your home to make it the finest on the block may seem like a good thing to do. However, there's a possibility that you won't recoup the investment. If fancy housing isn't a norm in your neighborhood, the renovation won't contribute much to the overall value.
Buyers expect that your home will match the average pricing in the area. If you sell the house at a significantly higher price, it may deter many potential buyers. Shoppers with a limited budget may prefer a more affordable option. If you want to renovate your home, keep the costs reasonable, so it will remain attractive to potential buyers.
Choose quality materials
When outlining your home improvement budget, you must take this rule to heart. If your budget is limited, it can be quite tempting to cut corners and choose cheaper materials. When choosing less expensive alternatives, be sure you don't skimp on the overall quality.
Low-quality materials will not only affect the visual aspect of your home, but also the structural strength. If possible, you should choose a durable material with the best "staying power". Granite is a tough material that is popular for bathroom or kitchen renovation. It can be quite expensive, but with the right adjustments, you can keep the cost down. If you want granite, but your budget doesn't allow it, you may go for a laminate product instead. It isn't as durable as granite, but it still looks beautiful and lasts for a long time.
Hardwood flooring looks nice and it's easy to clean. However, it isn't for everyone, especially if you have heavy furniture or pets with sharp nails. After changing the interior layout or allowing your pets to play on hardwood floors, they won't look as beautiful as before.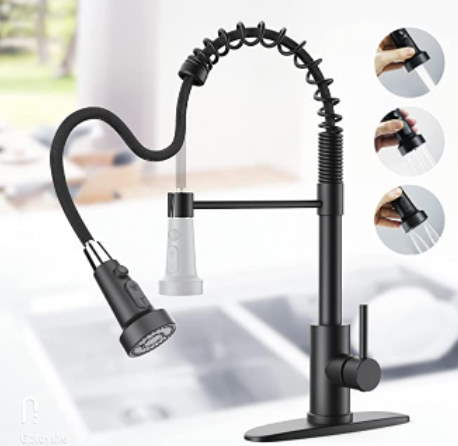 Gptoylife kitchen spring faucets with sprayers are suitable for almost all 1 or 3-hole kitchen sinks.
The pull-out sprayer makes the kitchen easy and makes the kitchen different.
Hardwood can be expensive and without proper maintenance, it will turn into an eyesore. Alternatively, ceramic tiles from reputable suppliers are affordable, durable, and pet-proof. They are simple to clean and can't be scratched easily.
Check materials on arrival
Never expect suppliers always send you the right materials as agreed. Although the product name or model is correct, it may have a different finish or color.
As an example, if you plan to have all-brushed nickel fixtures in the kitchen and bathroom, the supplier may send you the chromed variant. While checking the materials, record a video with your smartphone as you open the packaging. If you receive the wrong item, you can send the video to the supplier or seller, so you will get a replacement immediately.
Be timeless
When it comes to home renovation, someone's treasure can be someone's trash. A design or material may look good in your eyes, but not to prospective buyers.
Mint green appliances and shag carpets may look nice, but others will have a different opinion. By being timeless, the decorations, designs, and colors of your home will remain relevant for ten years from now. Although wallpaper and furniture can be made trendy, make sure big-ticket items like kitchen cabinets and hardwood flooring won't go out of style very quickly.
Use green products
About a decade ago, green products were synonymous with higher costs and people shied away from them. Eco-friendly construction materials and products are becoming more mainstream these days. They are available at various price points and become more accessible financially.
It's obvious that green products will minimize the carbon footprint of your home and improve energy efficiency. Skylight windows and solar panels reduce electricity use, especially during summer.
Prioritize teamwork
A home improvement team consists of many professionals, such as decorators, contractors, and designers. There should be mutual cooperation and understanding between these professionals. It is important to know the factors that prevent the team from working cohesively.
Communication is key, between team members and you as the property owner. A new project is like a blank canvas and unexpected issues may exist in any relationship.
Experienced and reliable professionals know how to work through any disagreement. Before starting the project, team members should agree on how best to communicate with one another, whether it's by instant messaging, email, or voice call.
Communicate expectations to your home contractors clearly and be sure to get all your concerns addressed. As a property owner, you are a crucial part of the team and it's important to ask for progress reports. This should safeguard you from any unforeseen problems. Even so, avoid becoming a barrier in the project and allow these professionals to do their work.
Document everything
Any progress and issue in your project should be documented on a daily basis. You should take a few photos to know what has been completed or achieved each day.
The budget should be adjusted each day to track how much you have spent. If possible, you should record as many details as possible, including renovation progress per day, expenses per day, number of workers, and amount of materials expended. If you fail to track everything, there will be a higher chance of over-expenditure or theft.
Measure twice
Mis-measuring your cabinets, countertops, walls or floor may derail the renovation process. If there are many custom-built items in your home, very accurate measurement is crucial.
Missing a mark may delay your progress for days and it may prove to be very expensive. Although your contractor is experienced, always remind them to measure anything twice and keep each measurement documented.
Be consistent
You should avoid changing your decision mid-project. It's easy, free, and simple to make changes while your project is still at the planning stage.
Once the actual works start, it's a big mistake to change your mind. As your project progresses, it will be even more expensive and difficult to make changes. Once you change plans, they may end up falling short of your original expectation. You need to consider options and be prepared that a few things will go wrong, so you need to anticipate them.
In conclusion
As a homeowner, it's natural to seek to obtain the most value for your money. However, it's a big mistake to cut corners. For example, if you use lower material quality, wear and tear will appear faster.
High-quality items may cost slightly more, but it will be much longer before you need to maintain or repair your home. It can be tempting to go straight for a contractor who offers the lowest bid, but there's a higher chance that their craftsmanship is subpar. By following the above rules, you can strike a balance between quality and cost.
Decide what's the most important for you and be prepared for any contingency in the home improvement project.