Summer heatwaves are becoming annual occurrences and you need a reliable air conditioning system for your home. Today, air conditioning isn't only for comfort, but it may protect you against heat-related illnesses during very hot summer days. There are moments when fans just don't cut it and you need the right air conditioner for your home. Some people buy smaller air conditioners to reduce energy utilization. If your air conditioner is too small, it will run constantly to cool your interior down. In this situation, you may end up using up more energy. If your air conditioner is too large and powerful, you will waste money on expensive equipment.
An oversized air conditioner will leave your room damp due to condensation, because it cools your room too quickly, without removing enough humidity. When choosing a proper air conditioning unit, the size of your house is a crucial factor. This time, we assume that the size of your home interior is about 1,000 sq. ft.
How to Choose an Air Conditioner For a 1000 sq. ft. Home?
Calculate the cooling capacity of the air conditioner: The cooling capacity of an air conditioner is measured in BTU (British Thermal Units). For a 1000 sq. ft. home, you need a cooling capacity of about 20,000-24,000 BTU.
Consider the type of air conditioner: There are two main types of air conditioners – window and central. If you want to cool down your entire home, then a central air conditioner is the best option. However, if you only want to cool down a single room or area of your home, then a window air conditioner is a more practical choice.
Look for the Energy Star label: When shopping for an air conditioner, look for the Energy Star label. This label indicates that the product is energy efficient and can help you save on energy costs.
Consider the noise factor: Make sure to check the noise level of the air conditioner before buying it. Some air conditioners can be quite noisy, so it is important to find one that is not too loud.
Look for a good warranty: Make sure to look for a good warranty when purchasing an air conditioner. This will help you get repairs or replacements in case something goes wrong with the product.
Calculate BTU value
To specify the most suitable air conditioner for a 1000 sq. ft. house, you need to take into account its BTU (British Thermal Unit) value. One BTU is the amount needed to raise the temperature of a pound of water by one degree F. Based on the recommendation of Consumer Reports, you need 20 BTUs for every square foot of interior space. So, if you are looking for an air conditioner for a 1000 sq. ft. house, it should be somewhere between 18,000 and 22,000 BTU. The capacity of a central air conditioner for a 1000 sq ft house could be slightly lower than 20,000 BTU if your interior is well-insulated and there are fewer obstructions.
When buying a new air conditioner for a 1000 sq ft house, you should also take into account the hottest day in the year. If it's very sunny and hot in the summer, increase the capacity of your air conditioner by about 10 percent or about 22,000 BTU. When installing an air conditioner for a 1000 sq ft house, it is also important to consider how many people normally stay in the living space. If there are more than two people in the house, add extra 500 BTUs for each additional person. Your brand-new air conditioner for a 1000 sq ft house may need to cool down an indoor kitchen as well. Because the kitchen is a significant source of heat and humidity, you will need to add an extra 4,000 BTUs if there's a mid-sized kitchen.
Decide what type to choose
It is obvious that you should choose a central air conditioner model for 1000 sq ft houses. It allows you to cool down the whole or a large part with just a single air conditioner unit. A window air conditioner for a 1000 sq ft house is suitable for rental properties because you can install at windows without any significant alterations. Alternatively, you may choose a wall-through air conditioner, if there's already a spot on the wall to mount it. Compared to a window-mounted air conditioner, a wall-through type is more efficient, because there will be less transfer of heat from the outdoor environment.
Choose size
If you are looking for a 1000 square feet AC, it's never a bad thing to get a 20,000 BTU air conditioner unit. The common complaint is that a 1000 sq ft AC unit with 20,000 BTU output is too large and heavy. Fortunately, AC for a 1000 sq ft house is often relatively compact, especially if you look for newer models. Many rental apartments have a tight, small area for AC units, so, it's important to take careful measurements.
Choose design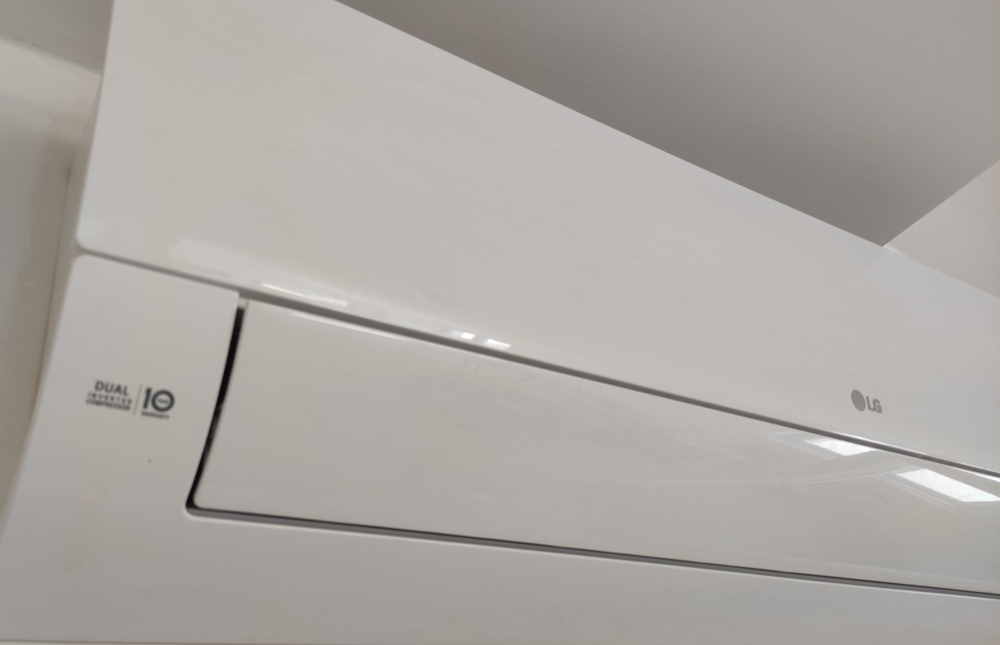 If you have a stylish interior, choosing a 1000 sq ft AC unit that looks visually good is important. However, this would be a matter of personal taste. Unless you buy a central air conditioner for a 1000 sq ft house, your air conditioning unit will be visible. The unit should match your interior and it's a good thing if you can customize it.
Choose important features
A 1000-square-foot air conditioner should be highly efficient and meet ENERGY STAR certification. If the manufacturer of your 1000-square feet AC unit complies with the high standards of ENERGY STAR certification, you will benefit from significant electricity savings. Your 1000-square-foot air conditioner should have variable fan speeds, so it will adjust automatically with the current temperature in your home. With a strong fan, your air conditioner will cool your interior faster and it will help to reduce energy consumption. An AC unit for a 1000 sq ft house with 20,000 BTU output shouldn't only be powerful, but it must be quiet even at the highest fan speed. A low-noise 1000-square feet AC will help you to sleep better and longer. Despite its larger size, an AC unit for a 1000 sq ft house should be quick and simple to install. Whether it's a window or central air conditioner for a 1000 sq ft house, there should be straightforward instructions for installation.
A well-designed AC unit should be easy to clean. It must have a cover that requires no tool for quick removal, so you can gain access to its filters and fans. Cleaning your AC unit should be as simple as wiping the dirty surfaces with a slightly damp cloth. Some AC units for 1000 sq ft houses come with a few external temperature sensors that can be installed at different parts of the house. With the strategic positioning of these thermometers, you can prevent uneven temperatures in your home.
Ensure ease of use
Before installing an air conditioner for a 1000 sq ft house, you need to check online videos and documentation from the manufacturer. It's a good idea to read online reviews and ask questions to other users. You need to be sure that the AC unit won't end up making your life more difficult. Your focus should be to make your life more convenient and practical. It should be straightforward to configure the air conditioning unit. Some air conditioners for 1000 sq ft houses have Wi-Fi connectivity with mobile apps to ensure easy adjustments and programming.
Prioritize durability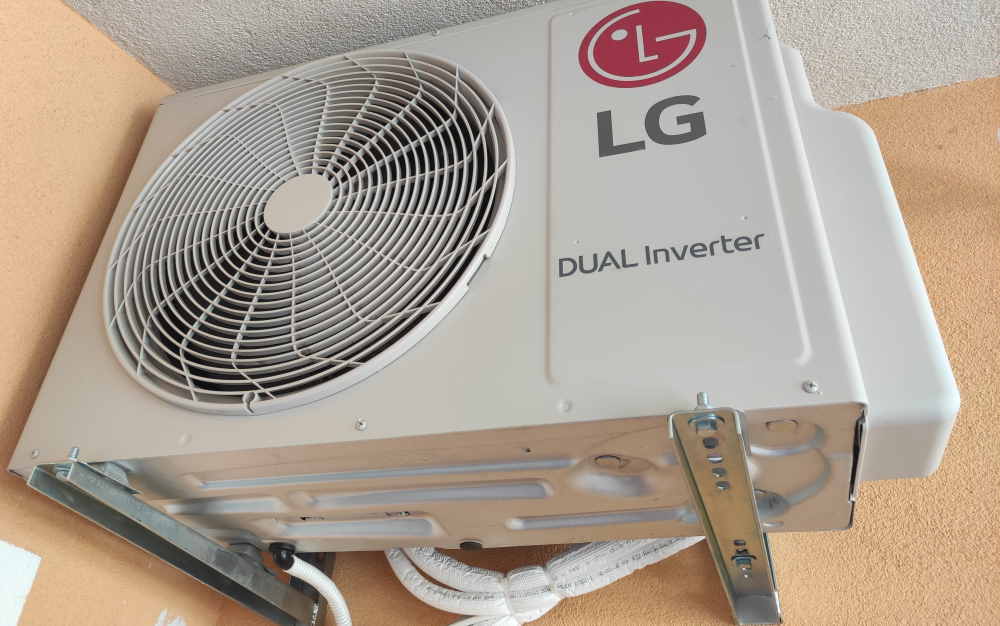 During a prolonged heatwave, a 1000 square feet AC unit may need to operate 24/7, because it's still very warm at night. As a user, you need to be especially critical about the durability of your 1000 sq ft AC unit. It should have at least three years of warranty with free replacements of spare parts. For split AC models, make sure that the outdoor unit can withstand repeated exposure to heat, sunlight, very low temperature, or rain.
Ensure reasonable pricing
Whether a new air conditioner for 1000 sq ft house is expensive or affordable, it depends on your budget and personal preferences. Your top priority should be the quality and durability of the air conditioner unit. Then, it should have all the features you need. Make a list of models that match your strict criteria and you may consider choosing one with the lowest price.
Integrate with smart home network
A 1000-square feet AC with a built-in Wi-Fi component and a proprietary mobile app will easily integrate into your smart home network. After properly installing an air conditioner for a 1000 sq ft house, you may configure it easily. Enable the Wi-Fi connection of your AC unit and type in the password of your home Wi-Fi network. Once connected, you may control the AC unit anywhere and anytime with your smartphone. Ten minutes before you arrive home, you may use the smartphone to turn on the AC unit remotely and set the desired temperature. So, when you open the front door, you can start enjoying the cool indoor environment.
What To Do After Installing a 1000 Square Feet AC?
After installing your new air conditioner for a 1000 sq ft house, there are important things you should do. You need to start by programming the thermostat. A well-programmed thermostat ensures convenience and optimum energy utilization. Before summer, you need to thoroughly clean fins and coils to maximize the efficiency of your air conditioner. If fins and coils are dirty, condensers and evaporators inside your AC unit can't release and absorb heat effectively. The heat transfer process is vital in any air conditioning system and a thick layer of dust will reduce the thermal conductivity of internal components. Although you've decided to buy an oversized 1000-square-foot air conditioner with 22,000 BTUs or more, it may fail to effectively cool your home, if its fins and coils are dirty.
You also shouldn't ignore the importance of an air filter, which is needed to remove allergens and dust. Read your user's manual to know when to replace the filter of your AC unit. Usually, you need to replace filters after six months of continuous use, but it's always a good practice to check or replace your filters just before the summer heat arrives. Air can't flow properly inside your AC unit if filters are choked with grime and dust. It's a good idea to invest in indoor air filter units with HEPA filters if you have a central air conditioner for a 1000 sq ft house that can be harder to clean and maintain, compared to the window or split type. In order to reduce the frequency of maintenance and replacement of parts, avoid setting the temperature too low, so your 1000 sq ft AC unit doesn't have to work longer and harder to cool your home interior.