A bulb may consume relatively low power, but if you have dozens of them at home, your electricity bill will shoot up. This could happen if you choose the wrong bulbs or if you leave them turned on too long. Smart lamps are essentially LED bulbs with Wi-Fi connectivity.
What you can find in this article
Compared to other bulb technologies, LED smart lamps are up to 75 percent more efficient and with 50,000 hours lifespan. LED is a type of light-emitting semiconductor, so it is easier to control with your home network.
Some smart lamp models have motion detectors, so they will turn on when you enter the bedroom to reduce energy utilization.
Using Smart Lamps in home
Light up your life in the best way possible. You can transform your home into a smart home with these lamps. Furthermore, electrical bills shall reduce as well. Keep it smart and green – all at once.
Google Assistant Lamps for Smart Home
If you choose Google Assistant to control your smart home network, it is important to choose compatible devices. You need to be sure that your smart lamps can fully work with the Google Home network. Fortunately, it is very easy to find smart lamps that are compatible with Google Home and Google Assistant. Your concern should be to choose the most suitable features for your smart lamps. With Google Assistant, you can remotely control any smart lamp in your home. You can turn on or off a smart lamp through your smart speaker or smartphone. So, it is perfectly possible to control your smart lamps, wherever you are. With IFTTT (IF This, Then That) technology, your compatible smart lamps can integrate with other smart devices. This means you may set up certain pre-requisites to determine when your smart lamps must be turned on or off.
LED technology offers a virtually unlimited range of color options, giving you immense flexibility to choose the right hue to suit any mood. Choose smart lamps with RGBW multi-color feature to get a full range of 16.8 million color hues. On your smartphone or smartphone hub, you can decide what color hue to choose.
It is also to adjust the ambiance of your home with Google Assistant-compatible smart lamps. Brightness is also adjustable if you choose dimmable smart lamps. With your smartphone app, you can manually set the most appropriate brightness of your bedroom when reading books, working, or taking a nap.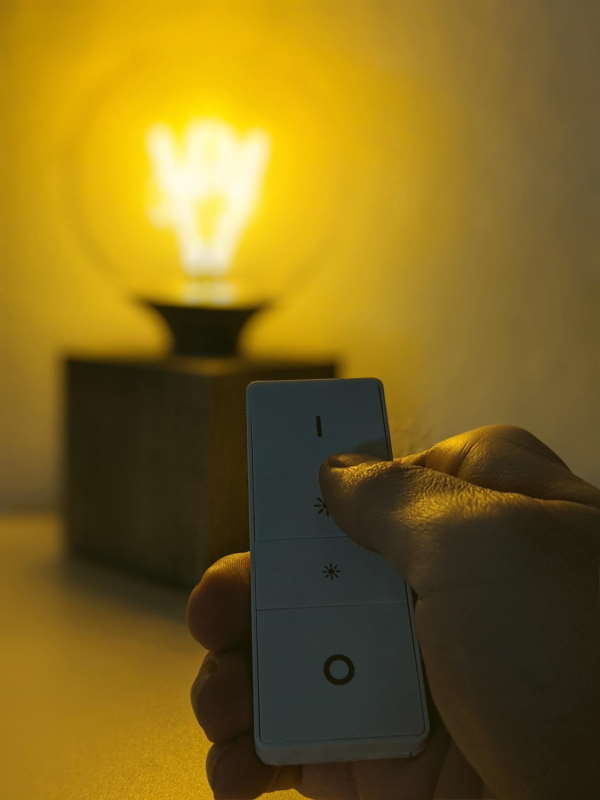 A proper combination of color hue and brightness will add the right ambiance to your home. These lamps can be programmed to match your Circadian rhythm, so they will automatically adjust brightness and color temperature to simulate natural lighting conditions.
For maximum energy efficiency, you may choose solar-powered smart lamps. Some outdoor smart lamps have built-in solar panels on their sides or at the top. During the day, these lamps store solar energy in the battery. Because LED bulbs are highly efficient, they will remain usable throughout the night. Any outdoor smart lamp should have an adequate water resistance rating, so they remain operational during heavy rain and storm. A good outdoor smart lamp should be certified for IP56 water resistance rating for maximum protection. For smart lighting in a bathroom, you may choose smart lamps with an IP44 rating to protect them against splashes and significant humidity. For better convenience, your outdoor smart lamps should have smart sensors and when it's sufficiently dark outside, they will come on automatically.
Smart Lamps for home on Amazon
When it comes to buying smart devices, many homeowners choose Amazon as a one-stop shop platform. There is nearly every possible product to find on Amazon and it's easy to narrow down the selections until you get the most refined list. Google, Amazon, and Walmart have teamed up to allow buyers to include products from different online retailers in a transaction. If you regularly buy new smart devices from Amazon, you may purchase a Prime membership and get free shipping. You can choose smart lamps on Amazon based on specific brands. Current best sellers in the smart lamp category are manufactured by Addlon, Philips, Focondot and Marrado.
Amazon also makes it easy to choose smart lamps that match your budget and many are available for less than $30. Instead of buying only bulbs, smart lamps in Amazon include fixtures and cabling. Those with nickel metal construction with minimalist design are suitable for interior design with a modern minimalist, farmhouse, or vintage styles. Some lamps have smart bulbs covered with linen shades to produce softer light and a good ambiance for your bedroom. Whatever design and style you choose, be sure that the fixture is made of sturdy, high-quality materials to keep your smart lamp stable.
When looking for smart lamps in Amazon, find Today's Deals and you may get discounted products. If you have Prime membership, it is possible to catch Lighting deals that last only a few hours and sometimes, just a few minutes. If you plan to purchase a large batch of smart bulbs and lamps for your smart home network, you may choose monthly payment plans whenever possible. Choose the no-rush shipping option if you are not in a hurry and you will be awarded credits that you can use for future purchases. If you don't have Prime membership, it's possible to get free shipping. Before checking out, make sure to have at least $25 worth of eligible products.
Conclusion
Smart lamps consist of smart LED bulbs, fixtures, shades, smartphone apps, cabling, and other components. They are remotely controllable, so you can enjoy the flexibility and convenience of a smart device. Whether you are at the office, lying in bed, or traveling to a distant country, smart lamps are easily under your control. If you choose smart lamps with RGBW bulbs, it is straightforward to change brightness, color, and light temperature to enhance your productivity or the aesthetics of your room. Apps from manufacturers usually have sliders for manual adjustments and group control, so you won't waste time controlling your smart lamps individually. It is even more convenient to use IFTTT automation to set up when your smart lamps should be turned on or off, based on schedules or the number of natural lights. For outdoor lighting options, you should choose smart lamps with solar power and an IP56 waterproofing rating.
Check for smart lamps that are compatible with Alexa and Google Home.
Amazon is the perfect place to buy any smart device for your home network. There is a wide range of smart lamps and bulbs that you can get from online retailers. Read reviews from previous buyers to find high-quality smart lamps that will last for a long time. With Prime membership, it is easier to find products with discounted prices and free shipping.
The Google Home Smart Lamp is a revolutionary product that allows you to control your lights and other electronic devices with your voice. It is powered by Google Home, a voice-controlled assistant that responds to your voice commands. With the Google Home Smart Lamp, you can easily adjust the brightness, color, and temperature of your lighting with just a few simple commands. You can even set up routines and schedules to turn your lights on and off at certain times and days. Additionally, the lamp has built-in sensors that can detect motion and changes in light levels, allowing it to automatically adjust its settings according to your needs.
The Google Home Smart Lamp is an incredibly convenient and efficient way to control your lighting and other electronic appliances. It is an excellent way to save energy and money, as it allows you to easily adjust the brightness and color of your lights. Additionally, it is compatible with other products such as Google Nest and Philips Hue, allowing you to create a connected home experience. With its easy setup and user-friendly interface, the Google Home Smart Lamp is a great choice for anyone looking to take their home lighting to the next level.