Enjoy your coffee while it's still hot without worrying about anything. These double wall insulated glasses keep all the hotness inside your favorite drink, keeping the pleasantly warm temperature in your hands. Double-wall glasses are perfectly suited for a multitude of hot and cold beverages as well as desserts. They are specially designed to keep liquids hot or cold for a longer period while keeping your hands pleasantly warm on the touch.
Double-wall coffee mugs keep the temperature of liquid hot or cold for a longer period of time. Furthermore, the outer glass wall remains comfortable to touch. Like insulation keeps high temperatures, it behaves the same when you're using iced tea or iced coffee. These mugs keep iced coffee cold longer than porcelain or ceramic cup. If you enjoy your dessert, these double-wall insulated glasses make life easier.
Not only these glasses are great insulation for either cold or hot beverages, but they look cool also. Double Wall Design creates a floating optical effect. That is one good reason to go for it. Besides the coffee double wall glass set, you can find all kinds of cups, shapes, and sizes, with the same design. Double-wall insulated glasses can maintain the temperature of the beverage for a long time while protecting your hands from burns.
As said before, looking good design makes them a perfect gift. No matter the occasion, an unusual design makes them a great choice for a gift. Make your loved ones happy with a cup of coffee! How cool is that?
Double wall glass set
Don't look further, and read this post to the end. We have made a selection of double wall glass sets of a variety of sizes and shapes. Choose the one you like the most.
2.5oz Double-wall Insulated Espresso Cups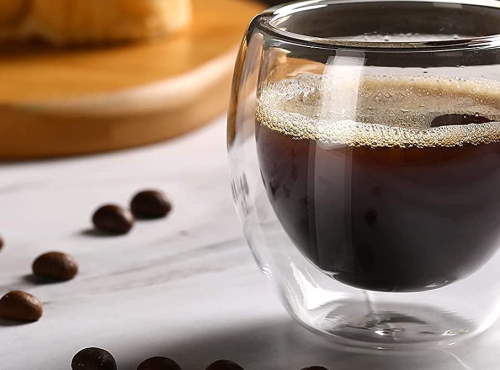 This cup size (2.5oz) is ideal for morning coffee, tea, latte, cappuccino, espresso, and other hot or cold beverages you like to drink. It is safe to use in Microwave & Dishwasher. Cups are easy to clean. Double wall keeps drinks hot or cold for a longer period of time, keeping a pleasant feel in your hands. The design creates an illusion of the coffee floating in midair which is attractive.
4oz Double Wall Insulated Glass Coffee Mugs
These cups are perfect for a double shot of espresso you're making at home. 4-oz cups are nice in weight and feel like quality. If you like your espresso to remain warm for as long as possible, this double-wall design helps with that. The outside of the glass not being too hot to the touch. Another great thing is that you can see the espresso and the foam finish on the top through the clear glass.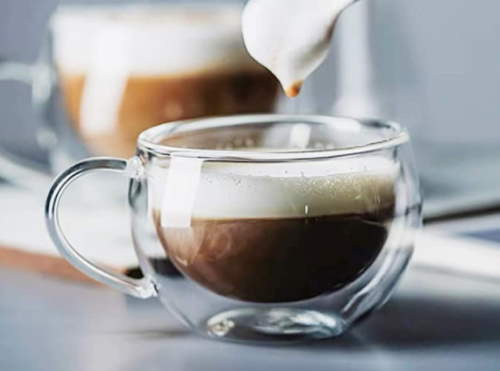 Each of the coffee mugs set holds 4 ounces to the rim. These are perfect for people who love this capacity. For most coffee lovers a 4-oz is enough to go with a morning routine.
Cups are suitable for espresso machines as well as small coffee makers. Prepare a perfect cappuccino, and shot espresso. Furthermore, mugs are suitable for reheating in the microwave. Also, for a cold beverage, double-wall glass mugs are safe in the freezer.
What people like the most, besides comfort while enjoying coffee, is a cool and clear look at the beverage. Double-wall cups really display the cream well. Designed this way you'll enjoy desserts even more than you usually do.
8oz Double Wall Glasses For Coffee And Tea
Double-wall insulated glass for tea lovers. If you enjoy tea rather than coffee, consider ordering 8-oz double wall mugs. Unlike 2.5oz & 4oz cups mentioned before, 8 oz and bigger mugs are more appropriate for drinking tea. Let's take a look and find out what is there available right now.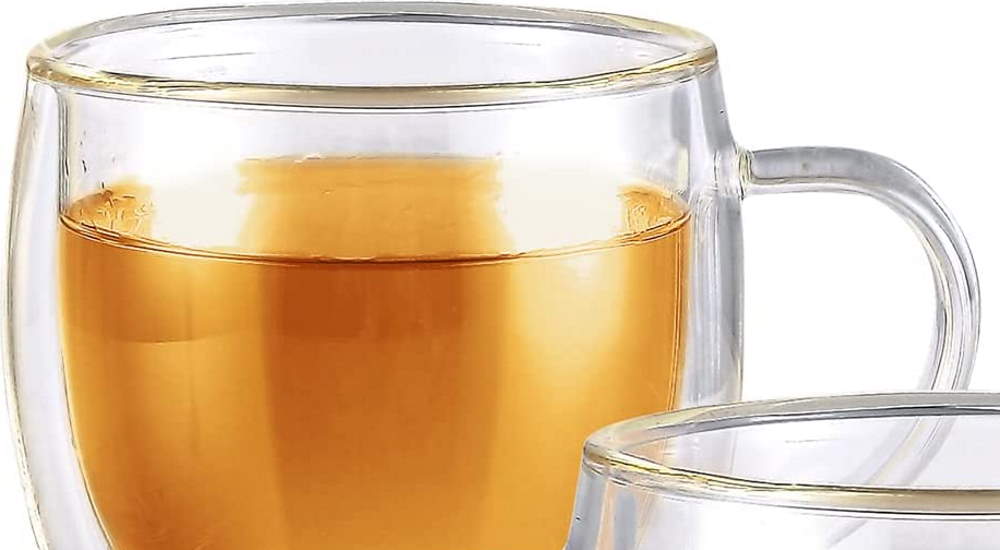 8oz+ Insulated Mugs For Coffee And Tea
Luxe double-wall insulated glasses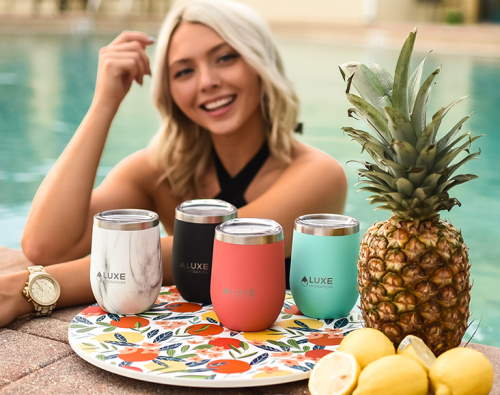 Enjoy your drinks in style with this double-walled, vacuum-insulated wine tumbler. It boasts of a natural marble stone color and a durable, leathery-soft texture that provides a superior condensation-free grip. These are 12oz double-wall insulated glasses with a top-notch finish.
JoyJolt double-wall insulated glasses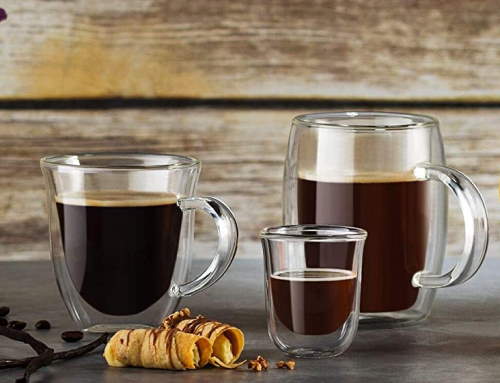 One of the most familiar brands in the U.S.A. JoyJolt gives you a variety of choices. You can choose different sizes and shapes, to experience only the best that double-wall glasses have to offer. These are mouth-blown by expert artisans using borosilicate glass.
Borosilicate is stronger than traditional "soda-lime" glass and can be used for everything from drinkware to cookware. Due to the natural properties of the boron particles, the glass is held together tighter, resulting in a stronger, and still significantly lighter glass. Borosilicate glass doesn't need to be as thick as traditional glass to be just as strong due to the bonding capability of boron oxide.
Few words to end
Double-wall insulated glasses are a great choice for both, coffee and tea drinks. Furthermore, you can use them to enjoy desserts as well. These are specially made to insulate the inside from outer air temperature. Enjoy the best coffee aroma without worrying about burning your hands.
These double-wall insulated glasses are perfect for keeping your hot coffee or tea warm for longer. The insulated walls prevent heat loss, allowing your beverage to stay at its ideal temperature for a longer period of time. They also protect your hands from the heat of the beverage, making them perfect for enjoying your favorite hot drinks in comfort.