One of the best garage door openers currently on the market – Chamberlain B4613T deserves to be reviewed in a more detailed manner than it is been reviewed in a previously published post. If you want to compare the B4613T model with other new Chamberlain series please do so. If not, keep reading this Chamberlain B4613T review instead.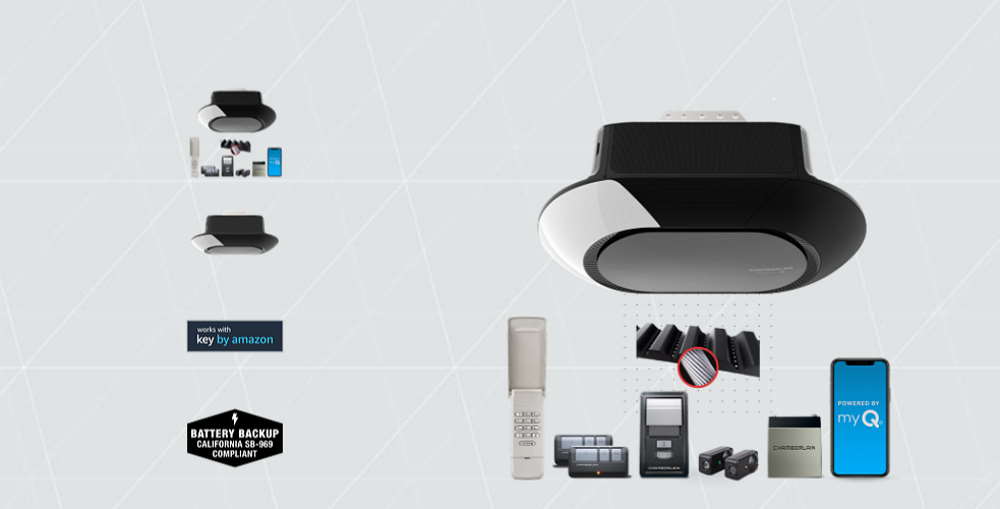 Whoever is looking for the best garage door opener can easily make a conclusion that B4613T comes as the best Smart garage door opener either in USA or Canada. Let's find out what is so good about the B4613T.
First of all, this is a new model and it has all the Smart features a modern home deserves. Moreover, Chamberlain B4613T is a belt-driven garage door opener which makes it suitable for installation near the living spaces. You won't get annoyed while the opener operates.
What you can find in this article
Chamberlain B4613T has a strong belt specially reinforced for additional strength and silent operation. It lasts much longer than a standard belt and gives you less headache – meaning you won't think about changing it every year or two years. Actually, you'll get a lifetime belt warranty.
Chamberlain B4613T Review
Before going with specifications, let's make a short B4613T review. As said before, this is a modern, smart opener, meaning you'll get some extra features and a more convenient way to monitor and secure your property.
Chamberlain B4613T has a smartphone compatibility feature. By using these features a homeowner can sync the garage door opener with other smart devices and platforms. It connects with ease, and most important: once connected it gives you the option to monitor and control your garage from a long distance with a smartphone app. A homeowner receives an alert if there is any. Furthermore, a smart garage door opener has schedule features that give you the option to set a recurring schedule to close the garage door or turn garage lights on or off.
Moreover, this garage door opener gives you the ability to grant guest access. This feature is awesome, especially for large homes, with high come-and-go traffic.
Chamberlain B4613T Installation
Actually, the B4613T installation could be a bit tricky, or not. It all depends on how skilled you are, or the person engaged for installation. Chamberlain B4613T install instructions should be written more precisely, for easy installation. However, for those people who know DIY, installing this garage door opener shouldn't be such a hard task. Following the installation sheet and its own logic should be enough for Chamberlain B4613T installation.
NOTE: An extension kit is required for taller doors.
To be more precise, B4613T is compatible with 7-foot garage doors. For 8- and 10-foot doors purchasing an extension kit is required.
This video demonstrates how to assemble and install a Chamberlain B4613T garage door opener in a garage with a sectional door and a finished ceiling. These steps apply to all newer Chamberlain Belt Drive garage door opener models, so your product may appear different from what is being referenced.
B4613T Specifications And Warranty
Chamberlain B4613T has an integrated lighting system and a 3/4HP motor. It is a belt-driven garage door opener, with a battery backup. For more detailed technical specifications take a look at the table that follows.
| Specs | B4613T |
| --- | --- |
| Lighting | Integrated 100W LED |
| Motor Power | 3/4HP |
| Battery Backup | Yes |
| Security / Lock | No |
| Soft Start/Stop | Yes |
| Drive Type | Belt |
| AC/DC | DC |
| Motion-Detection Light Activation | Yes |
| Smartphone Control | Yes |
| Timer To Close | Yes |
Chamberlain B4613T specifications
What about a warranty? With this product, Chamberlain gives:
Accessory Warranty: 1 Year
Belt Warranty: Lifetime
Motor Warranty: Lifetime
Parts Warranty: 5 Years
Final words
Ending this couldn't be more satisfying than it is. Reviewing this product was a straightforward task, simply because the opener itself gives you that feeling and conclusion on end.
Chamberlain B4613T has been a proven SMART garage door opener, with so many features we find normal these days. It is a smart belt drive garage door opener. B4613T operates quietly via a steel-reinforced belt drive. It has built-in Wi-Fi that allows you to control the opener through the myQ app. It is reasonably priced and still well-equipped. Warranty is something worth mentioning once again. For the price it sells, it is hard to find something better and made with the quality that Chamberlain has to offer.